Maureen Marriner's mum gamely embraces life on board.
There is a particular sweet spot when you are flying with preschoolers. It's when departure lounge staff announce they will now be boarding families with young children: no queues and guaranteed overhead luggage space.
I have discovered a similar fist-pumper at the other age extreme — wheelchair assistance at Queens Wharf in Auckland for my 92-year-old mother.
Mum is what could be called "a game old bird", up for anything ladylike but sometimes a little unsteady on her pins. We were off on an old-girls away weekend, leaving Auckland on Friday afternoon, mooring off Paihia for a day and then back to Auckland, docking on Tuesday morning.
I had known P&O's Pacific Pearl was fully booked but it was not until we turned up at the wharf that it dawned on me that, doh! Waitangi Weekend, statutory holidays, hordes of the wide, sometimes very wide diversity of our society and its visitors. Despite staggered check-in times for the 1500-plus passengers, the area was packed.
No, Mum did not want wheelchair assistance, thank you. She said everyone would talk above her. However, when she saw the snaking lines upstairs, she relented and from then on embarkation was a dream. Cory, from the assistance team, whisked us around the queues, through the formalities and up on board. Then, avoiding the busy main lifts, right to our door.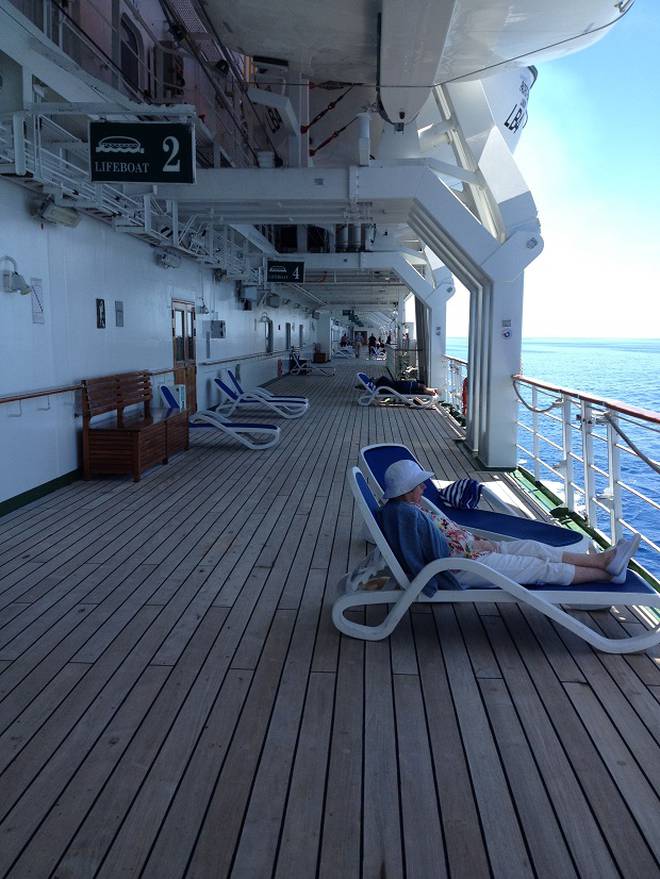 Mum was thrilled with our cabin. The last time she had been on a cruise, they had bunks and the bathroom was down the corridor.
I thought I had chosen the cabin wisely — close to lifts and theatre — but unfortunately far from the restaurants, which meant long and, for Mum, sometimes breathless walks.
We often stopped to seemingly admire artwork on corridor walls.
Among information in our cabin was a health advisory about norovirus that counselled against having direct contact, such as shaking hands, with fellow passengers. (I had heard anecdotally of regular cruisers who greet by touching elbows.) After dinner at the Waterfront restaurant that night, we were passing the theatre doors where the entertainment director was into her welcoming spiel.
"We are all family here, or we soon will be, so I want you to turn to the person on your left and shake their hand... then turn to the person on your right and give them a big kiss."
So much for elbow room.
We did, however, embrace the life on board. The next day Mum was quick to decide on a manicure and Elemis treatment in the spa and thereafter posed her nails at every opportunity. After a badly timed first breakfast in the cafeteria-style Plantation restaurant, we avoided queues by eating later and often outside by the family pool. Mum loves to watch children playing so set herself up at a table in the shade for one morning, bemused by the blaring big-screen Miss Peregrine's Home for Peculiar Children.
"Most odd," Mum said.
Respite from the clamour came at the stern, where over three levels, there is Oasis, with a no-children rule. Mum had her eye on the cushioned lounging beds and spent much of our day off Paihia on one, covered from the sun, and asleep. I found it so hot that the pool, which had been chilly in the morning, was gloriously refreshing come mid-afternoon.
Evening routine was established when I found that the barman at the Mix could stir an excellent martini. He also introduced my Methodist mother to the world of pretty drinks with a Passion mocktail. From there we would trek to the restaurant, where wait staff adopted her: "Hello Mummy, how are you tonight?" And after the meal, one would take her arm, "Come along Mummy", and escort her out.
On the day of the Gatsby Party we learned to make glittery, feathery headbands and, come party time, feathery Mum was in the midst of it all. Definitely a game old bird.
The Pacific Pearl has left P&O and sailed for distant shores. Her sister ship, the Pacific Jewel>, now cruises out of Auckland.