I would've never imagined that my first proper journey up the Sky Tower would involve jumping off it
I'd always been proud of the fact that I'd never been up the Sky Tower, despite being born and bred in Auckland.
What could be more Auckland than cynicism about the Sky Tower?
As a kid, I watched the big grey needle being built, the giant concrete discs put into place one by one over several years. It was a very exciting time to be a young Aucklander and now I have no memory of what was once in that space - apparently some non-descript shops and warehouses, possibly a Salvation Army and a hotel.
When it finally opened, I was 13 and was initially pretty keen to get up there - until I found out there was a $15 to get to the observation deck. It seemed an exorbitant amount. From somewhere I heard a rumour it was free if you opted to take the stairs, so I decided that if I ever went up, I'd just walk it.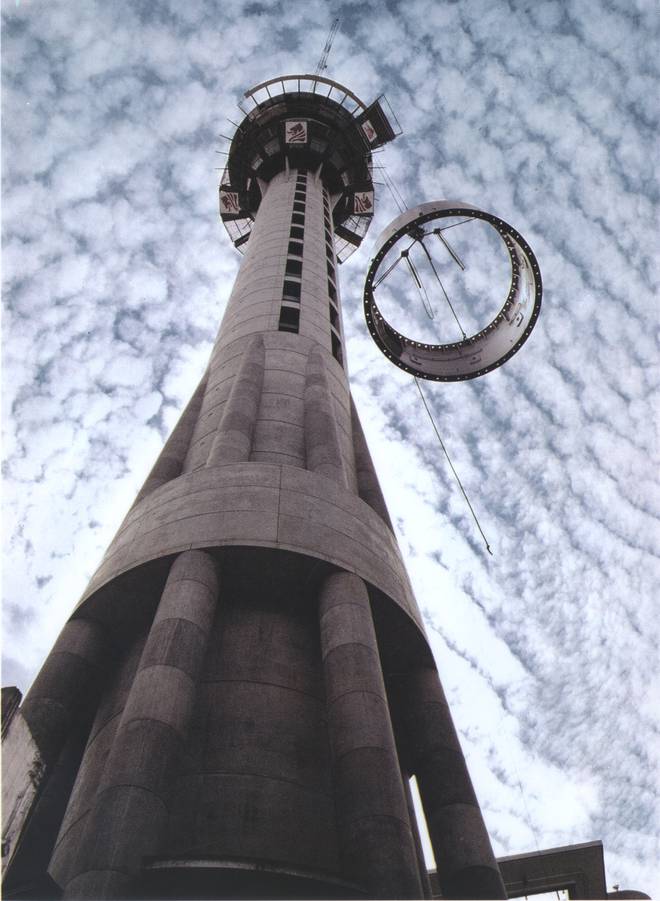 Twenty years later, I'd still not made it up to the highest levels. I would never have guessed that on my first trip to the top of the Sky Tower I would jump off the thing.
I'd signed up for an activity afternoon as part of Trenz tourism conference, which has been taking place all week down at The Cloud on the waterfront. The 'Urban Adventure' package seemed like the obvious pick, as it included the Sky Walk experience - where you take a terrifying stroll around the outer ring of the tower - an afternoon of America's Cup sailing and some cocktails at Hotel de Brett to finish it off.
It seemed like a fantastic prospect when I signed up a month ago.
Yesterday morning brought in the first waves of Cyclone Donna - just one of several stormy names to have visited our shores in the last few months - and straight away, sailing was off the menu.
Upon our arrival at the Sky Tower, we were told it was too windy to do the Sky Walk, but instead, we could do the Sky Jump - how that works, I have no idea.
My first response? F*** no. During my lunch breaks, I've seen hundreds of tourists taking that terrifying plunge and I was quite certain it wasn't something I would ever do.
But after a bit of peer pressure via text messages from my workmates, I was suited and harnessed and ready to go.
While I'd always thought of the Sky Jump as a bungy, it's actually quite different - some people say less scary - as it's a controlled drop and you're attached to wires the whole time. Also, you're not diving over the edge face first.
As I watched the other travel writers jump one by one, I felt secure in my position of not being the first, or the last to jump - until one other guy wussed out and I was last after all.
Out on the platform at such a height, the bleak Auckland weather became even more intense. The wind lashed the rain into my face. Under such miderable, grey skies, rather than marvelling at the scenery of the harbour, I became fixated on the roof of Queen Street McDonald's - who knew the Golden Arches were painted on the roof?
Before I knew it, I was holding onto the two support railings for dear life, the city stretched out beneath me. I leaned forward while one of the classic "adventure" type dudes counted me down. Then it was time to let go.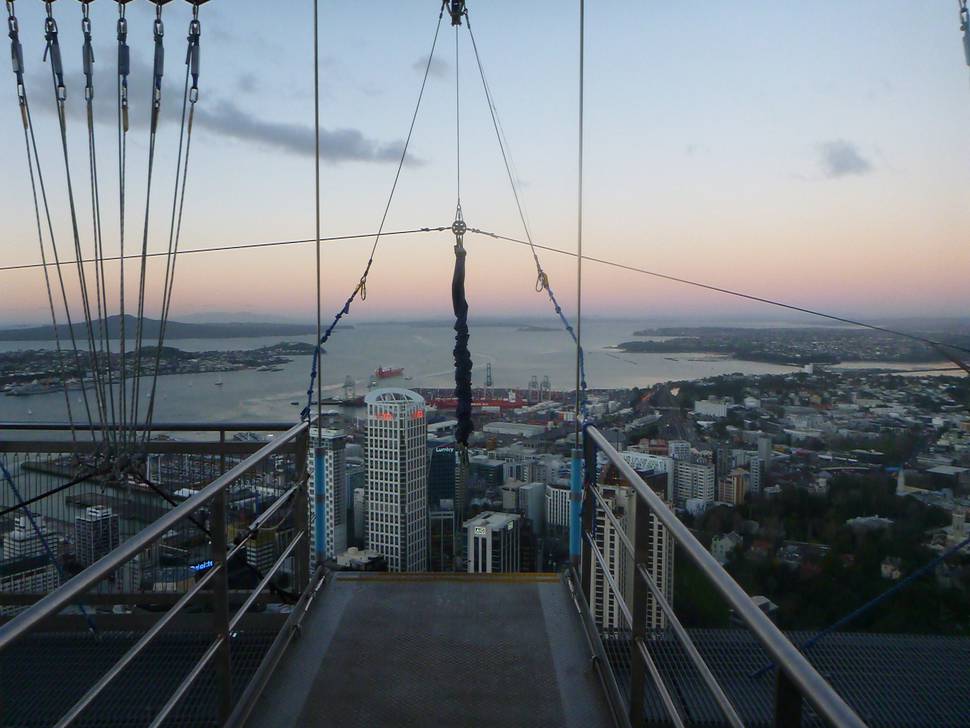 The first few seconds are a blur of terror and swearing, until the point where you realise you're not about to die - then it becomes immensely fun. Floating in midair, it's almost magical - until you look down and see the ground approaching and everyone waving to meet you.
Then, as fast as it begins, it's all over - and all you're left with is a massive adrenaline rush and tears of joy. Several hours later, the adrenaline was still pumping as I sipped a well-deserved cocktail.