Cruising on Vietnam's Halong Bay is an voyage of discovery for Lucy Casley.
A sprinkling of pink rose petals and cries of "Xian chao! Welcome aboard!" greeted us from the crew on the top deck as we boarded the Bhaya Classic cruise ship for an overnight stay on Vietnam's Halong Bay. We felt like the royal family.
My partner Jimmy and I had just arrived from our hotel at Hanoi's Old Quarter, a four-hour car journey that took in the long Mosaic Mural, running alongside "Ceramic Road" on the way out of the city centre, the usual scramble of scooters on the crawling streets carrying everything from doors to ladders to pigs being towed in a cage and - most memorably - a mother and four children on a single scooter.
As the city gave way to rural scenes, we passed through acres and acres of rice fields and encountered rustic small towns with street food stalls and tiny neighbourhood schools at their heart.
At last we crossed over the water to a beautiful island laden with coconut trees among long grass, passing a building that looked on its way to being extraordinary but remains spookily half finished - the owners of the 5-star resort having run out of money.
At the wharf after a refreshing green tea we made our way onboard the Bhaya Classic with about 30 others fora1pm departure. Our picture-perfect boat - among the many others accompanying us on our cruise in the bay - was white with blue stripes, and red detailing on the windows.
On the way to find our cabin, on the second floor at the front of the ship, I popped out a pink petal from my hair, left over from the welcoming confetti.
As our journey got underway, we settled into our cabin, with its decent-sized deck and two loungers. It wasn't anything fancy but it was comfortable and homely-though the privacy of the ensuite door left a little to be desired.
As the boat cruised towards the south eastern part of Halong Bay, we were invited up to the dining area for a lunch set menu.
All meals are included in the fare, so we could sit back and just enjoy the delectable food.
Lunch consisted of six courses, including crab spring rolls, crisp on the outside and bursting with flavours inside; and a poached beef salad on pineapple and finely cut vegetables with a fresh tangy dressing, daintily placed inside four prawn crackers. Taro balls were also packed full of flavour and cooked to perfection. I'd never tried it before,
and it was one of those times when trying new things definitely paid off.
At 2.30pm we were all whisked off on the speedboat in two groups to Hang Sung Sot on Bo Hon Island. Our chipper tour guide, Tauc, told the group it means "Cave of Surprises".
As I stepped foot into the first of three caves I felt like I was in the film Bridge to Terabithia, where all the surroundings are a figment of the characters' imagination.
Illuminated with man-made blue, green, purple and yellow lights, the cave has a magical feeling. Its chambers are filled with "meaningful" rock forms from a Buddha to the most well-known and unusual, a phallus (a symbol of fertility). Tauc must have done this tour more than a few times, I realised, when he made his seamless penis joke. As our group chuckled along, I appreciated the guide's enthusiasm and commitment to entertain as he imaginatively brought the rock forms to life.
There were just a couple of lookouts on our way through, the last and highest of which offered a spectacular view over the islands and our cruise boat dotted down below in among the other Bhaya boats.
We weren't back on the ship for long before our next activity was announced over the speaker, and then we were off to a beautiful little sanctuary called Titov Island.
We approached the rim of white sand on our speedboat where people were laying in the sand, swimming, playing volleyball, and drinking at a beach bar.
There wasn't quite enough time to both climb the island's mountain and relax on the pretty little beach, so we opted for the hike to the top.
It offered a breathtaking view-glimmering blue sea and small islands and mountains dotted around like jewels - but unfortunately the climb was at the expense of having a relaxing drink on the beach. Happily we met a couple of exhausted English tourists at the bottom who reminded us we still had happy hour to look forward to back on the boat.
Tauc reminded us it is "the hour that makes you happy" and I had to agree as I ordered my first delicious (and cheap) cocktail of the evening. But the great thing about this cruise is that happy hour never ends with, or without cheap cocktails.
We made our way to the top deck to enjoy our drinks and watch the sun drop down behind a curvy mountain, enjoying the slightly cooler temperatures of the country's north.
Dinner was a friendly barbecue buffet and we feasted on a spread of seafood, chicken and pork among fresh vegetables before hitting the hay for the night.
The following morning I woke early to see the islands as we passed by, the sun beginning to peek out. That was enough to inspire me for a taste of 6.15am tai chi on the sun deck. Up top, Tauc proved he was a man of many talents by running the tai chi course too.
About 12 other passengers joined me including a large Indian family who brought a good energy with their flamboyant spirits. Even the eldest of them - probably in his 80s - was trying tai chi for the first time, laughing at himself when he lost his balance. We had a light introduction followed by beginner training, catering for all. The tai chi lulled me into a peaceful head space and by the end my chest felt wide open with oxygen.
After our session a tall elderly man asked Tauc, "How do we become a happy Buddha from doing tai chi?" Tauc replied: "It's still happy hour!"
Considering he was so keen on happy hour I asked him if breakfast was a happy hour too - probably a good outcome for my own wellbeing that it wasn't. Instead I just had a light snack because I knew from our itinerary that brunch was still to come.
Jimmy and I shared a kayak, paddling through the warm blue bay. It cost a little more than joining the team on a rowboat, but it was definitely worth it as the rowboats were too big to go through the hidden caves. The downside to having a kayak, however, is if you have an uncoordinated sea mate sending thick splashes of seawater your way.
We peeled off from the crowds and followed a local through one of the hidden caves.
We were right to assume that he was going somewhere special. We drifted through the cave, steering blindly and ducking as we went to avoid the roof. As the other end opened to daylight, we found ourselves in a private oasis surrounded by a steep mountain which blocked us off from the world.
"Monkey!" cried the local man. We turned our kayak to face where we had come from and midway up the rock we spotted a group of monkeys cleverly scurrying horizontally on a vertical rock.
They were so cute I wanted to smuggle one into my backpack and take it home with me - I figured the New Zealand Customs Service might not approve. We returned to the boat, tummies rumbling after all the paddling and excitement.
As we made the journey back to the dock we helped ourselves to a scrumptious buffet brunch of freshly cooked eggs, four Asian cuisine options, and the usual suspects such as bread, cereal and fresh baking.
As we left the ship, farewelled with calls of "Tam biet! Tam biet!" (goodbye), I waved back, taking the feeling of an endless happy hour away with me. But no monkey.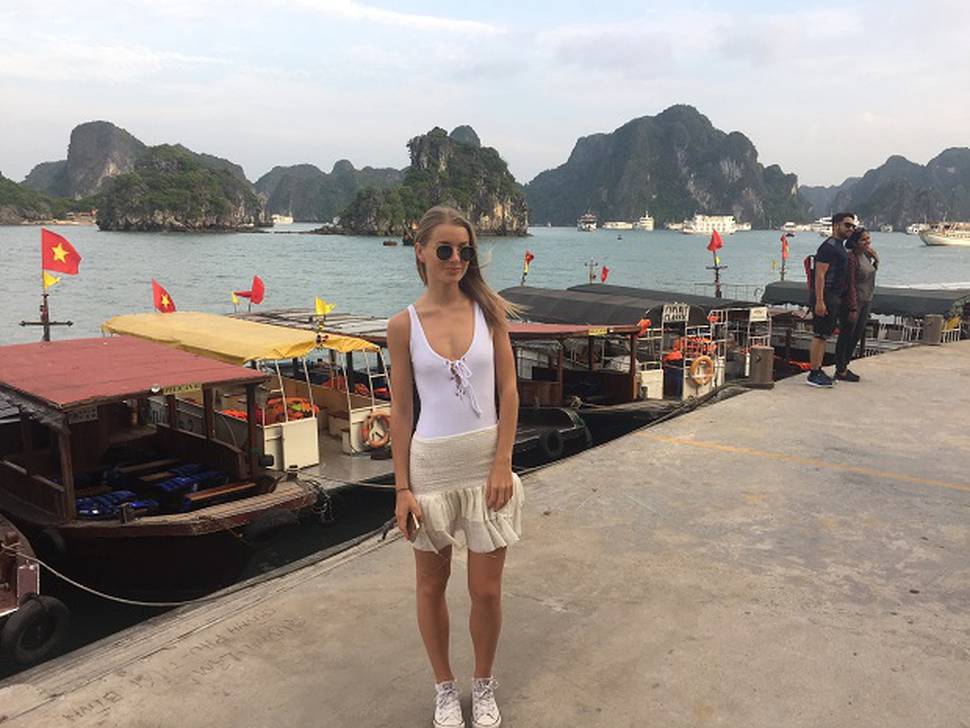 OCEAN BOUND
Bhaya Classic Cruises have several different daily options for journeys around Halong Bay - either one day, two days, one night, or three days and two nights. There are two levels of ship: Classic (from $240pp) and Premium Classic (from $270). Currently for the Classic cruise, prices include lunch, dinner, light breakfast and brunch, tea and coffee, kayaking, tai chi or cooking demonstration, entrance fee, onboard insurance, tax and service charges.
The company also has boats in other parts of Vietnam including Cat Ba Island and Bai Tu Long Bay. Go to bhayacruises.com
CHECKLIST
Details
Air New Zealand offers a seasonal non-stop service from Auckland to Ho Chi Minh City flying two times a week from June 24-October 25. One-way Economy Class fares start from $759.