In South Australia - the wine state - the Barossa Valley is all about wine, food and heritage, writes Stephanie Holmes.
Standing on a rocky hill surrounded by Riesling vineyards in Barossa's Eden Valley, a sense of history hangs in the air. This is the place where in 1962 Colin Gramp - great grandson of Barossa wine pioneer Johann Gramp - stole away from his family, wanting to create a vineyard of his own.
Knowing Riesling vines liked dry ground but needed deep roots, he was faced with a problem; how to plant vines in the impenetrable schist stone ground? With the pioneer spirit of his great grandfather no doubt coursing through his veins, Colin used dynamite to blow holes into the ground. Into each hole he hand planted his beloved Riesling vines, paving the way for what was to become Barossa label Steingarten's acclaimed white wine.
These humble beginnings are what winemaking in the Barossa is all about.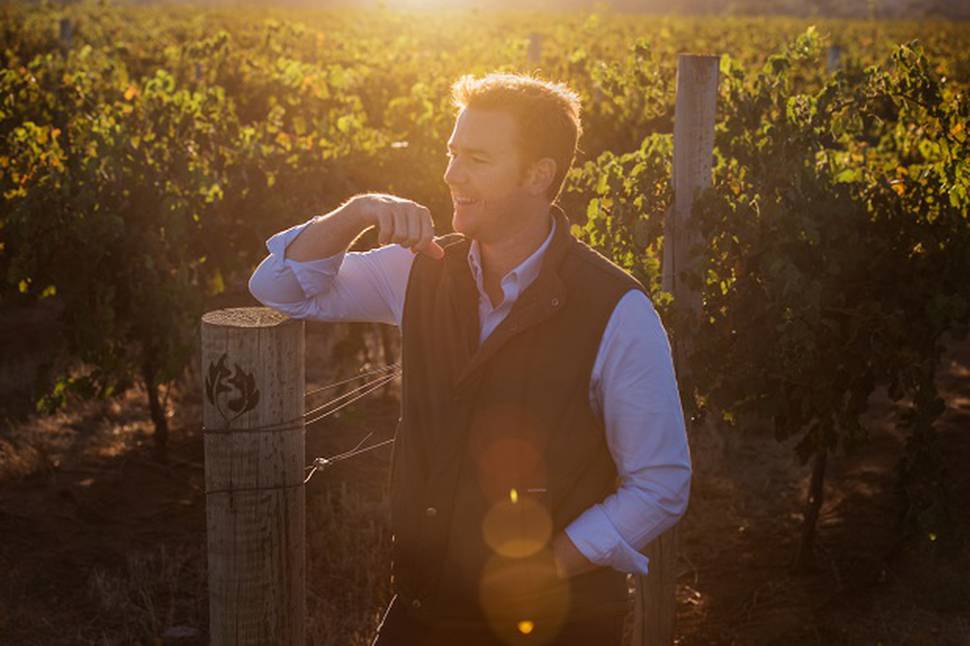 German immigrant Johann Gramp arrived in Australia in the 1830s after four months at sea. Landing on South Australia's Kangaroo Island he made his way up the state, first to Adelaide and then later settling in the Barossa, a region becoming popular thanks to the work of a German mineralogist who recognised the area's potential for farming and fruit growing.
Missing the wines he so enjoyed from his homeland, Johann bought 30ha along Jacob's Creek - named after surveyor William Jacob, who had settled in Rowland Flat, just a couple of kilometres up the road - and planted what would become the region's first commercial vineyard. It is likely that the humble German Lutheran had no idea this would be the beginning of one of Australia's biggest wine regions.
But wine became a family business - with Johann's son Gustav moving the winery up to Rowland Flat in 1877, where it continued to grow and flourish, first under his sons Hugo and Fred, and then onward and upward with the dynamite-loving Colin.

It's January when I visit the area and true to form South Australia is stinking hot. On Christmas Day, Adelaide was recorded as the hottest place in the world and less than a month later the temperatures are still stifling.
I'm here as part of the Jacob's Creek Global Table event, bringing together 40 brand ambassadors, competition winners, media, and "social influencers" from 13 countries, in a celebration of wine, food and heritage. It's a whirlwind few days - starting at the Australian Open in Melbourne and culminating with a shared dinner at the Jacob's Creek "Our Table" in the Barossa. It's a veritable feast of food and wine every step of the way.
From the moment we leave the plane in Adelaide, it's clear that wine is the heart and soul of this charming region.
"Welcome to the wine state," our coach driver says as we begin the hour drive from the airport. "We drink a lot," he says with a dreamy smile on his face. "A lot . . . "
Luckily he makes an exception for the journey, taking us safely through sleepy towns, past sprawling homesteads with wraparound verandas; gnarly gum trees, and bleached fields the colour of overly processed blonde hair. As we get closer to the Gramp stamping ground, rolling vines begin to surround us, groaning with the weight of ripe fruit. It's enough to work up a thirst.
Arriving at the Jacob's Creek Visitor Centre, it's not long before a glass of wine is in our hands. The award-winning centre is open to the public daily, and features a cellar door, restaurant, display vineyard and walking trail along the banks of the now world-famous creek. It sees about 160,000 visitors each year and, since opening in 2002, has clocked up more than 1 million people through its doors.
We're here to take part in a wine and food matching masterclass, under the guidance of the brand's chief winemaker Ben Bryant. "Australia is all about experiencing food and wine," he tells us. "When you come to Australia you should eat and drink until you can't move enough to leave."
Challenge accepted. Our five-course tasting class pairs delicious Jacob's Creek wines with fresh, seasonal foods; a crisp 2016 Reserve Chardonnay Pinot Noir with squeaky halloumi, a clean Cool Harvest Pinot Grigio with rich pork belly, and the 2012 Centenary Hill Barossa Shiraz - described by Visitor Centre wine ambassador Nick Meyer as the brand's "magnum opus" - with a peppery beef fillet. Just getting started, we then move into Jacob's, the Visitor Centre's award-winning restaurant, to enjoy a shared lunch with our fellow Global Table guests. Conversation comes easy - no doubt encouraged by the wine - and we make new friends and share stories, the way good meals often inspire.
These new friendships are put to the test later that day, with a group cooking challenge at the Jacob's Estate, site of William Jacob's original homestead. These days it's a cottage accommodation, outdoor kitchen and beautiful garden, from which we gather fresh, organic produce to create entree dishes ahead of our shared dinner.
The heat is exceptional - 41C outside; who knows what it must be under the cover of the marquee where we're working.
Brooding clouds gather on the hills around us and the air becomes thick and heavy. As we sit around the impressive table - a 15m native Australian red gum timber table complete with a glass creek design running down the middle - the rain begins to flow as freely as the wine. With a huge electrical storm lashing the valley, it's a dramatic end to what has been a decadent and hugely enjoyable day.
Best of the Barossa Valley
Stay at The Louise, beautiful boutique accommodation in the heart of the Barossa Valley. Just outside of the town of Tanunda, The Louise is some of the nicest accommodation I've been fortunate enough to stay in. Go there for the infinity pool alone - it looks out to vineyards and the Barossa Hills and was the perfect refresher on a sticky 40C Barossa day.

The attention to detail is impeccable and the location peaceful.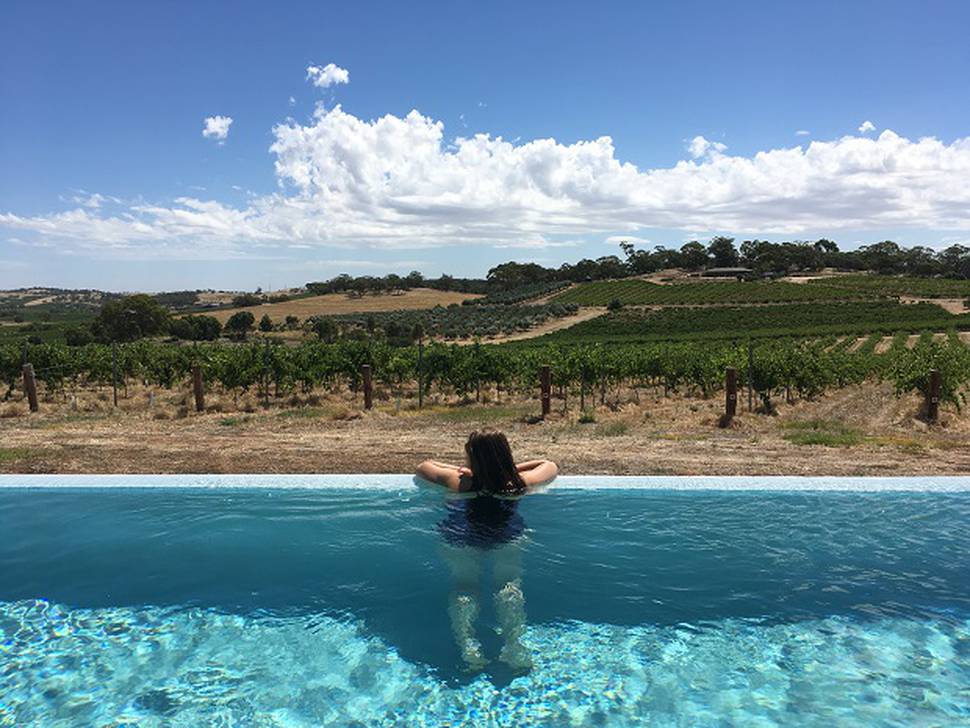 Visit Maggie Beer's Farm Shop, where you can eat a picnic-style lunch inside or out, and taste and buy just about every product made by this legendary Aussie food hero.

Lunch at the Jacob's Creek Visitor's Centre. And while you're there, taste wines at the cellar door, explore the 6ha site via a walking trail along the banks of the creek, or book in for a cooking class.

Shop at Tanunda, a cute township with a high street full of boutiques, local stores and cafes. Favourites included Alabaster, a clothing and gift store showcasing local designers; Beans & Cream for gelato and great coffee; A Time for Seasons, where you can get your hair done, then shop for clothes, jewellery and homewares; and Living By Design, where my friend spent about $500 on clothes in less than half an hour and said it was one of the best shops she's been in.

Wine and dine at St Hugo, a new cellar door and restaurant, purpose-built to honour Hugo Gramp, the man who successfully built Gramp & Sons winery into a key industry player. Here you can try St Hugo Cabernet Sauvignon, a much-lauded wine that has earned about 1400 awards since its launch in 1983, and has featured multiple times in Langton's Classification of Australian Wine, a publication of the most collected wine within Australia.

Go back in time for the Barossa Vintage Festival, with 90 events over five days (April 19-23), celebrating the best of the Barossa, its food, wine and culture. Jacob's Creek will be hosting a special "Our Table" Lunch and Cooking Demonstration on Sunday, April 23, as part of the festival. The interactive demo will recreate period dishes dating from the 1840s through to the present, before guests sit down to enjoy the dishes around "Our Table" in the Estate's kitchen garden. Tickets are $150 per person and can be booked online.