Whale watching, diving and spa-style resorts are all classic Moorea experiences, but if you are on a budget there are less-expensive joys to be found, writes Isobel Marriner.
GETTING THERE
The Terevau and Aremiti ferries from Papeete are fast, so fast, in fact, that if you stand at the front the wind will whip your face about like it's made of rubber and that's when you realise why Moorea (and Tahiti) are sometimes known as the Windward Islands. The services are regular and relatively inexpensive at just under $14 one way.
GETTING AROUND
You can easily hire bikes and scooters either before or after you arrive on the island - or, for a little more luxury, the Avis car rental office, is - handily - directly opposite the wharf when you arrive. We chose the latter and in the heat and humidity were pretty grateful for the air-conditioned comfort.
WHERE TO EAT
We'd been warned that Tahiti/Moorea could be expensive but discovered Mahana Beach Coffee (a restaurant rather than a coffee bar, but I think the name is a literal English translation) where we had the most delicious, fresh-as poisson cru. The portions were huge - the lovely, friendly waitress advised it would be enough to share, and with frites and a couple of local beers the whole lot came to less than $30. It was so good we returned for more of the same the following day. There are loads of "snack" caravans serving pizza and French-style "sandwiches" and for cheap goodness it would be hard to go past the many, many local fruit stalls.
TASTY BEVERAGES
Visit Manutea Jus de Fruits de Moorea where, up a long driveway, you'll find the factory where pineapples by the ute-load are being delivered, and a shop offering free - and plentiful - tastings of their products. These include cream liqueurs and Tahiti Drink - fruit juices and coconut mixed with a rum-like spirit (they come in tetrapacks, like juice, and are moderately alcoholic, well-priced and delicious: perfect with loads of ice on a hot day).
TOP VIEWS
Then there's the best view on the island, from the Belvedere lookout on Mt Tohivea. It's a winding drive to the top past the Lycee Agricole agricultural college (call in for tastings of their products including exotic jams), but the rewards are a stunning view towards the picturesque Mt Rotui and the sea. If you're lucky there'll be a group of young men at the summit, selling fresh drinking coconuts. The wire fence at the lookout is adorned with padlocks - the idea is for lovers to engrave their names on the locks and fasten their hearts there together, forever. The Belvedere is also a kicking-off spot for hikers and mountain bikers and there are apparently some good trails, though they can get a bit tricky, especially if the weather is wet.
HISTORIC PLACES
On the road up to the Belvedere there's a poorly signposted turnoff for a "place historique" (I only noticed it by accident) which leads to a dusty carpark area where chickens scratch among the ancient marae. Marae in Moorea are temples or sacred places, raised stone platforms that served as meeting places and, in some cases, sacrificial areas. The platforms are clearly visible and there is an information board with facts about the monuments and their significance. The marae continue down the valley among the bush. Unfortunately we didn't have enough time to explore them in depth, but would love to return; it's a fascinating place if you can ignore the pesky mozzies - do take repellent - and there was no one else there.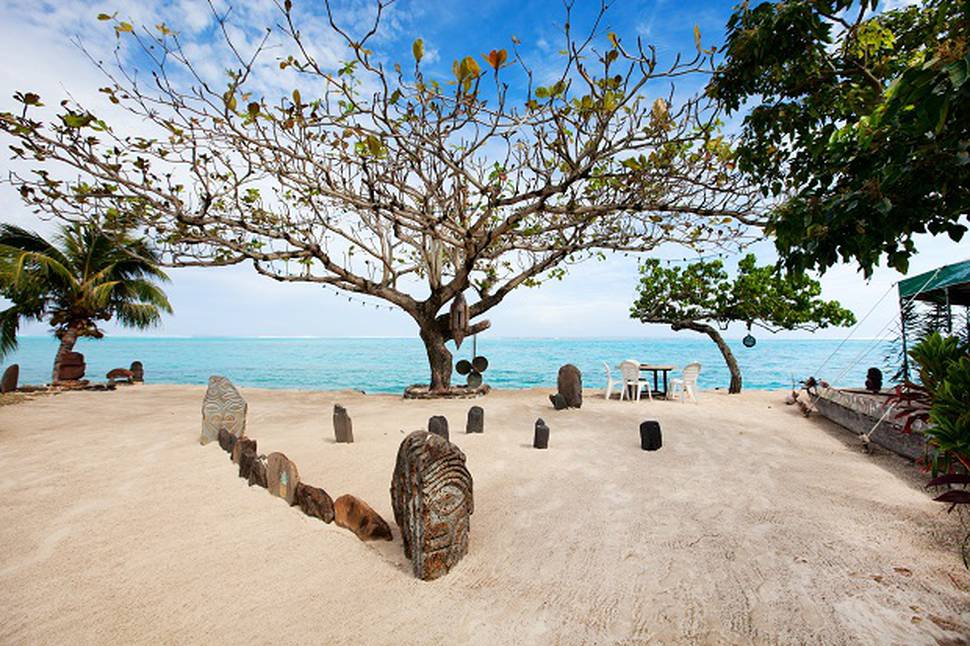 BEACHES
For those in search of a beautiful beach - and let's face it, this is Moorea, so who isn't? - but not staying at a resort with a private suntrap - Ta'ahiamanu, also called Mareto, is a public "plage" with a huge expanse of grass between it and the road; perfect for picnicking (and popular with locals). While we were there they were building what appeared to be a carpark - which would be great news because, at present, you're restricted to parking precariously roadside. Temae is another public beach, good for snorkelling.
CHECKLIST
Getting there
Return Economy Class flights from Auckland to Papeete with Air Tahiti Nui start from $829, in a sale on until March 20.
Online
tahiti-tourisme.co.nz