With its Mex-testing, mountain lion warnings and aggressive flora, Southwest Texas is a destination a little out of the ordinary as Russell Baillie discovers
On the gentle morning drive out of Big Bend, a park ranger's truck sweeps past, its red lights flashing. Minutes later we come upon it again. It has stopped beside a Border Patrol truck. Sitting on the ground between the vehicles are three Mexicans drinking from water bottles, looking wretched.
If this is where they've emerged from the desert floor it means they've walked 30km after crossing the Rio Grande which marks the meandering and oddly arbitrary US-Mexican border in this vast and crumbly notch of Southwest Texas. That's after getting across the Mexican side of the Chihuahua Desert.
It looks like their brief stay in Big Bend National Park will neither be a happy nor a scenic one. Though like many who visit, at least they have managed to get some hiking in.
The roadside arrest might be an enlightening ending to our excursion into this vast, strange, beautiful and edgy region.
But it's not over yet. An hour later and 100km up the road we're at a Border Patrol checkpoint where the rental gets the search and sniff treatment while our passports are checked with more courtesy than you get at LAX.
Spotting a "Christchurch" birthplace on our documents, the Border Patrolman asks about the cardboard cathedral. "See, I read the news," he offers, defensively.
It won't be the last time our passports are checked on this road trip, one which has taken us deep into Southwest Texas from Austin and back again. Random Mex testing many miles inside US territory is a fact of life around here. No, there's no wall in Big Bend. God has taken care of that with the Chisos Mountains, which rise 2000m out of the desert.
There are trails in the mountains. Lower down, there are parts you can wade across to Mexico. Or visit the tourist town of Boquillas del Carmen via rowboat at an official crossing at the eastern end of Big Bend National Park.
We'd ventured south into Big Bend a few days earlier. We'd driven for hours as the mesas grew from objects on a distant southern horizon to a vast red-brown skyline which ran for days.
We played the music we discovered at Austin City Limits the previous weekend. The dreamy chug and high Roy Orbison swoop of Lord Huron seemed a good fit to a landscape that sure lets you appreciate that Texas = big, thing.
We were a long way from anywhere. It was rare to see another car. The occasional lavish ironwork ranch gate seemed to lead to nowhere. The cattle were elsewhere too.
As we got closer to the border, the towns got ghostlier and dustier and houses gave way to trailers.
But we had a booking. And if we fancied a game of golf, albeit on a course surrounded by God's own sand bunker and where you could easily slice a shot into another country, we had come to the right place.
It's hard to miss the Lajitas Golf Resort. It sits in a sweet spot between Big Bend National Park and Big Bend Ranch State Park. The resort's 18 holes of green is in lush contrast to everything else, especially the deep brown of the Rio Grande which skirts its southwestern edge looking more big muddy creek than international boundary.
We don't play golf, though. It gets damn hot most days, even in early Fall and given the setting, it felt a bit, well, Trump-ish. As did the gun range. The resort might not have much nearby competition but it's reasonably priced.
Instead, we venture up into the relative cool of the 70km-away mountains for a day. From the Chisos Mountains Lodge sitting in the Chisos Basin below Casa Grande Peak, we take a slightly pathetic hike armed — as the sign advises — with rocks to throw at any black bears and mountain lions. "Look large," the sign also advises, helpfully.
Back at the resort's quiet outdoor bar we try to figure which mesas are on which side of the border as the sun turns them all the same vivid rusty red. We eat Mexican and drink prickly pear margaritas. As you should.
On another day, we swim in the big blue pool under the Texan flag, next door to the Lajitas Cemetery, full of folks who died dusty deaths.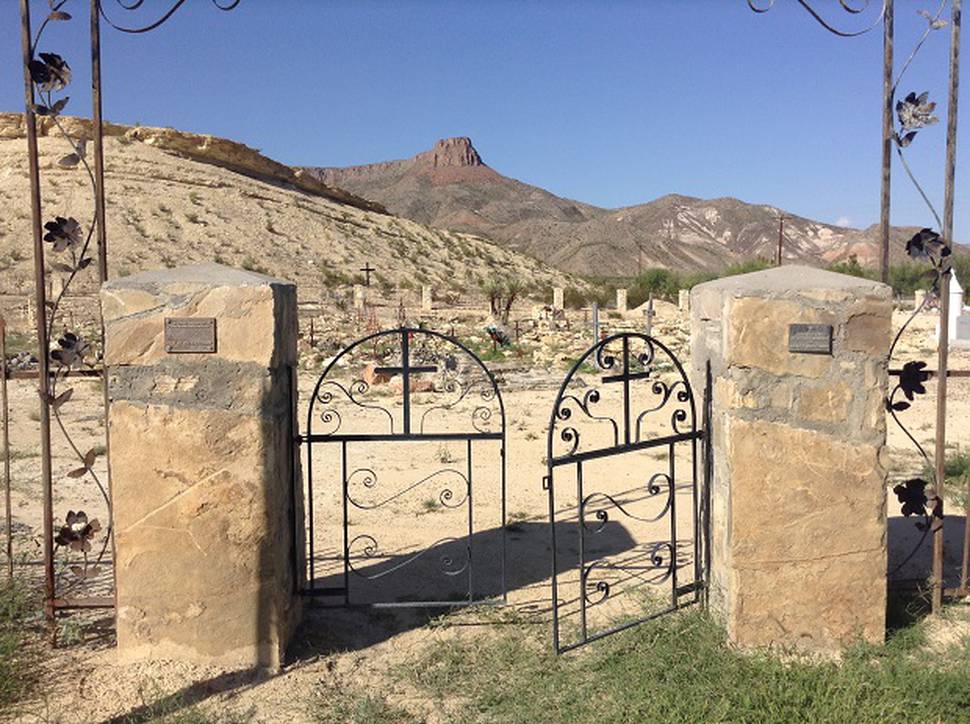 Some worked the mercury mines that once extracted the red cinnabar ore from a landscape, which, in the valleys, has also suffered from centuries of over-grazing.
You can take four-wheel drive tours to the abandoned mines out of Terlingua. There's also river rafting, kayaking and ghost-town tours. Jo, showing a hitherto unknown enthusiasm for Texas mining history and off-roading, signs up for a drive to an old mercury mine.
I rent a mountain bike from the friendly folk at Desert Sports. Before the heat of the day kicks in, and armed with many litres of water and a map, I bash out a 30km ride not far from the resort in splendid, if slightly anxious, isolation.
The storm we skirted on the flight to Austin the previous week has washed away tracks in and out of creek beds and sprung greenery into life. While you might brush past the benign flora of home, here, even the stuff that doesn't look like cactus sure can do a good impersonation of one.
"Any punctures?", asks the bike hire dude who had warned about cacti earlier, when I take the bike back. "Only me," I reply.
The next day we start on our two-day drive to San Antonio, skirting the border for most of the drive east and showing our passports to the Border Patrol one more time.
Our first stop is the junction town of Marathon, so named because its founder thought the surrounding countryside looked like Greece, and not because getting there from any direction is one.
The place is dominated by the Gage Hotel with its decor of saddle leather, Texas stars and dead local fauna. Some cowboy has left his chaps nailed to the wall in our room.
Another bloke clearly had a good throwing arm. On a table near reception, a stuffed mountain lion sits looking a bit stunned.
CHECKLIST
Getting there:
offers flights with partner airlines from Auckland to Austin via Houston.