Hanoi is Vietnam's busiest city, and it can be incredibly overwhelming. Lucy Casley shares her guide to making the most of its many treasures.
GET A MASSAGE
The streets of Hanoi are home to massage joint after massage joint, so how do you choose? We spotted Mido Spa in the Hoan Kiem District which looked zen from the outside, and thought we'd give it a try. It turned out to be a lucky punt. After slipping our shoes off in return for slippers on arrival, we took a seat and were served with a fresh juice. Shortly afterwards we were ushered upstairs via many levels to the very top, where our massage therapists awaited us — two giggly young women who were clearly good friends. I went for a half-hour traditional Thai massage for about $30 — a huge mistake, because it was over too fast. It was deep tissue, and the therapist hit all the right pressure points. Mido Spa wasn't one of the cheaper street spas around, but it had a calm and relaxing environment. Highly recommended.
WATCH A WATER PUPPET SHOW
The authentic Thang Long Water Puppet Show uses century-old marionettes, therefore don't expect anything resembling a Cirque du Soleil-style performance. The narrative is conducted in Vietnamese so you have to keep an open mind and let the puppets' actions tell the story. Luckily, a tour guide earlier in our trip had touched on some local myths, which gave us a few clues as to what was going on. The stories in this particular show referenced the country's rice paddies and duck ponds. We loved the opening music ensemble, and the high standard from the musicians and singers was continued throughout the show. Without understanding the words, we were able to sit back and admire the puppeteers' skills with choreography, the beauty of the set, including the puppets themselves, and the extremely talented musicians. You'll find it a more enriching experience if you have a little knowledge about the mythology of the Vietnamese culture, but regardless, the experience as a whole is definitely worth it.
HIT THE NIGHT MARKETS
One of Hanoi's "must-do" attractions, the night markets have a buzzing atmosphere with pretty fairy lights crisscrossing between buildings. This is a fun place to wander around, and particularly great if you're in search of knock-offs of any item imaginable. Otherwise, it's not the hot shopping spot for you. But here's what is ...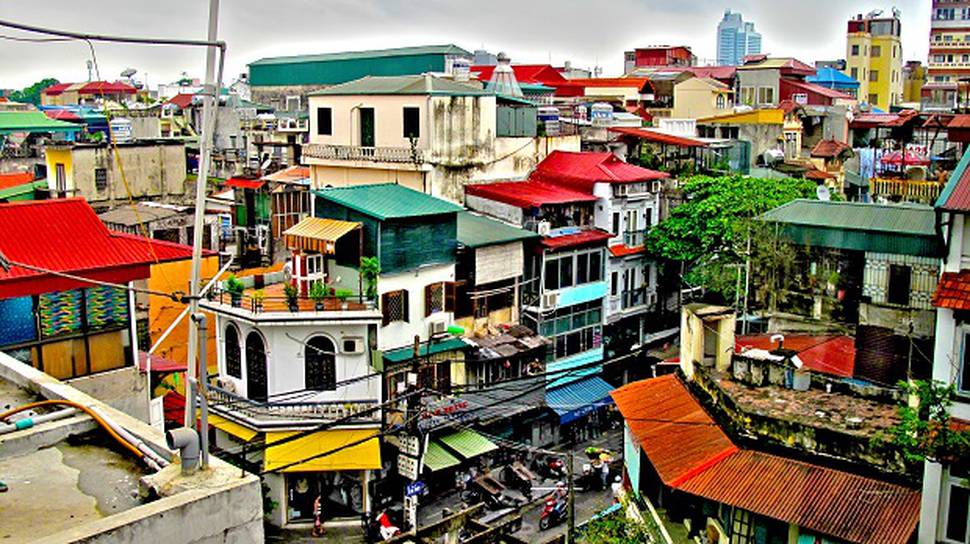 SHOP (FOR SILK) TILL YOU DROP
Ladies, silk and more silk! I soaked up the rapidly modernising atmosphere of Hanoi as I explored Hang Gai St, aka Silk St. The best thing about this part of the city is that the shops are open until 10pm, so I indulged in some late-night browsing when the air was cooler and the nightlife was picking up. Great for my mood but bad for my credit card.
Vietnam is famous for tailored clothing of excellent quality and my pick is a boutique store called 21 Six, featured in Vietnam International Fashion Week. I brought half the store, loving the high-quality fabrics and well-fitted styles for cheap prices. You can find this boutique store on Ba Trieu St, just around the corner from Hang Gai St.
Another favourite was Ha Hadong Silk, which specialises in raw silk and fine arts embroidery made into scarfs and clothing. It was the perfect place to buy a special gift for loved ones, though I couldn't leave without purchasing a couple of silk ocean-blue scarves for myself. And these shops aren't only for girls — I ducked away to hunt down the perfect plaid scarf for my partner Jimmy while he was scoping out the best place for dessert.
SAMPLE THE NIGHTLIFE
The nightlife in Hanoi doesn't stop at the markets. I was settling into bed in my hotel in the famous French Quarter after an incredible day, when I heard a symphony of voices coming from nearby Le Thach St. Intrigued, I slipped on some sandals and went to explore. Le Thach has been recently closed off to vehicles at night, following the example set by the Old Quarter and others. I had only walked 20m when I came across three local couples ballroom dancing to cha-cha music, followed by the classic tune, Hit the Road Jack. Just across the main drag were more dancers, only this was a group locking and popping to hip-hop. From here on, the entire quarter was dance group central, like walking from one art piece to another at an exhibition.
The communal joy of this city had me wishing we had a similar vibe in New Zealand. Hanoi is a special place indeed.
CHECKLIST
Getting there: Air New Zealand flies direct from Auckland to Ho Chi Minh from June to October, with connecting flights to Hanoi with Vietnam Airlines.