Never let a lack of experience stand in the way of a good adventure, writes Kimberley Bartlett.
During the thick of a particularly unflinching New Zealand winter I turned tail, ran and had what I suspect will go down as the greatest holiday of my life.
The plan had been hatched the previous summer at Man O' War vineyard on Waiheke Island. The sun was shining, Man O' War's Pinque rose was flowing, and at the time it made perfect sense for four female 30-somethings with wanderlust to rent a yacht and sail the Ionian Sea. As is rarely the case with these wine-drenched whimsies it transpired we were all genuinely committed to the idea, and the following week our trip to Greece was booked.
The sailors among you may be thinking — the Ionians? Ain't no big thang. But for us it was a medium to big-sized deal, given only one of our number had any real sailing experience and we were to crew the boat ourselves. In retrospect, I actually can't believe they handed the keys over.
They being Sailing Holidays — a British flotilla sailing holiday company — and in August we arrived at the yacht base in Sivota, a coastal village in the province of Thesprotia in Greece, to be introduced to our 32-foot Beneteau 323. Her name was Lepiana, and over the next week we would get to know her very well (in addition to becoming suitably well-acquainted with one other).
What followed was a week of cracking fun, freedom and firsts . . .
Following our briefing that first night, the yacht didn't leave Sivota. We showed the local bar who's boss, I developed a girl crush on a Romanian barmaid with fabulous hair and my comrade Kate met the engineer on our lead boat — a charming 27-year-old from Upper Hutt — with whom she would go on to have a holiday romance.
The next morning at a local taverna we devoured deliciously oily omelettes, creamy yoghurt, fresh fruit and coffee while our lead crew pointed to a chart and said don't be late. The days were ours, but we would need to arrive at the next port by a certain time.
This relative freedom resonated with me; I didn't like the idea of traipsing round the Ionians among a flotilla of other boats. I was pleased we'd have the days to do with what we wished but welcomed recommendations of spots to anchor for swimming and lunch.
After buying ingredients for the quintessential Greek salad and icy cold slabs of a local beer called Mythos, we pulled up the anchor and immediately tangled our chain with that of another yacht. It was the first of several intimidating mishaps that challenged us during the week — all of which added to the experience (as well as the rich tapestry of the post-holiday tales we wove).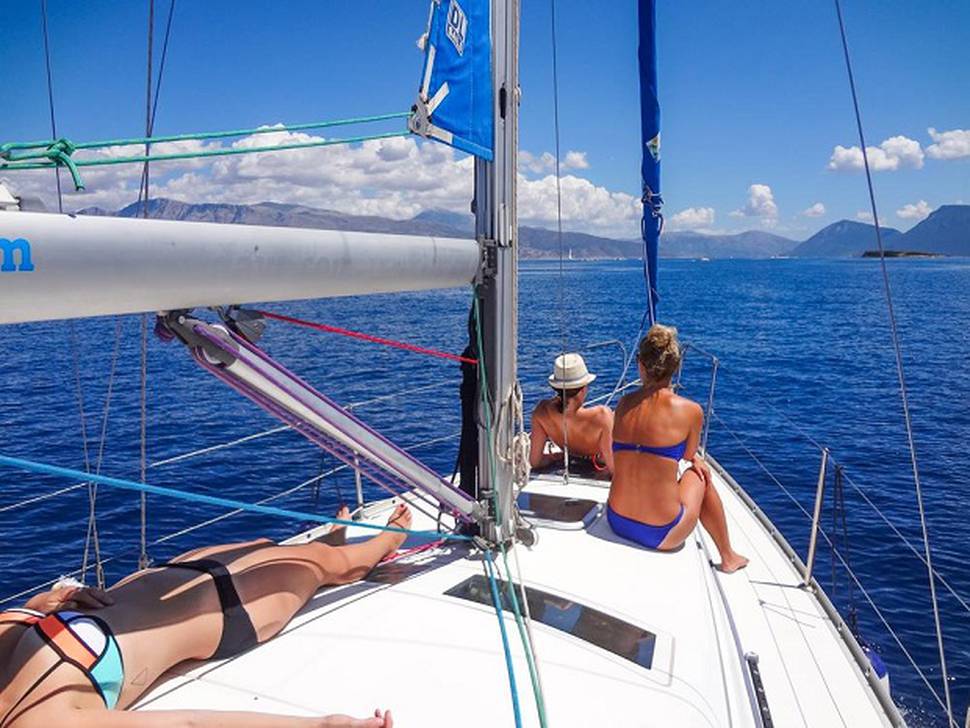 Following a relaxed first day of motoring we neared the island of Meganisi and received mooring instructions from the lead boat ("bows-to" versus "stern-to", noted). It was about this time we realised our captain was a great deal more capable than she'd let on — I suspect more than she herself even knew. To this day I am filled with pride when I think about Captain Kate and her form on the boat. The two of us have been friends for 15 years and know each other inside out, but on the yacht she dazzled me with her patience, poise and appetite to teach. By way of example, she made the three of us swim under the boat to note the size of the keel so we'd feel safe when sails were up and the boat began to tilt. (Despite this, my terror was absolute the first time the yacht really heeled). The fortification of my friendship with Kate, and the newly close friendships I forged with Imogen and Maria are undoubtedly the most important things I took away from our holiday. Yes, I can now tie a comprehensive fender knot, but the bonds created by the four of us I know are far more resolute. I would do murderous things for any of them if they asked.
It sounds twee when I write it, but we all experienced feelings of freedom and empowerment. I remember sitting at the bow going through a particularly rough patch of sea. As I reflect, my brain cannot help but summon the image of Lieutenant Dan in Forrest Gump: me — like he — covered in salt from the spray and having to hold on for dear life. I glanced back to see Imogen at the helm — one of life's true beauties, who would shine dressed in a hessian potato sack — at this moment imbued with the fierce spirit of the 16th-century pirate queen of Ireland, Grace O'Malley. Strong, blissful — and supremely badass.
That night at Port Atheni on Meganisi we made merry at a taverna with the other boats in our flotilla — all British families of varying composition and some of them a great deal of fun. We ate calamari, drank too much Ouzo and lent our dinghy to a group of absurdly well-dressed Italians. It was a truly magical evening.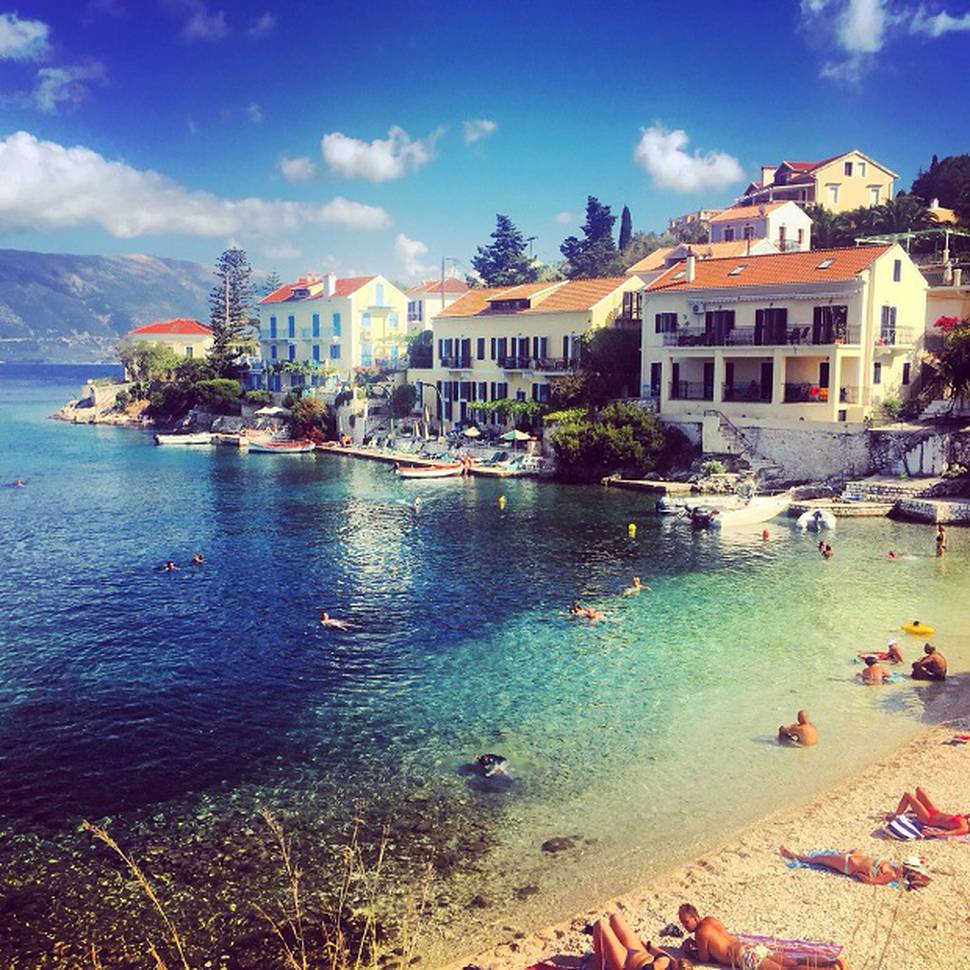 With sore heads and happy hearts we left Port Atheni early the next morning, passing the Italians standing on their deck waving and yelling "ciao". The following two days passed in a blur of swimming, eating and learning to sail. We moored at Vathy on Ithaca, where I thought of Odysseus' Penelope; and the next night at Agios Euphemia on Kefalonia, the picturesque island where Captain Corelli's Mandolin was filmed.
Our next anchorage was Fiskardo, a little town in possession of some wicked style. Here I took off on my own and explored cobbled lanes dripping with bougainvillea, returning refreshed to Lepiana a few hours later with toenails painted orange and arms laden with shopping bags. As was our custom, we transitioned into the evening with the help of Maria's signature homemade espresso martinis and then dined at a cosy waterfront restaurant called Irida's, waited on by Irida herself.
The next day we anchored off an island to swim and after a nap in the sun woke to discover our engine wouldn't start, at which time the anchor was on the way up and our boat drifting swiftly toward the beach. What followed was a period of panic and an awkward moment when more Italians tried to block our yacht from the shore with their rubber boat. At some point Kate told me to put up the sails, which I yelled up to the other girls at the bow and together we got the job done. Thank God the wind played ball. We would later learn sailing off an anchor is not a simple manoeuvre, so, naturally, a fair bit of backslapping went down that evening once we made it to Nidri on Lefkada.
Back at the yacht base in Sivota for our final night we felt an immense sense of satisfaction, as well as sadness that it was almost over. Various elements had come together to render it a brilliant holiday. Our four personalities meshed well in close quarters with everyone adding value in their own way. Maria the little Swede brought boundless enthusiasm to every evening. Imogen soothed heads with cups of tea each morning while Kate entertained us with her romance and captained the boat like a boss.
Being on the yacht away from ordinary life provided the space to find clarity, and three out of four of us returned home to New Zealand to make major life decisions involving relationships and careers. A vacation with form and function . . .
I am, however, 100 per cent okay with the trip being surpassed by another blinder — willing it to happen in fact. So, good people, pour me a glass of pink wine and let's start plotting.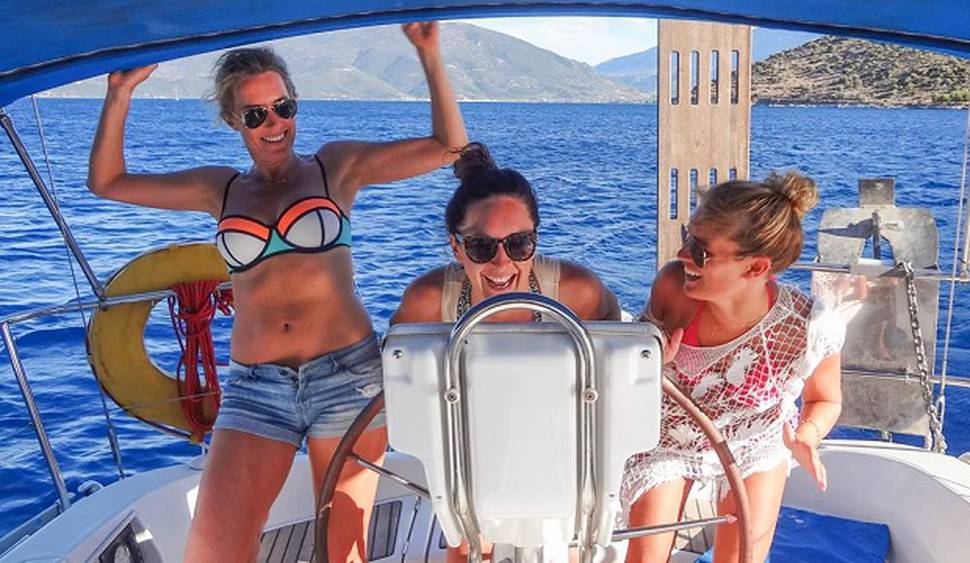 CHECKLIST
Getting there:
flies from Auckland to Athens, via Doha.