If you're keen on a holiday in a winter wonderland, but not confident in your skiing/snowboarding ability, there's still plenty of other options to have fun in the snow.
From dog sledding in Alaska to snowshoe hiking in Montana, check out these offbeat and less familiar snow activities you can experience this winter in the United States. All you'll need is warm clothes and a sense of adventure.
Mushing with huskies in Alaska
For centuries sled dogs have been used to transport people and goods across frozen landscapes. This method of transport is still used in Alaska, though today dog sledding, also known as "mushing", is as much a sport as it is a means of getting around.
One of the best ways to experience the thrill of mushing is to watch a professional race in Anchorage. Every March, the Iditarod race takes place and you can catch a glimpse of racers and their dog teams travelling across Alaska's icy frontier all the way to Nome.
You can also try mushing for yourself at Alyeska Resort in Girdwood, located about 65km outside of Anchorage.
Snow tubing in Pennsylvania
If you can't ski but are still looking for some quick thrills, snow tubing is an easy and fun way to get down a mountain. Essentially, you sit in a tube and let gravity propel you down the slopes.
The heart of the Pocono Mountains in Pennsylvania is home to Camelback Mountain Resort, which claims to be the largest snow tubing park in the country. The resort has 42 tubing lanes and two "magic carpet" conveyors to carry you and your tube back up the peak.
You can also ride in either single or double tubes so it's perfect for both adults and children.
Snowshoeing in Montana or Utah
If walking is more your thing, opt for a snow shoeing experience. Snowshoeing is a form of hiking which you can do safely in the snow with appropriate footwear.
Two-hour guided snow shoe walks are offered at Glacier National Park in Montana and it's a great opportunity to explore the wildlife and discover plants and lakes. Just remember to dress in layers and pack water and snacks. If you don't have your own snowshoes, you can rent these out at the Apgar Visitor Center.
For another picturesque and unique snowshoeing experience, go on a full moon hike at Bryce Canyon in Utah from now through to March. You will however need your own waterproof hiking boots, but snowshoes and poles will be provided.
Snowkiting in New England
Snowkiting is exactly what it sounds like: You're pulled across the snow by a kite.
However, the kite looks more like a small parachute and functions like a sail. So put on your helmet and strap into a harness and let the wind propel you across snow and ice — even into the air if you're brave. Experienced snowkiters can reach speeds of up to 100km per hour.
New England lakes, which often freeze over during winter, are some of the best places to try the sport. Current hot spots include Lake Winnipesaukee and Chocorua Lake in New Hampshire, Moosehead Lake in Maine and Lake Champlain in Vermont.
If you're new to snowkiting, it's best to learn from experts. Hardwater Kiting in North Conway, New Hampshire, offers snowkiting lessons, safety guidance and equipment. The members of the staff are certified snowkiting instructors who are familiar with northern New England backcountry.
Take a scenic gondola ride
The summit of Mammoth Mountain at 11,053 feet provides one of the most stunning views you'll find in the US. Take a scenic trip up the Panorama Gondola for a 360 degree vista of Sierra Nevada peaks and a commanding view of the San Joaquin River Valley below, and then grab lunch at the cafe at the top.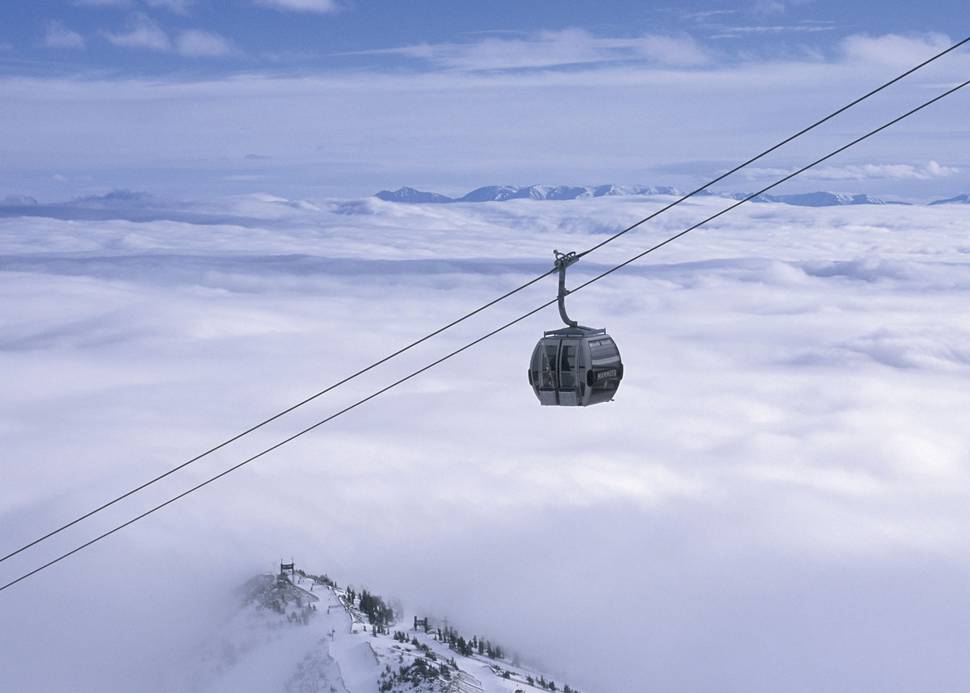 The Mammoth Mountain ski area has experienced record snowfall this season — and currently they claim to have the most snow in North America.
For more adventure ideas, check out Visit the USA.