Spectres and plucky guests rub shoulders at a Haunted Halloween Gala, writes Suzanne McFadden.
We know how seriously Halloween celebrations are taken in North America - where, last year, Trump and Clinton presidential masks were costume de rigueur and pumpkin spice has become a bizarre food staple. One hotel in the Canadian Rockies town of Banff takes the opportunity of All Hallows' Eve to embrace its hauntedness.
Since the Fairmont Banff Springs was built in 1888, the grand hotel has had a host of spirited guests who have checked in, but never left. Last year it threw a gala in their honour.
The imposing Scottish baronial-style hotel already has a slightly dark feel about it - with its dimly lit corridors, heavy chandeliers and suits of armour. So it isn't a surprise when hotel staff are happy to introduce you to their ghostly occupants.
On October 29, the resident spectres of Banff Springs were guests of honour at a Haunted Halloween Gala, which includes a dance party, photos on the black carpet and a heritage ghost tour.
The tour stops at one of the hotel's sweeping marble staircases, where guests and staff have regularly seen the Ghost Bride. In the 1920s, a young bride was descending the candlelit stairs to her wedding reception in the Cascade Ballroom when she stumbled and fell, and died from her injuries.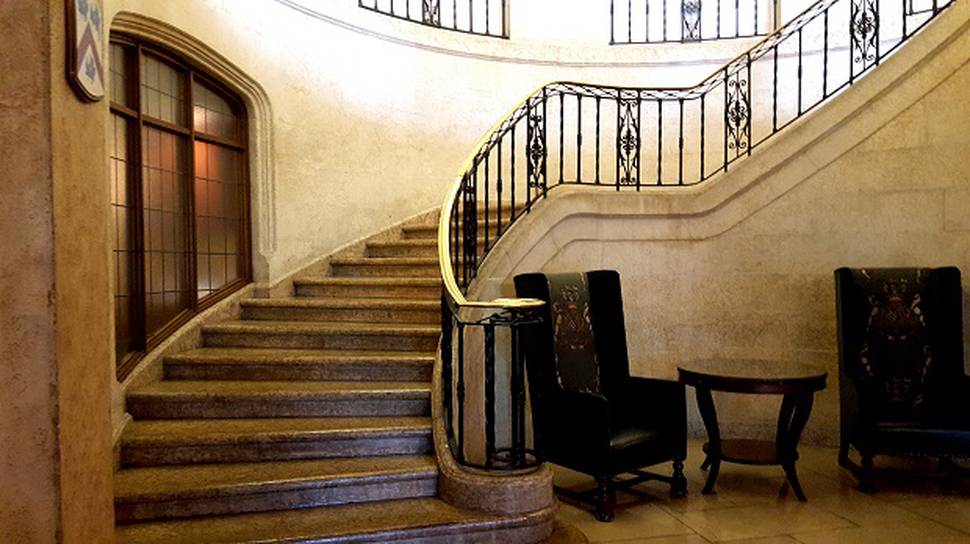 For decades, an apparition in white has been seen floating down the staircase, and even dancing alone in the ballroom. A Canadian postage stamp and a 25c coin have been minted with her ethereal image.
Then there's the crying baby, who legend has it drowned in a hotel bath, and apparently tries to snuggle up with women who are sleeping alone.
Some of the spirits are agreeable - Sam McAuley, a Scottish bellman never wanted to retire, even after he died in 1975. Since then, a kindly man in a plaid jacket has helped guests with pillows and lost keys, and suddenly disappeared without taking his tip.
The Fairmont's sister hotel in British Columbia, the Hotel Vancouver, has its own ghosts, the most famous of which is the Lady in Red. Jennie Pearl Cox was a regular visitor to the ballroom with her husband in the 1930s and 40s; after she died in a car crash in 1944, some say she took up residence in the hotel. She's been spotted exiting the lift, especially on the 14th floor, and lives on with a hotel cocktail named after her.