The receptionist at our hotel across a leafy square from the Casa Voyageurs train station pushed a photocopied map across the counter.
Her yellow highlighter sprang into action. "We're here, the Corniche is here, the Medina is here, the mosque is here ... and Rick's Cafe is here."
Rick's Cafe? We'd heard that Morocco's largest city had a restaurant based on the celebrated "gin joint" in the classic 1942 movie Casablanca.
But we hardly expected to hear it listed in the same breath as the US$800 million (NZ$1.1 billion) Hassan II Mosque that dominates Casablanca's Atlantic seafront.
Especially since the movie was shot in Hollywood and had nothing to do with the city of Casablanca, except for using its name. And the original Rick's Cafe Americain was a set on Warner Brothers' Burbank lot, modelled on a hotel in Tangiers.
How could any attempt at replicating Rick's be anything other than a tasteless ripoff? We should definitely investigate this pretender.
Braving Casablanca's frenzied traffic, which shows scant respect for pedestrians, was no problem.
After several days in Marrakesh's even more manic mix of motorbikes, cars and donkey carts, we were graduates of the "Yalla! In shaa Allah!" (Let's go! God willing!) school of crossing streets.
We navigated the maze of souks in the old Medina and emerged on the seafront.
The mosque's towering 210m minaret beckoned. We wanted to see its glass-floored prayer hall, which extends over the ocean and accommodates 25,000 worshippers, but it was closed.
It was mid-afternoon when we walked back along the Marina in search of Rick's. At the Royal Moroccan Navy base we got directions in French from a brusque, moustachioed officer who could have been an understudy for the Nazi Major Strasser in the movie.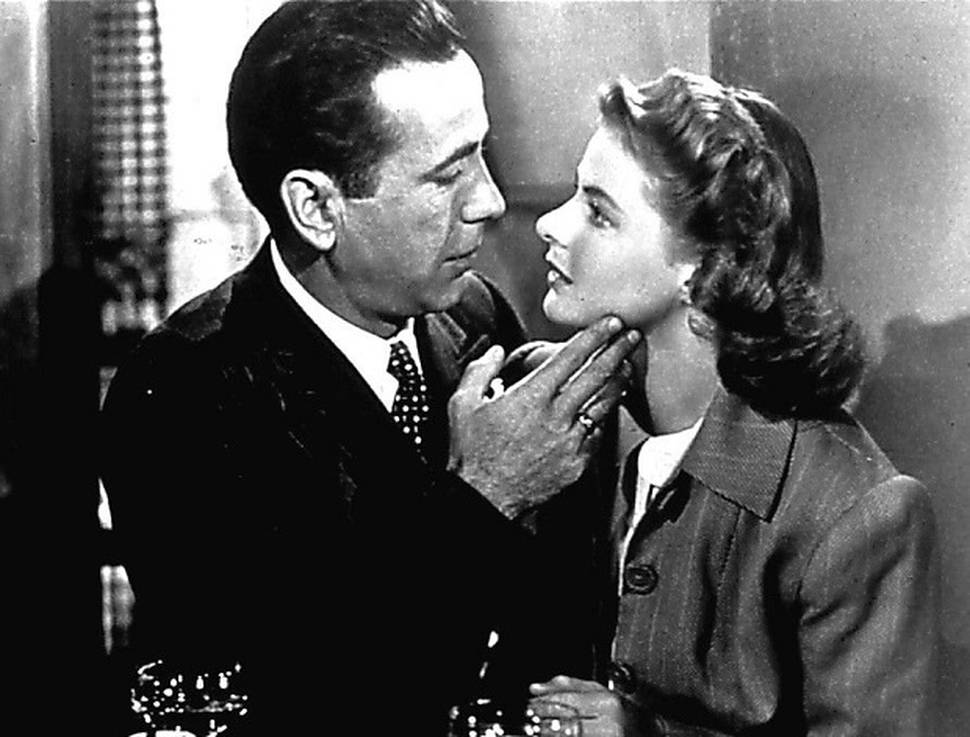 And there it was — "of all the gin joints in all the towns in all the world" — a white stucco building with a grand entrance flanked by palm trees. Modest art deco lettering up high said Rick's Cafe (the word Americain had been dropped). We fronted the bar to case the joint.
This was no rip-off. Elegant pointed arches surrounded an internal tiled courtyard. Potted palms, dark wooden furniture, carved screens, oriental drapes, tassel-fringed Moroccan lamps and a vintage grand piano conjured up a lush retro ambiance.
All it lacked was Humphrey Bogart and Ingrid Bergman, as star-crossed lovers Rick and Ilsa, sipping their Champagne cocktails at the bar.
Thoroughly hooked, we booked for dinner.
Walking back along Boulevard Mohammed V, once a showcase of French colonial architecture, we passed the Cinema Rialto, an art-deco classic recently restored.
When the movie screened here, the locals must have been amazed to see their town depicted as a desert-bound colonial outpost teeming with refugees, spies, wheeler-dealers and assorted rogues.
When we returned, Rick's was in evening dress.
Sophisticated lighting picked out the vivid white walls, waiters wore black waistcoats and ties, and the maitre d' a fez. The clientele, though cosmopolitan, seemed devoid of shady characters.
Perched at the end of the bar was Kathy Kriger, who opened the cafe in 2004. An American ex-pat, she left her US embassy job after September 11, 2001, fearing American xenophobia would prompt an anti-Arab backlash in her beloved Casablanca.
Caviar may have been the only dish served in the movie cafe, but Kriger's menu — European and Moroccan — is much more extensive. A signature dish is goat's cheese croquettes with honey, lavender and crushed almonds.
Our young waiters were charming. One, a Berber, was in love with New Zealand, thanks to The Lord of the Rings.
At 9pm the pianist appeared — not Sam, but Issam (his real name). Issam Chabaa's repertoire included standards of the 1940s and, of course, the haunting movie theme As Time Goes By.
A notice by the door warned against taking photographs without permission. Selfies with cellphones seemed tolerated, but when a tourist aimed a serious camera he was cautioned.
But, as Rick might have said, there are rules and there are deals. As we were leaving we asked our Lord of the Rings-struck waiter to take our picture out in the middle of the dining area. "But no flash," he whispered. Sensing what we really wanted, he angled the shot to include the bar and Issam at the keyboard.
"We'll see you in New Zealand," we farewelled him as currency changed hands. "In shaa Allah!"
CHECKLIST
Getting there: Emirates flies from Auckland to Casablanca via their hub in Dubai.
Eating there: Rick's Cafe can be found at 248 Bd Sour Jdid, Place du jardin public, Ancienne medina.