A woman who hated her office work and felt she was too caught up by materialism has ditched her day job to travel the world with her dog.
Italian-born Marina Piro, 25, and Labradoodle Odie now live in a five door 2001 Renault Kangoo which she turned into a miniature home by herself for £500, installing a bed, curtains, kitchenette and lights.
Nicknamed Pam The Van, Marina - who has lived in the UK for five years - chose the vehicle as she knew many kinds of transport and accommodation would be off limits with a dog, and she didn't want to leave Odie behind.
- Orginally published by Daily Mail
In the past 11 months they have visited lakes in France, been hiking and bikining in Italy and enjoyed the seaside in Brighton and Marina plans to continue travelling for the foreseeable future.
While Marina used to have a long-term office job, she didn't feel happy and felt that she was becoming too concerned with the material trappings of her traditional existence.
Marina says: "Through my interest in small communities, families and individuals working hard for a better world for future generations, I decided that I wanted to make my contribution to this movement and learn how to live a life more in tune with the earth and its inhabitants.
"I wanted something small as I suck at parking and loved the idea of not having to find a place to sleep every night."
Marina spent two months on research before embarking on restoring the van. which she managed to do for £500.
Now she's loving her new life on the road and plans to keep travelling for the foreseeable future, living off of savings, picking up casual jobs and working remotely.
She has encountered a few difficulties on her travels however.
She said: "In Reims in France, I was so excited to go out and explore the city that I parked the van in a small alleyway and left without taking a note of the name of the street.
"Odie and I wandered around the city for hours and when it came to go back to the van we had no clue about where we parked it.
"To make things worse my phone had run out of battery, I had no passport and I'd spent my last money on a bad coffee.
"By the time we found the van it was 3am. Odie was not impressed. I've learnt my lesson and I now always write down the name of the street I park on."
Comfortingly, however, she says that she hasn't experienced any problems where her safety was put at risk by others.
Marina believes the secret to her nomadic existence is organisation and packing, and now lives a far more minimalist life than before.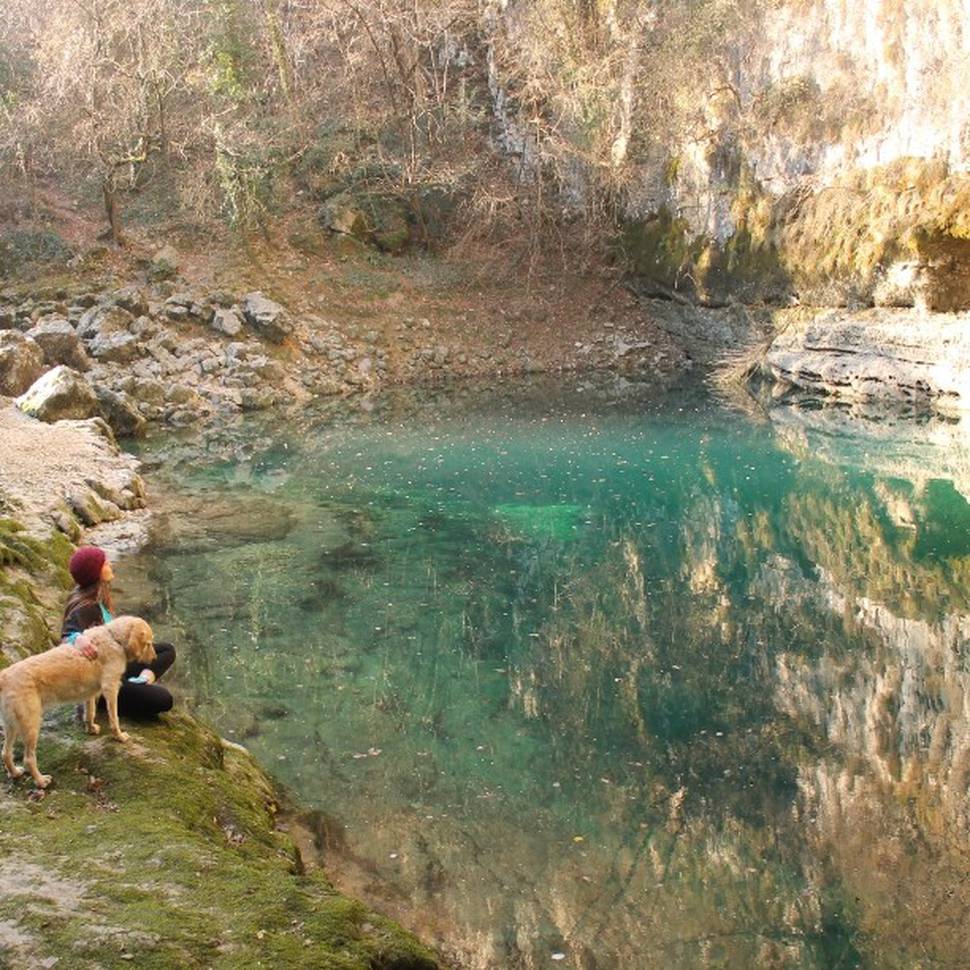 "I used to have far too much stuff when I was living in my house," she said. "Although I still carry two pair of unnecessary high heels and far too many books."
Marina hopes to inspire other women to follow their dreams, just like she is.
She says: "When I started working on the van, I found that most information out there was written by men.
"Nothing wrong with that, however I could not understand most of what they said! I found it very hard to orientate myself into that sea of information.
"I could not find one woman doing it by herself, there was always a man in the background."
To counteract this, Marina writes easy to understand guides about converting vans to ensure that the lifestyle is accessible to anyone that wants it.
She said: "I would love for any women wanting to live their dream to feel like they can do it even if they are alone, clueless or manless.
"It's incredible the amount of chauvinism that's out there. I received comments from men saying that it's impossible that I did the conversion myself, and that I surely could not be so stupid as to travel on my own and put myself in danger.
"I've heard to many women tell me 'I wish I could do it, but would have no idea of where to start' or 'I'm not brave enough to follow my dream'".
"If a man can do it than a woman can do it too."
MARINA'S TOP 20 ITEMS FOR LIVING AND TRAVELLING IN A VAN
1.
A good knife (to cut apples and to hug at night)
2.
A big torch
3.
Instruments to play (can you believe that in Pamthevan there are 2 ukuleles 1 banjo and a small darbouka?)
4.
A combi drill to fix the stuff that breaks
5.
An emergency battery starter in case I get stranded with no people around
6.
Odie's ball throwing stick that he loves
7.
Table tennis set with net included (everybody loves table tennis)
8.
A wild edible plants book, to forage delicious fruits and veggies
9.
A mechanics tool set
10.
A fire extinguisher
11.
A yoga mat to practice
12.
A first aid kit
13.
Coffee and Moka pot
14.
A sewing machine (it's one of my hobbies and it came useful quite a few times)
15.
Juggling balls
16.
A long rope she can use as a lead for Odie and as a washing line
17.
A foldable camping chair and a tent
18.
Adaptors for different countries
19.
An emergency USB charger for my phone in case I'm in trouble and don't have access to electricity
20.
Wellies for farm work and muddy walks
- Follow Marina, Odie and Pamthevan