Courtney Whitaker gets the royal treatment at a luxurious bar with an important address.
I was not amused. There was tea on the menu, and it was a hop, skip and a jump from her house. But clearly, Her Maj had double-booked dinner that evening.
We'd only travelled 18,000km, braved the Tube during rush hour and teetered down cobblestones in fancy shoes to admire her fair city, so we were thankful we still got the royal treatment at Bbar.
Plonked in a rather important-sounding location, Bbar, on Buckingham Palace Rd, London, is unassuming from the outside. It sits snugly next to its big brother, Hotel 41, both owned by prestigious family firm Red Carnation Hotels. But inside, the bar is worlds away from its rather imposing address.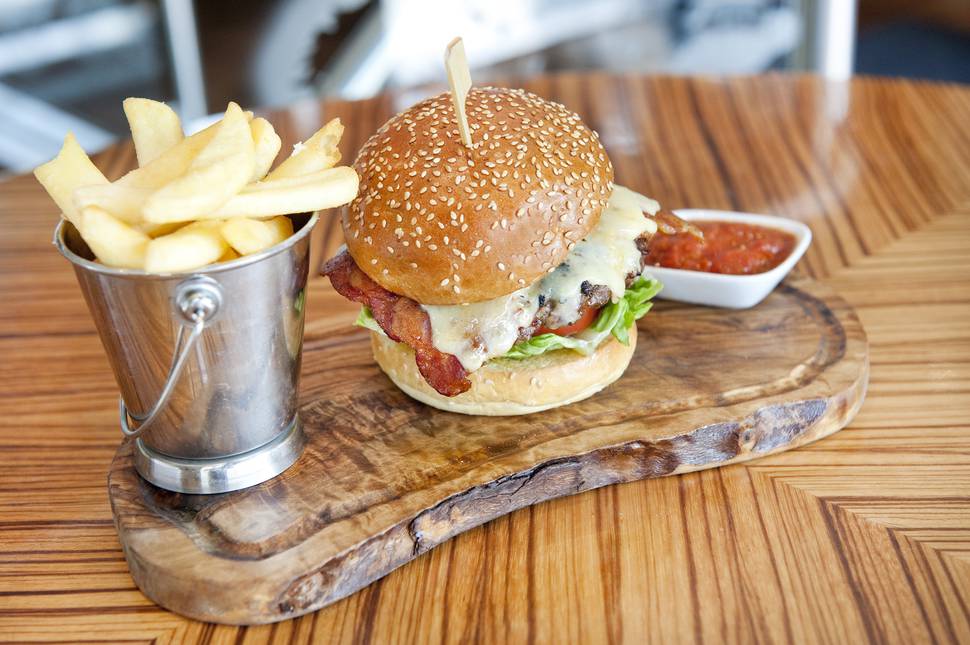 Beautiful wood and leather accents are set off by stunning black-and-white big-game photographs. Sumptuous couches and inviting caramel leather chairs complement polished zebrano wood tables. We have been transported from the bustling streets of London into the wilds of South Africa.
Our table sits between what would easily morph into a sports bar on one side, and a more sophisticated dining room on the other. Two smartly dressed bartenders bustle about behind the bar, in front of a wall laden with bottles.
A large TV sits above the tables, no doubt poised to screen the next international rugby match. For a Wednesday evening, the bar is booming. Patrons include a rather upbeat table of young ladies out for an after-work drink, and several groups.
"We're famous for our burgers," declares Katrina, our bubbly Slovakian waitress. "But first, would you like a drink?"
She's read my mind. There's nothing like a bit of jetlag to send you diving for the drinks menu. We'd just flown in from sunnier European climes, and the cold weather (sorry London, but your summer needs some work), and a good dose of the old 'lag had left us utterly hopeless at decision making.
So, I really can't tell you what made me order a Singapore Sling in a South African-themed bar, or why my partner ordered the traditionally Cuban Hemingway Daiquiri. Neither are particularly exotic, but both cocktails arrive perfectly executed. I let the generous pineapple garnish on my cocktail soak in the gin and grenadine as long as possible, while his Hemingway is equally well presented — and slightly more elegant. Neither cocktail is, however, the authentic experience we are after.
Sensing we are craving something a little more exciting — and also that perhaps we are inhaling our cocktails rather speedily — Katrina sets a large plate of bobotie spring rolls before us. This South African meat-filled pastry roll hits the spot, and comes with a delicious spicy dipping chutney. But with a wine list boasting more than 110 wines, we are a little lost as to a wine match.
"Let me talk to our sommelier," says the ever-patient Katrina.
We scrutinise the dinner menu, and decide to order one of Bbar's "famous burgers" and an eye fillet for my partner. In a nod to their neighbours, the menu has several highlighted dishes, of which 1 from each is donated to the Sentebale charity for disadvantaged children in Lesotho, co-founded by Prince Harry.
I spot a Yealands Estate Marlborough sauvignon on the wine list, as well as a few Australian vintages. The sommelier recommends the South African Bouchard Finlayson 2013 Hannibal sangiovese/pinot noir blend, which comes in a generous 250ml glass and works perfectly with our mains.
We decide to finish the evening with a cocktail from the South African list: the Dark Roast Amarula. It's a twist on an espresso martini, a drink on which I consider myself rather an expert. And I can confirm this delicious combination of Amarula, double espresso, caramel and orange zest was every bit as gorgeous as the best espresso 'tini I've ever had. It's the burst of energy we need to stumble back past Liz's place and on to the Tube.
Had she joined us, I'm sure One would have been just as impressed as we were.
CHECKLIST
Getting there: Malaysia Airlines flies from Auckland to London.