Cloe Willetts visits four Kapiti Coast artists and still finds time to explore the tastes, sounds and scenery of the district.
As I enter the home of Kapiti Coast glass sculptor Graeme Hitchcock, the scent of freshly burned incense greets me, accompanied by sights of unconventional artwork settled on tables and subtly lit shelving, the miniature exhibition taking over his hilltop lounge.
I'm about to remove my rain-drizzled shoes — an inappropriate wedge-style for a mid-winter morning — when Graeme deters me with a flick of his hand, guiding me into the warmth of his open-plan living space, its backdrop another great piece of art: Kapiti Island.
Men with shiny heads and pointed, upward-facing noses fill the majority of the space, dressed in suits and in different sizes and tones.
The Man Looking collection, of which hundreds of versions have been displayed at homes and exhibitions throughout the world, is the result of a methodological case-glass sculpting process.
"The concept came from a group of men I saw waiting at a bus stop in Auckland, hands in their pockets, just looking up as they waited to catch the bus to another day of work," says Graeme, who exposes the intricate step-by-step casing method in his garage, where bald heads gather in the dozens.
Graeme, who is also a painter, is the first of four artists I visit as part of a day-long tour into the artistic depths and attractions of the Kapiti Coast.
Kapiti, less than an hour's drive from Wellington, is hosting its 12th Kapiti Arts Trail this year.
Running over two weekends in October and November, the large-scale annual affair will see 61 studio artists, 13 galleries and 19 artists across four hubs take part in Kapiti's biggest art event.
Of course, Kapiti was a gorgeous destination long before the arts trail came to town.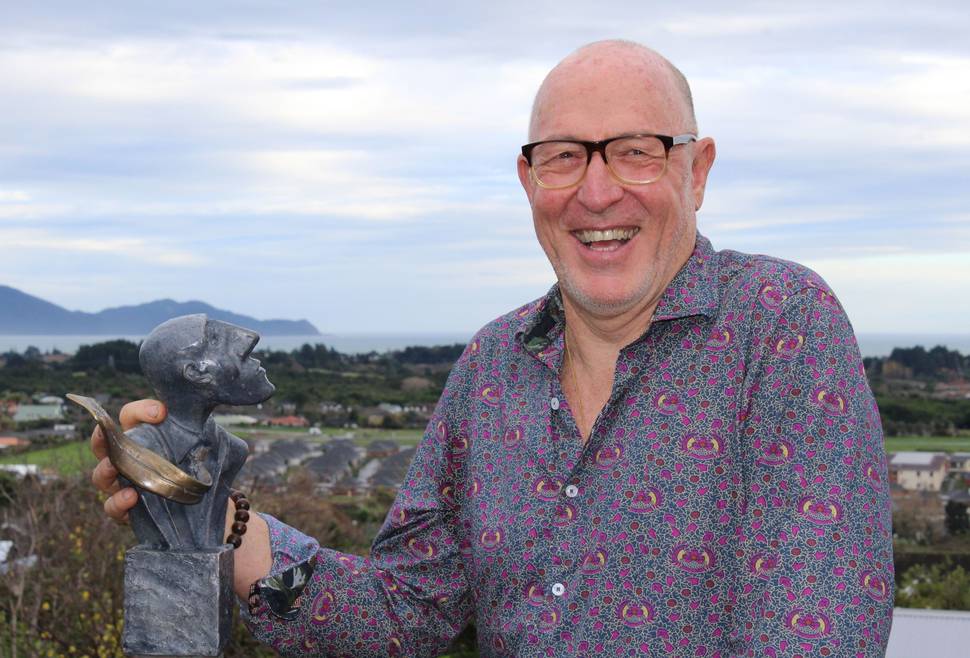 Leaving behind empty coffee cups and views of sloping greenery, I farewell Graeme, setting off on a rainy journey to uncover the usually warmer district, which is recognised for its innovative hospitality and entrepreneurship, beaches, community connectedness and, of course, thriving arts scene.
Passing the Southward Car Museum, the largest private car collection in the Southern Hemisphere, we eventually arrive at the home of Paraparaumu abstract and portraiture painter Micheline Robinson.
A few of the French-Canadian's most recent artworks wait for us perched on easels, others rest against the walls of her garage studio, which is brightly lit and tenderly splattered with paint.
Many of her works are moody and instinctive and represent the emotions that stem from her relocation to New Zealand in 2012.
The long garage doors of her studio were recently replaced with glistening glass windows, offering visual reminders of her family's new-found Kiwiness; native greenery at every corner and a home-made tyre swing gathering a pocket of fresh rainwater.
"Since my works are often done in series and record my journey and experiences, they're more or less large visual diaries — once I've thoroughly exhausted a subject, I'll move on to another one," Micheline says.
Fabienne Joni Sopacua, 30, is another recent arrival, settling on the Kapiti coast two years ago after leaving the Netherlands.
She greets us at the doorstep of her rented Raumati Beach home. Captivating culture-rich characters line the walls of a small spare bedroom-turned studio, their eyes breathtakingly lifelike and spilling their own back stories.
The works, which could quite easily be mistaken for photographs, reflect Fabienne's desire to provoke thought about humanity through her artwork.
"As long as I can remember, drawing has been a part of my life," says the qualified social worker, who plans to donate a portion of sales from the arts trail to organisations, including Unicef.
Before meeting the last artist on the list, eccentric well-known Paekakariki creative Alan Wehipeihana, I am welcomed into Kapiti's historically-rich Mahara Gallery in Waikanae by director Janet Bayly. She takes me through the gallery, which opened in 1995 and sits a few doors down from the colourful Artel Gallery.
All this art is hungry work. A fresh, flavoursome lunch at Long Beach Tavern in Waikanae Beach follows, the business' rising success the work of local 30-year-old entrepreneurs Todd Cameron and Aaron Wagstaff. Over the past eight years, the two Waikanae Beach locals have marked the three main corners of their home town with the equally thriving Olde Beach Bakery, North End Brewing and, most recently, Salt and Wood Collective.
Restored, I climb the outdoor stairwell to Alan's rustic streetside studio. An old sewing factory located in the heart of Paekakariki village, the large multi-room studio welcomes us with the heat from its antique brick fireplace and company of fellow Paekakariki artists Storm Davenport, Diana Farry and Harriet Bright.
Alan, also an author of short stories, speaks about being introduced to lead lighting in the 1980s, before discovering stone in 1990 and eventually becoming a full-time artist at 42.
"When I wasn't pulling glass shards from my elbows, I was grappling with design and trying to overcome the limitations of function," says Alan, who is entering the arts trail for his 12th time.
Having dug his heels in as one of Paekakariki's most prominent artists, Alan shows me through his many upcycled works, including pieces crafted from the spines of old worn books and carved metre-high story panels.
Art can be thirsty work, too. So farewelling the creative energy stirring in Alan's studio, I head for Paraparaumu's award-winning Tuatara Brewery tasting room.
Here, the smooth flavours of the international-selling beer accompany the tastes of fresh Kapiti cheeses and complimentary sides including decadent chocolate cake.
After being welcomed by founder and beer-brewing engineer Carl Vasta, who started brewing in his Waikanae back yard in the 1990s, I relish the tones of four different beer crafts, which leave my taste buds tested and senses warm.
Our day finishes with dinner at Paraparaumu Beach's popular Soprano Ristorante.
Wine and conversation flows in equal measure as the day's art experiences are rated and assessed.
As we finish a day of exploring the vitality of a culturally diverse community, the sound of rolling waves create the perfect end to a remarkable coastal experience.
CHECKLIST
Details: See the Kapiti Arts Trail Facebook page.