Compared with overcrowded Corfu, Paxos is an idyllic family holiday paradise, writes Claire Spreadbury.
'Lakkachatta swinda lactu," says my 6-year-old daughter Rosie, pencil poised on a notepad.
"Yasi," comes the reply from her sister Poppy, 4, who's sat at the table. "Ikki tabu."
It's a new game they've started playing since we landed in sunny Greece. They're being waitresses and making an effort to grasp the local language.
It's been 15 years since I last visited this country. Back then, it was all booze and bathing, but this time I'm here with my family, discovering a land more akin to the one Gerald Durrell wrote about in My Family And Other Animals, when he wished he could give everyone the gift of his wonderful childhood.
After flying into Corfu, we hop on the hydrofoil and bob across the ocean for an hour to pretty Paxos — the smallest of the Ionian Islands, and said to be similar to the Corfu Durrell adored as a child.
With winding roads, gorgeously green plants, an azure sea, and villas dotting every corner of the three main villages, it's clear this is a part of the world that's made for exploring.
Our villa, Milou, is a grand affair, set off the beaten track at the top of a hill with a view looking out towards the Pindus mountains.
I said goodbye to relaxing holidays like this after our "babymoon" seven years ago, but now our daughters are older and having swimming lessons, a villa escape is a great option. Armed with rubber rings, a mountain of sun cream and a hire car, this is about as relaxing as a family holiday gets.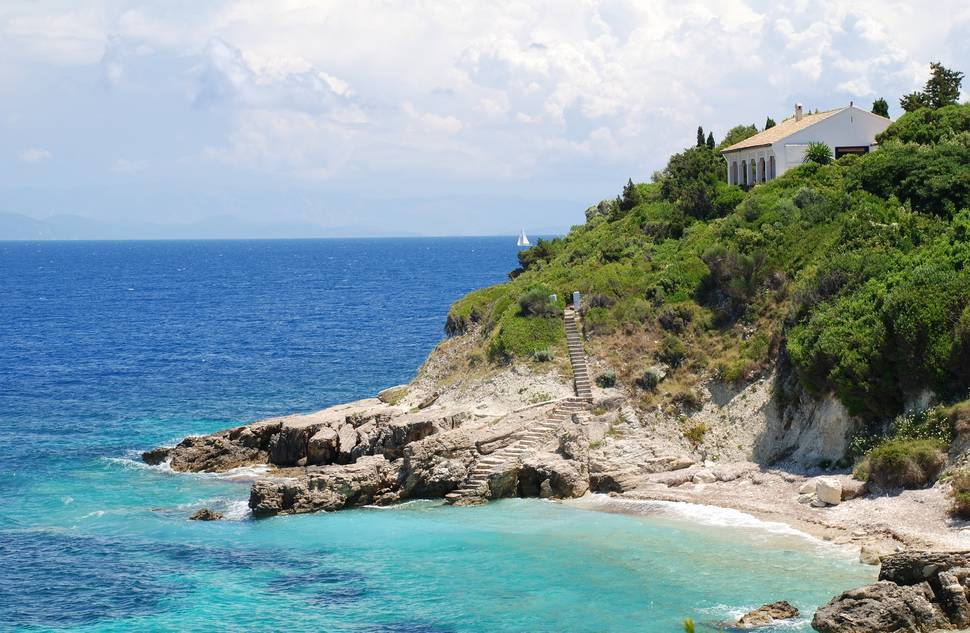 We spend our days gorging on Greek salad with fat and furiously red tomatoes, crunchy cucumber, giant lumps of local feta cheese and lashings of olive oil and oregano. And come the evening, James lights the barbecue and cooks the most enormous sausages ever seen, pork and chicken kebabs, giant peppers, and what can only be described as a "nine-bar" of halloumi, all bought in the local shops at Gaios, the island's capital, and beautiful Loggos, both just a few kilometres away. It's cheap too — we easily buy enough meat to feed us all, with masses of leftovers, for 9 ($14) at the old-fashioned butcher's.
A car is essential here. Even just getting supplies for the villa is tricky without wheels. And having one means you can explore this beautiful, unspoilt island with ease.
Measuring around a mere 13km from one end to the other, Paxos doesn't take long to get around, though roads can be tricky to navigate. We easily get lost while trying to avoid pedestrians, shush unbelievably excited children and translate Greek road signs. We pass giant pots planted up with cacti, aloe vera and lavender, watched over by gnarly old olive trees, as holey as honeycomb.
We drive past a school with signs warning us that children cross here, but there's no one to be seen. When compared with overcrowded Corfu, it seems crazy that so few make the extra journey to experience the peace of Paxos.
We head into Gaios, admiring the perky pink and white flowers on the oleander trees that line the road. A quarter of Paxos' permanent residents live here (about 600), where the Venetian stone-flagged square leads to a picturesque harbour, and at sunrise fishermen sell their catch on marble slabs.
Tavernas spill out on to pavements and, strangely, there are a couple of fish spas — presumably set up when having the dead skin on your feet eaten off by toothless water creatures was having a bit of a moment. It may well have attracted the bronzed beauties from their giant yachts that dock in the bay, but they're very quiet now.
For the best food, we're told to go to Loggos, where the multicoloured shops, bars and restaurants perch on the water's edge, with rustic wooden boards advertising their wares.
I sit, sipping a strawberry daiquiri and watching fish flutter beneath the surface, while a boy stands on a boat, his big bronzed belly proudly on show while he whizzes a homemade fishing line into the sea.
We find a craggy bit of headland near Lakka, Paxos' most northerly tip, where giant rocks peer over and stand tall from the sea.
The girls while away time making stone towers out of pebbles while I investigate a growing green mass with bulbous, almost pod-like ends, that I'm certain must be edible. I look around to ask someone, but there isn't a soul to be seen — just the four of us, deserted on our own idyllic coastland.
Luscious lemon trees with impossibly yellow fruit wave in the wind as, on our final day, we head out on a boat trip to Antipaxos, a small island a few kilometres south of Paxos.
Looking back at Loggos, it almost looks like Nyhavn in Copenhagen, the painted properties fading into the distance.
We spend a full day exploring aboard sightseeing boat Lefcothea, which costs 50 for all four of us (after a little haggling in the shop at the port), stopping to admire ancient rock formations on the way. We float past layer upon layer of mossy grey and white limestone cliffs, swirled and whipped up like messy meringue, while others look like the curled slices of a supersized BLT.
There's a hotchpotch of people on the trip; a three-generational family, old couples, young lovers and a group of women having the time of their lives.
We pull into Voutoumi, a small, slightly sandy beach (most shorelines are adorned with pebbles in Paxos), where the colour of the sea matches the cloudless sky.
The girls spend an age playing with squirters and telling everyone on the beach (about 25 holidaymakers) how disgusting the water tastes, seconds before sticking their faces in again.
"It's like a sunset in the sea," says Rosie, describing how the colour of the ocean changes from clear to turquoise, into azure and navy. And I smile, thinking Durrell would have been pleased with her description.
The Durrells, a BBC drama based on Gerald Durrell's childhood in Corfu, will screen on Prime later this year.
CHECKLIST
Getting there: Emirates flies daily from Auckland via Dubai to Athens, with connecting flights from Athens to Corfu.
- AAP