Bronwyn Sell takes the hard work out of visiting New York's massive Metropolitan Museum.
The first time I made an attempt on the Metropolitan Museum of Art, I saved my visit for my last day in New York - a sunny, quiet Monday. Unfortunately, there was a reason it was quiet. I skipped up the steps on Fifth Avenue to find the doors closed. Wah!
For my next visit, I checked - and re-checked, and re-checked again - that it was open.
But a mixture of a jetlagged oversleep, Subway delays, and a long walk in 38 degree heat somehow had me walking up those steps at 1pm. Which gave me only 4.5 hours to see one of the world's biggest art museums! Gallery geek disaster!
We're talking about tens of thousands of pieces (and that's just the ones on display), covering 5000 years of art, spread out over nearly 200,000sq m of floor space. That's about five Te Papas, or an Auckland Zoo stuffed with priceless art and artefacts.
By the time the staff started ushering people out, I was pretty much running to see everything on my list, dodging all the other people doing the same. And somehow, I missed Egypt. Art museum fail.
So, in the interests of helping you, the reader, avoid the mistakes I made, here is my Met survival guide.
THE MUST-SEES
The number of items on display at the Met is brain-fryingly huge. To glance at each for a second would take more than a week. You need to prioritise. And don't save your favourites until last - this is not a time to eat your brussels sprouts first. That said, choosing the must-see parts of the Met is as easy as choosing the don't-miss eras of history, or making a call about whether sculpture is superior to painting. The Met is circumspect about pointing visitors toward the highlights - understandably, considering it's such a personal choice and they presumably want to be equal opportunity to their artworks - but these are some of the showstoppers.
1. The 2000-year-old intricately carved Egyptian Temple of Dendur is arguably the Met's centrepiece. It was built near Aswan in the time of Augustus Caesar, and Egypt gave it to the US in 1965 when it was about to be swamped by the construction of a dam. (Can't stop progress!) It's spending its retirement in a soaring, light-filled room in the endless Egyptian galleries, with a reflecting pond and views over Central Park, making it one of the most atmospheric spots in the Met. The 2300BC limestone tomb of Perneb is another highlight of this collection.
. If you're into pretty pictures, the Met's superb collection of Impressionists (and post-Impressionists) really make an impression, including crowd-pleasers Monet's The Water Lily Pond (one of 37 Monets at the Met), Manet's Boating, Renoir's Madame Georges Charpentier and her Children, Pissarro's The Boulevard Montmartre on a Winter Morning, van Gogh's Wheat Field with Cypresses, Gauguin's The Midday Nap, Cezanne's The Card Players, Turner's (pre-Impressionist) Venice from the Porch of Madonna della Salute, and a ballet-full of tutu-clad Degas.
3. With all the floor space it has to work with, the Met does a particularly nice turn in period room reconstructions. These are spread out across the museum, so they're a bit of a scavenger hunt. One of the coolest pieces among the Greek and Roman art is a brightly frescoed cubiculum nocturnum (that's a bedroom, to you) from a noble villa near Pompeii, which was entombed - and thus preserved - by the eruption of Vesuvius 2000 years ago.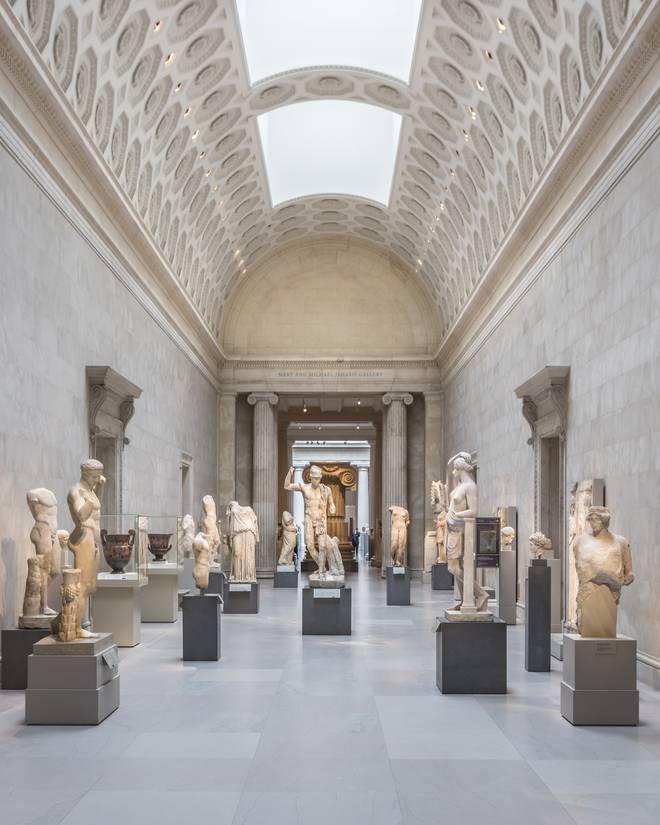 It was discovered and dug up in 1901. Imagine its surprise when it ended up in New York. There's also a Frank Lloyd Wright-designed living room in the American wing - a replica of a Minnesota prairie house (complete with furniture). The Islamic wing features an early 18th century Damascus reception room, the Asian art department has a replica of a 17th century Ming dynasty courtyard and garden, and the European Sculpture Collection features a soaring marble patio reconstructed from an early 16th century Spanish castle. They give you a transporting sense of walking into history.
4. Another atmospheric spot is the elegant, light-filled Petrie Sculpture Court, incorporating the facade of one of the museum's old entrances. One of the most striking - and disturbing - of the sculptures here is Ugolino and His Sons by Jean-Baptiste Carpeaux, portraying a 13th century Italian count dying slowly of starvation with his sons and grandsons, after their enemies locked them up and literally threw away the key. (As seen in Dante's Inferno!) It's so powerful, its ghost will follow you out of the museum.
5. A don't-miss for Sex and the City and The Devil Wears Prada fans is the Met's Costume Collection, renowned as one of the world's best fashion hoards. From 17th century Regency gowns to cream silk French 1920s "lounging pajamas" to modern-day Manolo Blahnik silk and peacock feather stilettos, it's endlessly fascinating. Look out for a themed exhibition each season, as well as tours.
WINGING IT
If you're more interested in soaking up the vibe of the place than seeking out particular artworks, just toss the map, hang a right from the entrance foyer into Egyptian art, or a left into Greco-Roman and get lost for a few hours - and you will get hopelessly lost. If you want some me-time, the least crowded galleries are Oceanic art, ancient Near-Eastern art, European sculpture and decorative arts, Asian art, and the Robert Lehman Collection.
TICKETS
Like many New York museums and galleries, the Met has a pay-what-you-wish policy for entry. (This does not mean free - you must pay something.) The catch is that you can only do this at the museum counter - which means taking your chances in the queue.
And almost-free isn't always cheap if you have limited time. So if you can spare the US$25 ($35) admission fee to book online, this can be a good option if you're planning to go on a weekend in the height of the tourist season, or when there's a popular special exhibition. Or, consider buying a combo deal, such as the New York City Pass, which gets you fast-tracked admission into six attractions for US$116. (I used this pass on my last visit, and there was no queue at that admission desk.)
Your Met ticket includes same-day entry to the Met Cloisters - the atmospheric medieval museum in upper Manhattan - and the new Met Breuer on Madison Ave, which specialises in modern art. But your chances of getting around them all in one day - let alone doing them justice - are very slim, so don't count on that.
GALLERY GEEK TIPS
Pack some earbuds and you can skip the US$7 audio guides and instead download the Met App on your smartphone and listen for free (using the free Met wi-fi).
One-hour guided tours are included in your admission, and joining one of these early can be a good way of orientating yourself and figuring out a game plan for the rest of your visit (and making sure you don't miss the must-sees).
Don't count on being able to browse right up into closing time. Staff start herding you out about half an hour before the stated time.
If you have a champagne budget, you can book an EmptyMet Tour, which gets you a guided 1.5 hour stroll around the highlights before the museum opens to the smelly old masses - prices start at US$125.
TIMING
Despite its popularity, once you're through the foyer the Met doesn't seem as packed as, say, the Louvre in Paris. That's probably because of its size and the fact that it doesn't have one small signature artwork that everyone bothers, like the Louvre's Mona Lisa. Even at its busiest, you can have entire Met galleries to yourself, which is weird when you consider it attracts six million people every year - more than 16,000 a day, on average.
As a general rule, weekday mornings are quieter (especially earlier in the week), school holidays mean more families but no screeching school groups, and the busiest days are weekends, especially if there's a popular temporary exhibition. But if the only day you can get there is a Saturday or Sunday, there's still plenty of art (and space) for everyone.
Some people suggest spreading out your visits over a week to avoid gallery fatigue, but with all the other things on my New York to-do list, I've found it more practical to cram as much of the Met as possible into one day, and hope I'll get the chance to return another year. Your ticket is valid all day and you're allowed to come and go, so you can always take a brain break by wandering through Central Park, or relaxing with a wine at the rooftop bar (in the warmer months) or a coffee at one of the many cafes. To give yourself more time, consider going on a Friday or Saturday, when the Met is open until 9pm. (In fact, if you arrive mid-afternoon on a Friday, you'll miss the school groups and still get seven hours of browsing time - and there are often live performances on Friday nights.)
ADDED VALUE
You probably won't be scoring an invitation to the celebrity-studded Anna Wintour-curated Met Gala while you're in New York, but double down on your Met experience by checking out the museum's more accessible events. These include art workshops for people of any ability, talks and lectures by curators and other experts, music and dance performances in the galleries, and live music on Friday and Saturday evenings - and many of them are included in your museum admission. The Met has also been known to host evening concerts in the Temple of Dendur. New York couldn't get any more magical.
CHECKLIST
Getting there
flies daily from Auckland to
via Los Angeles with return fares starting from $1673.