Russell Blackstock returns to his birthplace to see why it has become an international tourist destination.
As I was handed a fearsome-looking set of bagpipes for my first playing lesson I couldn't help being reminded of an old Scottish joke:
A guy walks into a bar with an octopus under his arm and tells everyone it can play any musical instrument in the world. They all laugh at him so he wagers $50 to anyone who has an instrument the octopus cannot play.
One man approaches with a guitar and sets it down. The octopus starts playing better than Jimi Hendrix.
Next up is a trumpet and the octopus blows it as well as Dizzie Gillespie.
Then a Scotsman walks up with bagpipes. The octopus fumbles with them for a minute before sitting them down with a confused look.
"Ha!" the Scot says. "Can't you play it?"
The octopus looks up at him and says, "Play it? I'm going to make love to it as soon as I figure out how to get its pyjamas off."
When I was confronted with the instrument on a visit to Scotland's world famous National Piping Centre in Glasgow, I had an inkling of how that poor octopus must have felt.
I'm a born and bred Scotsman, but to my shame I had no idea which way up to even hold the bloody things. A further confession; I felt so dizzy from just trying to blow up the bag I had to sit down before I fainted, never mind manage a tune.
But making a fun attempt at the pipes is just one of a number of "firsts" I experienced on a whistle-stop tour of my former home town.
It was strange going back to my old stamping ground as a visitor. But it wasn't hard to see why the rejuvenated city is fast growing as an international tourism destination.
The funky new Hotel Indigo in the heart of the CBD proved the perfect base for a three-day break. I arrived in Glasgow courtesy of Emirates airline and its new one-stop service from Auckland via Dubai.
Although Glasgow's history stretches back to the Stone Age, it is thoroughly modern and no stranger to a good time - just like its friendly and fun-loving inhabitants.
As a hub of contemporary culture, it's home to 20 museums and art galleries, including the award-winning Burrell Collection, the spectacular Kelvingrove Art Gallery and Museum, and the Riverside Museum, a radical space designed by Zaha Hadid for the city's transport heritage. Glasgow has never been more vibrant or buzzing.
As a Unesco Heritage City of Music, the city's legendary music scene stretches across the full spectrum of styles from contemporary and classical to Celtic and Country.
Home to both the Scottish Symphony Orchestra and the Royal Scottish National Orchestra, Glasgow has a wealth of musical talent on offer with an average of 130 music events hosted each week in venues such as the Arches and the renowned live rock bar King Tut's Wah Wah Hut.
A good way of getting around is to explore using the City Sightseeing hop-on, hop-off bus which stops at many of the main sites of interest.
But one of my favourite activities was the Mackintosh's Glasgow Walking Tour, led by guides from the Glasgow School of Art.
When, like me, you are a Glaswegian, it is usually too wet or cold to look up, so discovering the stories behind some of the city's most historic buildings was a real eye-opener.
During the two-hour private tour you are immersed in the life and times of innovative Scots architect Charles Rennie Mackintosh and investigate Glasgow's distinctive architectural styles at the turn of the 19th century and before, spanning the development of a thriving industrial period in the "second city" of the British Empire.
And if you are a Kiwi of Scottish descent you may also want to dive into your ancestry at one of Europe's biggest public libraries, The Mitchell Library.
Be prepared to bring some clues and family information with you as the Mitchell specialises in Glasgow history and has extensive family archives, including census records since 1841.
Some of the records are hilarious, with government officials from days long gone describing a number of residents applying for hardship grants as drunkards and wastrels.
It was then off to explore the West End, which is home to the historic University of Glasgow and the picturesque Botanic Gardens at Kelvingrove Park.
On buzzing Byres Rd and Ashton Lane there is a wealth of great vintage and design stores. A fantastic range of cafes, bars and specialist delicatessens can also be found in this bohemian quarter.
And no trip to Glasgow would be complete without a visit to the city's famous pubs.
Based in a former church, the Oran Mor bar, at the top of Byers Rd, is an ideal pit stop. A stage play is performed at lunchtime and the entry price includes a pint and a pie. Star actors such as Robbie Coltrane have performed here and up to 40 plays are put on each year.
The place is famous for producing gritty characters such as superstar comedian Billy Connolly and hardman football manager Alex Ferguson and, despite their often gruff exterior, on the whole Glaswegians couldn't be a friendlier bunch, with a wicked sense of humour.
In 2014, the city was voted the friendliest in the world by Rough Guides. It beat Dublin, Montreal, Liverpool and Tokyo to take the top spot.
For me the city's latest marketing slogan - People Make Glasgow - says it all. Even if some of them are useless at the bagpipes.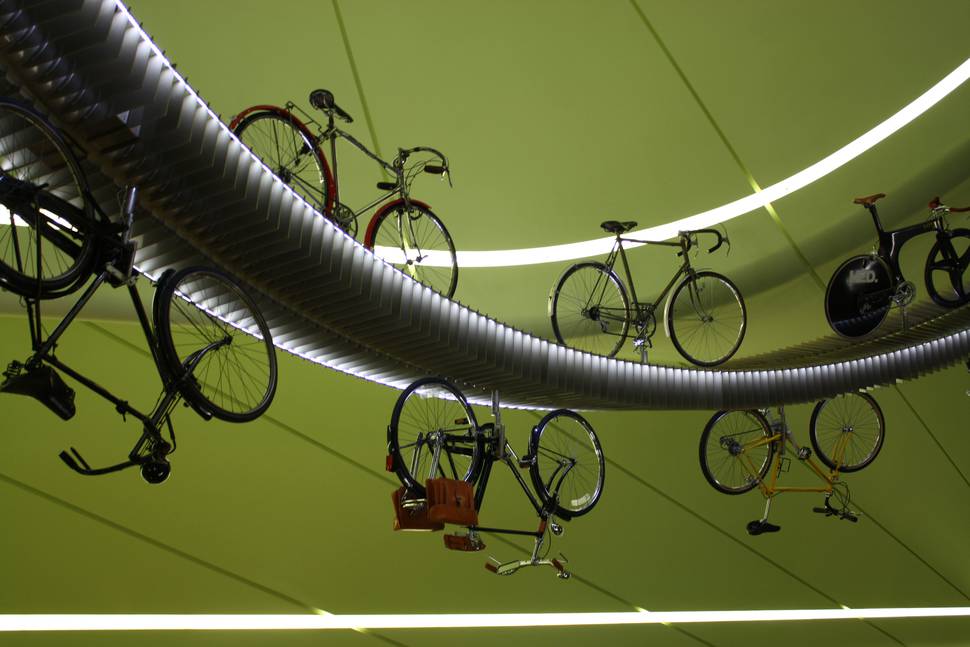 on West George Street has long been a Glaswegian foodie favourite, known across Scotland for chef Derek Marshall's standout cooking. It was recently named the best seafood restaurant in the UK.
From classy amuse-bouches to varied starters such as the Asian-inspired sashimi of yellowfin tuna with wasabi and Gamba's signature fish soup, you'll be well set for bold main courses like crisp fried sea bass served with prawn.
Meanwhile, award-winning The Gannet on Argyle Street offers fine dining without being too formal. The restaurant is housed in a grade II listed, 108-year-old tenement building.
Ingredients come direct from sustainable sources and signature dishes include stalked venison from Arran, rare breed pork and duck eggs.
The cathedral was built on the site where St Mungo, Glasgow's patron saint, is thought to have been buried in AD612. The present cathedral was built during the 13th to15th centuries. It is the only medieval cathedral on the Scottish mainland to have survived the 1560 Reformation.
CHECKLIST
Getting there: Emirates flies daily from Auckland to Glasgow, with direct connections in Dubai.
Further information: See visitscotland.com or peoplemakeglasgow.com.