Hidden murals, historic sites and the stunning scenery that's been there all along - Pokemon Go is encouraging travellers to take another look at their surroundings.
Unusual characters are gathering around Auckland's Botanical Gardens, among other spots, but most of them seem to be paying more attention to their phones than the plants.
By now, we all know what they're doing: They're keen Pokemon Go trainers, hunting for that elusive pocket monster.
While some might be sick of hearing about the extremely popular smartphone game, it's opening up a whole new world to those who can't get enough of it.
Take Tom Currie - he recently found global fame after quitting his job at a Hibiscus Coast cafe to travel around New Zealand collecting Pokemon.
The day the game was released, Currie was visiting his father in remote Charleston, on the West Coast of the South Island. There weren't any Pokestops in the town, nor were there many wild Pokemon around, so Currie took matters into his own hands and booked 22 Intercity bus trips.
Currently in Dunedin, Currie told the Herald that travelling had become a real highlight of the game for him.
"I've been to towns that I've never been to before in New Zealand. I've travelled around New Zealand quite a bit, but never as much as something like this. It's been amazing seeing all the scenery and getting out walking, biking around."
Pokestops - where players collect items used in the game - are attached to locations around New Zealand and include a photograph with a short description. They have been found on everything from historic sites to power boxes.
In Auckland, the Botanical Gardens has become a popular Pokemon-catching ground, with Pokestops dotted throughout attracting hordes of young visitors to the park.
For Julia Watson, one of the park's senior gardeners, it's a matter of figuring out how to engage with these new visitors - who are a completely different demographic to what staff are used to.
"There's a lot of focused attention on the phones, not as much to the gardens," she says.
"I think it's lovely that people are outdoors and it's really for us here to think about how we could interact with the people."
After speaking to some of the younger Pokemon trainers, Watson was considering a guided Pokemon tour around the gardens, with a staff member pointing out all the Pokestops contained within.
"I was talking to a young guy in our children's garden and he said he'd come on a Pokemon tour around the gardens," Watson says.
"He lives quite close by and doesn't usually visit, so this had brought him to the gardens."
While tourist hotspots around the world - like New York's Central Park - have become crowded with Pokemon Go players, it's the Pokestops with small details that keep things interesting for Currie.
"You get pointed out a mural that's down an alleyway that you might have walked past - but you look down the alleyway and there's this absolutely stunning artwork on the wall."
The mountains of Kaikoura were one of his favourite stops so far.
"I hired a bike and rode around the peninsula, saw the seals, the cliffs and everything - and caught some Pokemon.
"Dunedin is also now a highlight, I've never been here before and all the old historical buildings are so cool to see."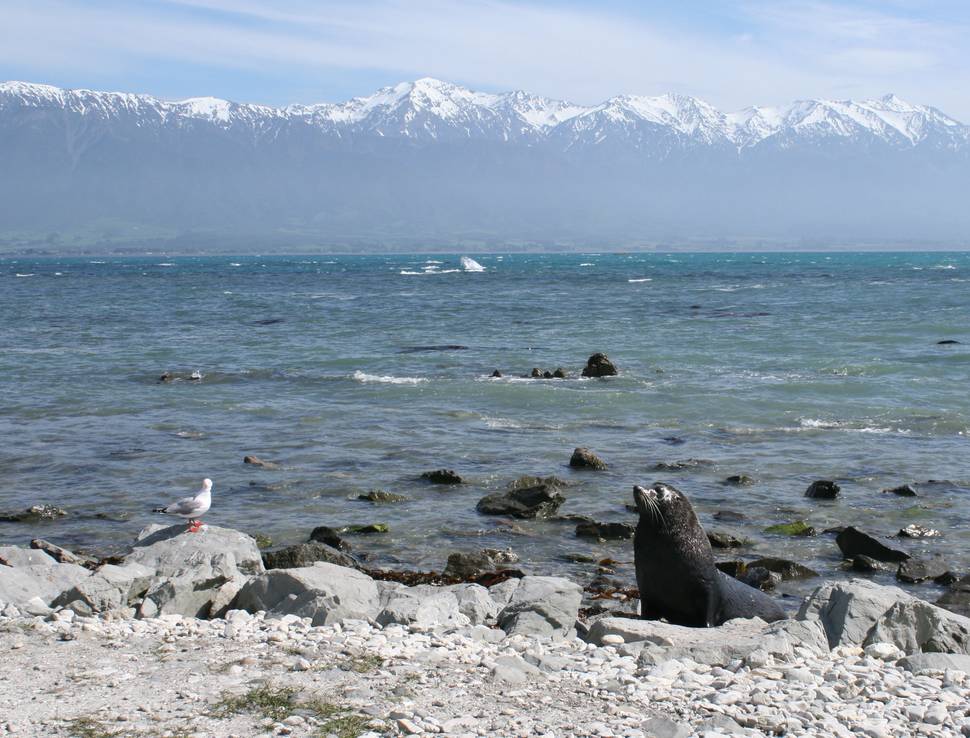 Even players who don't have the time to travel far are discovering new and unusual landmarks in their cities and towns, with many sharing their discoveries on social media.
Impressively, two Wellington players, Kelsey Thomson and Lizzy Eden, were prepared to go the extra mile by kayaking to the middle of Wellington Harbour to access a Pokemon gym.
"We live in the city, so we walked along the waterfront. When we got to Oriental Parade we realised there was a gym in the middle of the ocean, which we thought was pretty funny," Thomson says.
"We couldn't reach it from shore, so jokingly said we should kayak out there, then it became a serious mission to actually kayak out there."
The two friends waited for the weekend to put their plan into action, hired a kayak - from a rival team member even - and got paddling.
Neither had kayaked since they were about ten and Thomsen even remembered hating it back then.
"We probably wouldn't have gone if we weren't so determined to get that gym, turns out that it's quite fun.
"We were a bit giddy that we were actually going ahead! It was a beautiful day, so it was lovely."
As well as discovering she enjoyed kayaking, Thomson says they had found themselves noticing sculptures and art they didn't know about and reading the history of things they saw on a day-to-day basis at Pokestops.
"We even hiked up to the old church on Mt Vic to claim the gym there - never been up to it before."
While it's common for friends to go on Pokemon missions together, it's also a great way for a travelling trainer like Tom Currie to meet new people with common interests.
"Meeting all these Pokemon players, it's such a cool community. Everyone's always smiling and happy when something good pops up," he says.
The intrepid gamer is heading to Queenstown next - where he expects to find some ice-type Pokemon - before continuing his journey, which will conclude at Cape Reinga.