The enormous Tyrannosaurus rex stomping out of the darkness isn't real, but the terror of being chased by one is, learns David Farrier.
I'm on a boat approaching Isla Nublar. It's a sunny day outside, and water is lapping the side of the boat. An upbeat inGen scientist appears on a video-screen, telling us we're almost there. The doors open, and we spill out into a lush jungle. And there in front of us is the money shot: the giant gates of Jurassic World.
Except we're not in Jurassic World, we're in the bowels of the Melbourne Museum. You don't often associate the word "blockbuster" with "museum", but perhaps for once those two words are not mutually exclusive.
Going on the heaving line that winds through the lobby, the museum has something quite special on their hands. Jurassic World grossed more than $2.4 billion worldwide, and this is the first physical iteration the blockbuster has had in the real world. Sure, you can go to Universal Studios and take the Jurassic Park ride, but this is the first time you can walk through Jurassic World.
I'm being shown around by the show's creator, CEO of Imagine Exhibitions, Tom Zaller. Beginning his professional life as a stagehand, Zaller ended up touring the likes of the Grateful Dead and David Copperfield. Then he got involved in creating huge exhibitions. We're talking Angry Birds, Titantic and The Hunger Games.
Jurassic World: The Exhibition looks to be his biggest yet, in popularity, and the fact it took a year to build and a month to install.
As I step into the park, it's already been open for a week. Zaller is here to keep an eye on it, ironing out any kinks.
"It's like if you're a new comedian, you don't know your joke's any good 'til you tell it," he giggles. "Well, we got on stage, we told our joke, and people liked it!"
Of course we're all here for the dinosaurs, and pretty soon after walking through those gates, a towering brontosaurus is leaning down from above. It's the sheer scale that hits you. This thing is big. It bends down gracefully, it's movement so organic you forget that it's powered by complex bits of robotics.
All the dinosaurs are created in Melbourne by Creature Technology, the same company behind the Walking with Dinosaurs arena show and those viral clips you see of velociraptors terrorising Japanese office workers. They're the best in the world at creating life-size animatronic dinos.
And while you're hundreds of metres away for the arena experience, in the museum they're so close you can almost touch them.
There are plenty of young kids on this particular excursion, and you can hear the wonder and shock in their voices.
"We've always been entertaining people in museums, but usually it's very much a museum show that's got a little entertainment in it," says Zaller. "Whereas here, we're kind of the opposite: an entertainment brand, coming into the museum. There's a show happening here. It's not just a walk-through, this is an event."
He uses lots of buzz words during our tour, because he wants to sell this thing to me. It's his baby. But as a T.rex stomps out from the darkness to harass an abandoned jeep, he doesn't have to. Something about the scale and movement has me totally sold, and for a split second - for the first time in my life - I can grasp the horror Jeff Goldblum experienced as a T.rex chased him down.
The interesting thing about this exhibition being based in a museum is the balance between science and Hollywood. After all, this is a giant blockbuster slammed down into a place that tends to deal with facts.
But the Jurassic Park franchise is inherently fiction: getting dino DNA from fossilised insects is impossible, and yet during this exhibition I come face-to-face with a wall of bugs embedded in amber. They don't make a song-and-dance about it, but props from the film are scattered throughout the exhibit: a gyrosphere there, an incubator there.
I ask Zaller if this is more theme park than exhibition.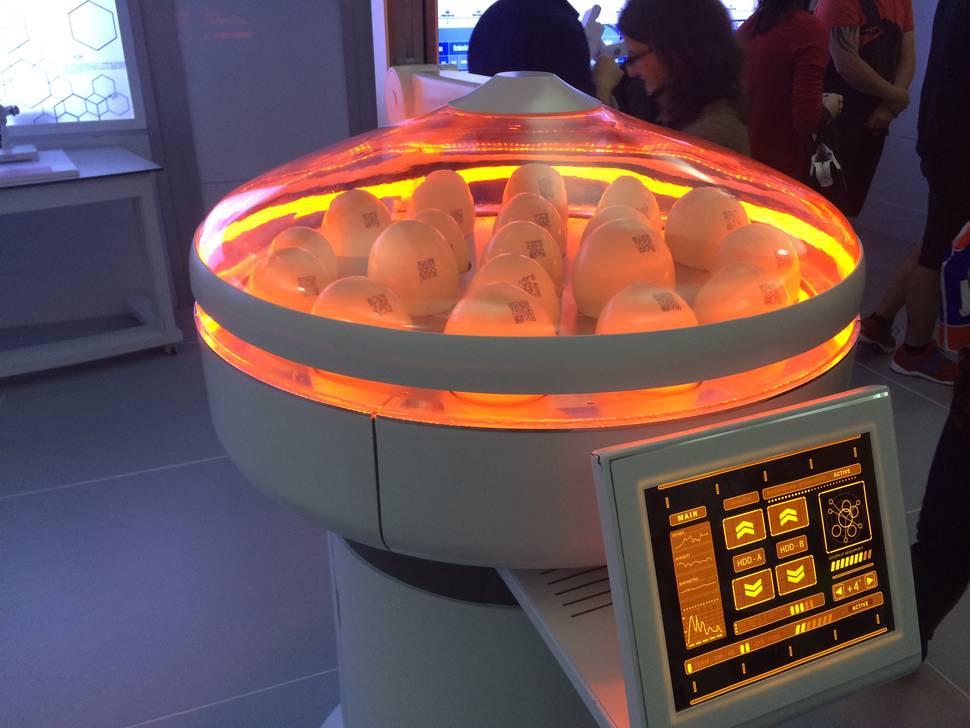 "Calling it a theme park is a compliment because it's fun and exciting, but our goal is to blend entertainment and education together. It's interesting watching people in here, because there is tonnes and tonnes of content in here. But when you go to a theme park, you don't read something, you're on a ride! When you go to the zoo, you look at the elephant, you don't read about elephants. So we're somewhere in the middle."
The dissonance is perhaps best illustrated as you step past a stegosaurus (which definitely existed) only to come face to face with the villain of Jurassic World, Indominus rex (which definitely didn't).
By now I imagine Zaller is probably becoming annoyed with my questions, but he keeps a happy face. I genuinely just think he - like me - loves dinosaurs and spectacle.
"We very clearly tell you when you step through that boat you are going into Jurassic World. It's a fictional location you are going to. We talk about how Indominus was created in Dr Wu's lab." He pauses. "It's a Jurassic World exhibition, we have to have Indominus rex."
As if to balance my scepticism, I walk through a giant log, escaping a clearly pissed-off Indominus, and emerge into an area that's pure science.
Patrons can see an actual velociraptor claw, touch a 70-million-year-old sauropod bone ("Museums don't let you touch it normally. But this is a big rock, so you can touch it! That's cool!" enthuses my guide), and read about how paleontologist Dr Jack Horner is reverse engineering a chicken into a dinosaur.
It's a reminder that sometimes truth is even stranger and more exciting than fiction.
As I leave the show, I can see a new line weaving through the museum, waiting to get on that boat. A gift shop will greet them at the end: dinosaur hats, dinosaur shirts, dinosaur pencil cases. Zaller grins like Jurassic Park's John Hammond.
"You love a line. You love a sold-out situation."
His park is open, and luckily for him there's no chance his dinosaurs will escape and kill everyone.