Lydia Jenkin hoists anchor and sails into the tropical waters of the Whitsunday Islands
Like sea turtles and snorkelling, islands and adventures - and sipping a gin and tonic while the water laps gently around you and the sun slips into the ocean?
Then you should go bareboating in the Whitsundays. Bareboating is the opportunity to hire a yacht, catamaran, or launch and head off on a high seas adventure with yourself as skipper and your friends and family as crew, even if you have no kind of boat licence or don't own a boat.
There's a very thorough briefing and a few tests in the harbour to make sure you have things under control. But once they feel you've got the general idea, and you've proven you have some sailing experience, the boat is yours.
Sail away. Choose your route, your anchorages, what you want to see, and have the freedom to change plans as you go.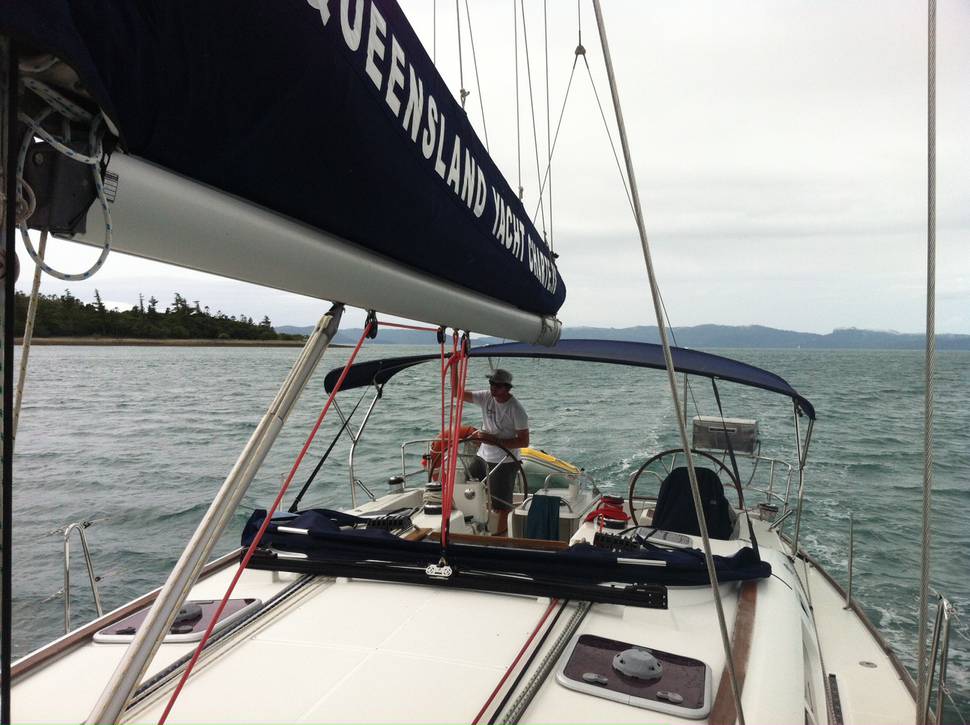 What better place to do this than the Whitsundays - an island-strewn tropical paradise in the north of Queensland on Australia's east coast, a gateway to the Great Barrier Reef.
There are 74 islands, many unoccupied, all surprisingly lush. You don't expect Australia to be so green, but the Whitsundays feel like a cross between the Bay of Islands and Cook Islands, with towering tree-lined ridges and cliffs, long white beaches, and huge mangroves growing out of long, winding, Amazon-like inlets.
My captain and I set off on a four-day cruise from Airlie Beach on a shiny Jeanneau Sun Odyssey 44i. It's a 45ft yacht which sleeps three couples, has two bathrooms, a large saloon and a roomy cockpit with two steering positions. It had been stocked by Whitsundays Provisioning (highly recommended) so with our briefing completed - our previous sailing experience made it pretty straightforward - we set off for Nara Inlet on the south side of Hook Island.
It looked a lovely, sheltered spot, and the comprehensive guidebook mentioned some Aboriginal cave paintings and a possible waterfall adventure, so we were sold.
The guidebook was spot on. We had a fantastic evening exploring the inlet in the little inflatable tender. When we found the waterfall we decided to tap into our inner Indiana Jones, clambering up pools and ledges to find cool fresh water in the tropical heat.
Later we followed a few friendly bats up the stone steps to see the cave paintings. The sun had set by the time we reached them, but checking out the fascinating paintings in the dark with torches made it feel all the more atmospheric. Like a real discovery. Harrison Ford, eat ya heart out.
Next day we set off for famous Whitehaven Beach, beloved for its luminously white sand and green-clad hills. It's absolutely worth a look - climbing up to the Hill Inlet lookout north of the beach gives you a great view - and the turquoise blue waters are tempting.
But it's also a very popular spot, with plenty of other visitors around, so once we'd said hello to a couple of friendly sea turtles, we headed for another quieter spot: Cid Harbour.
It didn't sound like much, but it turned out to be another lush, calm, rainforest-like cove, with rampant bird life, and beautiful deep clear water close to the shore.
We jumped into the tender again for a dusk cruise up a slightly swampy river, surrounded by towering mangroves. We watched for any kind of crocodile, but the only creatures we disturbed were stingrays, turtles and the odd fish or two.
Again the feeling of wilderness was unexpectedly strong. The idea of being somewhere so untouched by people, so rugged and free, and yet having the comfort of a soft bed and cold beers in a fridge only metres away, is a delightful contrast.
And that is perhaps the greatest charm of bareboating in the Whitsundays. It feels like a proper adventure, with the wind whooshing past and the boat chopping through the water, all on your own. But it's also surprisingly easy and relaxed, and a memorable holiday whether you're with family, friends, or just as a couple.
Lydia Jenkin is a New Zealand Herald journalist. She travelled courtesy of Tourism and Events Queensland, with the yacht hired from Queensland Yacht Charters.