The relatives of the steak on his plate worry Eli Orzessek far more than Australia's eight-legged locals.
"I hope this wasn't his brother," I think, shovelling another forkful of tender Queensland beef down my throat.10
At the Great Western Hotel in Rockhampton, the town known as Australia's Beef Capital, you get the chance to meditate on where your food comes from. Alongside its pub and steakhouse, there's a small outdoor arena where frequent rodeo events take place.
It's not the most politically correct excursion, but I push all the vegans I know to the back of my mind as I watch a child no older than 10 being thrown off the back of a bucking bullock.
This alarms me a bit, but this is the real 'Straya mate - they breed 'em tough out here in the capital of cattle. He shakes himself off and gets back on his feet.
While this is all going down, I'm enjoying my dinner - as a no-frills kind of guy, I enjoy beef and seafood and I like to mix pineapple with savoury flavours. So I was pleased to be able to order my steak with a Moreton Bay bug on the side and my baked potato with a Hawaiian-themed topping.
My hosts ask what kind of beverage I want to drink and I reply "crap beer". I'm offered a "Forex" and for a second I wonder what foreign exchange had to do with beer - but they mean a XXXX Gold, Queensland's beer of choice.
I drink my beer from stubby holder, completely necessary around these rather warm parts. It's not just any stubby holder, but one printed with the wedding picture of an authentic Australian country couple - as my host is a wedding celebrant, he just happens to have one on hand.
Rockhampton - or Rocky as it's colloquially known - is an old-country town, about halfway between Brisbane and Cairns. As the rodeo-themed steakhouse would suggest, it's got a western feel to it and all the old wooden houses are up on stilts to let the breeze through during the hot summers.
You could easily imagine a duel going down along Quay St, the main drag, which runs along the Fitzroy River. Rockhampton was once the northern regional capital and a number of interesting, well-preserved old buildings from this time remain. In contrast to all the history, just down the road are several recently built hotels.
Outside my room at the Empire, some sort of torturous outdoor exercise class is going on, while I'm sweltering just sitting on the balcony with a cold beer. My soundtrack is a cacophony of birds, which flock to the trees on the river at sunset every night.
Rockhampton is on the Tropic of Capricorn - the line that marks the southernmost position of the sun on its annual journey. It's something I'd only really been familiar with due to a Henry Miller paperback with a rather risque cover.
In Rocky, the Tropic is represented by a triumphant spire, right in front of the information centre and near the botanical gardens.
I stroll around the gardens, and its prehistoric-looking trees and plants, then share a snack with a lorikeet at the cafe. I'm also lucky enough to meet a zookeeper along the way, walking with a dingo. I make a few predictable jokes in my head, before heading off to check out the zoo in more detail.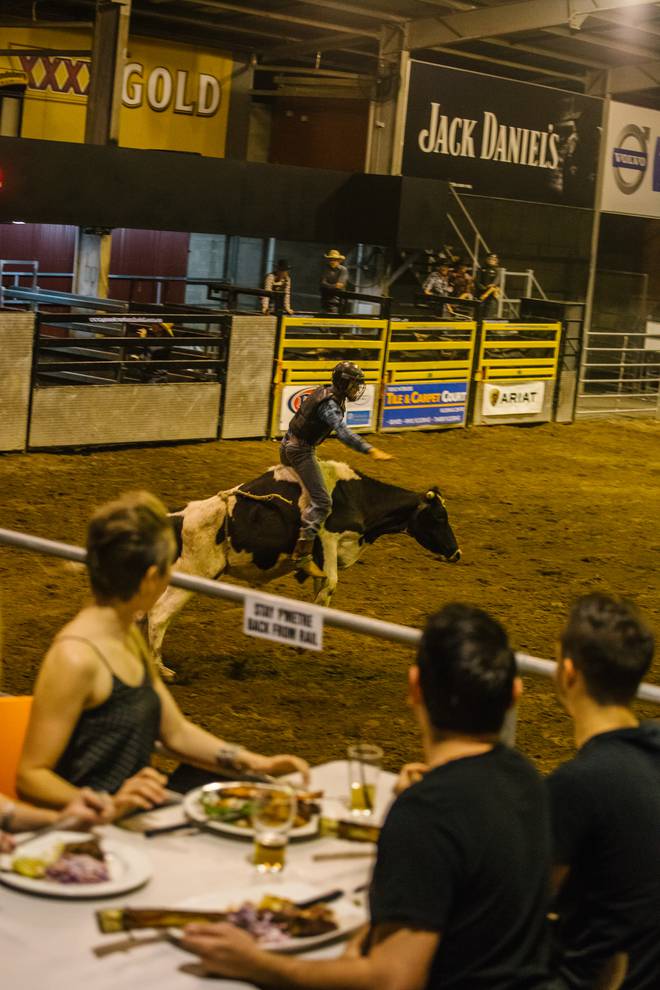 The Rockhampton Zoo is a quaint little park and has a good variety of Aussie animals - and it's free to enter. I see kangaroos chilling congenially with some pukeko - a lovely gesture of inter-Tasman friendliness, I thought, until discovering that the pukeko is in fact an Aussie import.
Further out of town, I'm taken to the Capricorn Caves by Ann Augusteyn, a former school teacher who bought the site with her husband Ken in 1988. The underground location makes for a pleasant reprise from the heat of the day, and a visiting tourist and I are given a detailed tour by a well-informed local guide.
Ducking in and out of the enclaves in this Jurassic Park-esque landscape, I'm thankful for my height - or lack thereof - especially after encountering decent-sized huntsman spiders along the way. They're harmless little (big) guys though and I'm feeling quite affectionate towards them by the end.
The pride and joy of the whole place is the Cathedral Cave - this is where our tour guide unveils her hidden talents. The perfect acoustics of the space make it a beautiful, unique venue for vocal performances and our guide proves it as she belts out an impressive rendition of Amazing Grace. We listen in awe, in the pure darkness of the cave.
It's also bound to be one of the few wheelchair-accessible caves in the world. In the early days of Ann and Ken's ownership, a wedding party, including an elderly guest in a wheelchair, hired the space. As a result, special ramps were built into the Cathedral, making it accessible to everyone. Heading back into town, Ann and I stop in at the nearby Caves pub for a cold one. A few old Aussie blokes are hanging out on the balcony, giving us the side-eye. Outside is an Anzac memorial which was designed by our own Herald cartoonist Rod Emmerson, a relic from his days as a draughtsman in his hometown. I learn quickly that his is a handy name to drop in this town. One of his Rockhampton Bulletin cartoons also hangs in the Capricorn Caves information hut.
When we get in, I order a beer, as usual, but Ann one-ups me by ordering a shandy. I make that two and it's a refreshing end to a day out in the heat.