Queensland's party island has a new lease on life and now provides a back-to-basics outdoors experience, finds Eli Orzessek.
"It used to be a great place to get wrecked, now it's a great place to get rested."
That's the apt line given to me by Geoff Mercer, owner of Great Keppel Holiday Village - once billed as the "quiet alternative" to the island's sprawling resort.
The biggest of 14 islands off Central Queensland's Capricorn Coast, Great Keppel was party central for young Australians.
A risque advertising campaign from the early 1980s used the tagline "Get wrecked on Great Keppel Island" and showed off the famous "Keppel Sandwich" - a shirtless guy lying in the sand with a shirtless woman on top of him, another shirtless guy on top of her and another woman on top.
Other images show similar acts of holiday fun and without any further research, I was expecting some sort of sexy singles' paradise.
The resort closed in 2007 and since then, it has been taken back by nature - possums live in the rooms, goats roam the corridors and bats screech from the trees above the pools.
There's a bit of sadness about it from locals, many of whom worked at the resort. I'm told that after it was closed, media reports made it seem the island was closed for good and tourism dropped.
The present owner has been trying to secure a boutique gaming licence to open a casino and expand the resort but, for now, there's a change in tone around the place. It has become a great location for a back-to-basics camping holiday.
The two main places to stay - Geoff's Holiday Village and the nearby Great Keppel Island Hideaway - offer grassroots accommodation, with decked tents and cabins. I first visit the island in style - a day sailing on Capricorn Cruises' catamaran Grace. Husband and wife Anthony and Vicki Lomasney offer private and group cruises around the Keppels with plenty of snorkelling opportunities and local knowledge on hand. Joining me for the ride are two German couples, a family with a grandmother visiting from the UK and a pair of local friends.
Although I'm slightly queasy from a big night out in Rockhampton, being sprayed by cool water at the front of the boat offers some relief. We stop for a swim at Monkey Bay, where many other holiday-makers and yachties are enjoying everything the ocean has to offer.
Diving in, I'm treated to a real underwater wonderland - some of the best snorkelling I've experienced. I follow a beautiful sea turtle around the reef and come across a variety of brightly coloured residents, including a few Nemo-like clownfish.
The next day, I return to the island by ferry, this time to stay for a few nights in a decked tent at the Holiday Village.
Trekking out from my tent and down to the beach, my feet sink into mounds of soft, powdery white sand and I quickly find a pristine stretch of beach all to myself. An old hammock left over from the resort remains on the beach and I stop for a lie down, thinking of that "no man is an island" cliche.
I'm feeling pretty island-like right now, completely at peace with only the lapping waves and squawking birds as company. My schedule becomes very simple - jump in the water, splash around, get out, walk a bit more, get too hot, jump in again.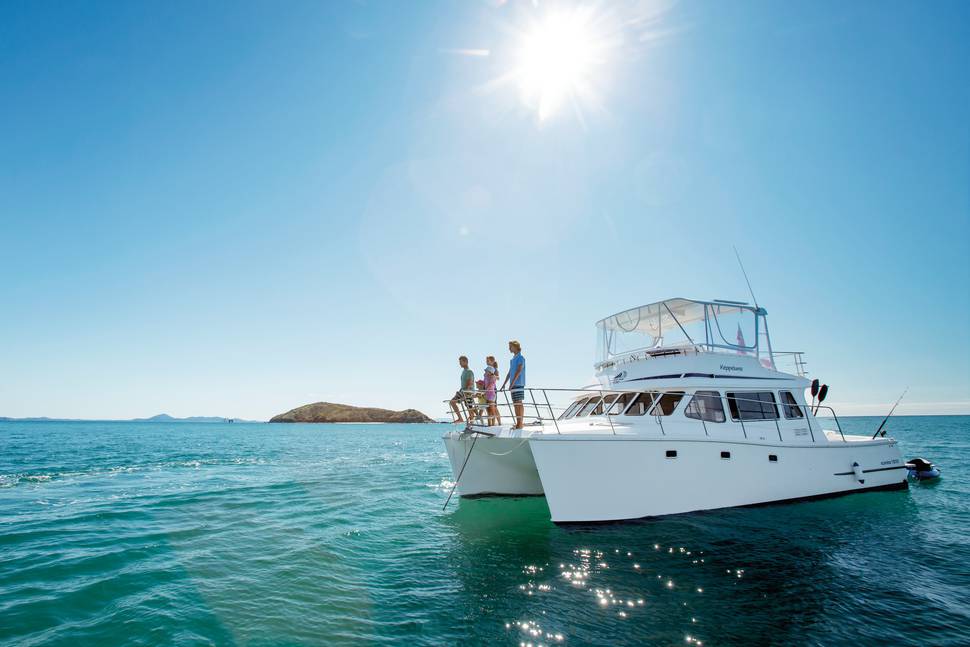 If you're looking for an authentic island experience, Great Keppel has that great rugged and undiscovered feeling, compared to more developed locations like the Whitsundays. Ninety per cent of the island's 1500ha is covered in bush and there's an extensive range of flora and fauna to spot on the many walking trails.
Around my tent, I spot beach curlews, goannas and brush tail possums, which provide a relaxing soundtrack for my afternoon naps.
The Holiday Village also offers snorkelling gear and stand-up paddleboards for guests and a watersports shop down the road rents out kayaks and more - a great way to get around the island's 17 impressive beaches.
During my stay, I'm treated to another snorkelling trip organised by the Holiday Village. With a Dutch family, I'm taken on a motorised canoe with Andrew "Willo" Wilson, an on-and-off Great Keppel resident who once worked at the resort giving massages and running camel rides (yes, they had camels).
As you can imagine, he has an intimate knowledge of the island and knows where to find the best marine life. We ride out to the old underwater observatory near Middle Island, another relic from the resort years.
Snorkelling around the structure, I see more sea turtles, huge stingrays, wobbegong sharks and countless fish. Those with good lung capacity dive down to have peek through the observatory window.
After that, it is back to another beautiful beach for a picnic lunch, including juicy fresh lychees.
When it comes time to head to the ferry and back to the mainland of Yeppoon, a little miscommunication means I nearly miss the boat - I guess I am becoming used to island time.
As I am hoisted unceremoniously up on to the deck and we head away, I look back at the shore and think about how nice it would be to be shipwrecked there for another week.