Hannah Stephenson learns how tourism is helping Sicily turn away from Mob rule.
I meet my guide Erme Riccobono at the entrance to the Teatro Massimo, the majestic Palermo opera house where the last scene of The Godfather Part III was shot nearly 25 years ago.
The Italian holiday island of Sicily may have been ruled by the Mafia for decades, but things are changing as locals increasingly refuse to pay pizzo (protection money), and anti-Mafia organisations show visitors how to see this sun-kissed hotspot without filling the coffers of the mob.
Erme is a guide for one such organisation, Addiopizzo - which literally means "Goodbye pizzo".
We weave through the narrow streets to find a mixture of splendour and squalor, where historic monuments rub shoulders with darker, seedier-looking streets housing an eclectic mix of outlets.
These range from high-class patisseries selling cassata siciliana - the sickly sweet gateau filled with ricotta cream and decorated with candied fruit, and martorana ("fruit" made out of marzipan) - to tacky souvenir shops selling sinister memorabilia, a black-humoured nod to the Mafia.
T-shirts imprinted with Marlon Brando's face along with the film's memorable logo and puppet-string imagery grace the entrance to several souvenir shops. "This is the sort of thing we want to discourage," says Erme.
He leads me to a more charming square, home to Antica Focacceria San Francesco, an Addiopizzo member, its membership sticker boldly emblazoned on its door.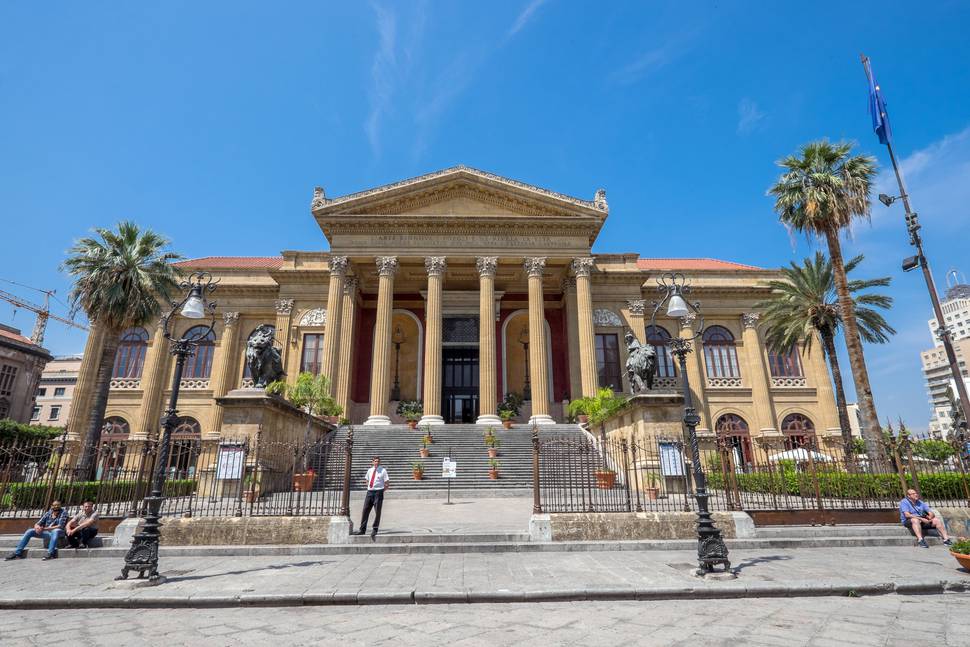 The restaurant is famous in Palermo for its upmarket street food and I tuck into delicious arancini - rice balls filled with meat and peas - while others nibble on panelle (chickpea fritters), or enjoy a vegetarian staple of caponata (a stew of aubergines, onions and olives).
Erme shows me round some other notable landmarks, including a memorial to the famous anti-Mafia judges who were murdered in Palermo (including Giovanni Falcone and Paolo Borsellino), Capo Market, where paying protection money has been a well-worn tradition among stallholders, and the cathedral, where churchmen would meet - and in some cases protect - Mafia members in the early days.
Erme says the locals' united stand has gone some way to alleviate the climate of fear that once existed, and the violence once demonstrated so publicly by the mob.
But he adds that it will be new generations, those who have not grown up in the shadow of Cosa Nostra, its extortion rackets and its macabre history, who will make the real change.
To this end, Addiopizzo has a new arm, addiopizzotravel.it, which runs Mafia-free trips for tourists, incorporating a list of hotels and businesses who refuse to pay pizzo, which tourists can access to ensure their money is being channelled responsibly.
Under Italy's laws, the property of convicted mobsters is seized and can be turned over to groups and organisations to benefit the community. Confiscated property includes farms that now produce Mafia-free wine, bread and produce, which tourists can buy, and villas have been turned into hotels and restaurants.
We're based in Lascari, a little village in the north of the island, in a beautiful luxury villa, with a magnificent view of the coast.
The advantage of staying near the family-friendly seaside town of Cefalu is that, if we want to ditch the car for a day, we can catch a train from Cefalu to Palermo and be there in an hour, or Messina, at the northeast tip of the island, in two. The trains are cheap, reasonably comfortable and the timetables are easy to follow.
But a hire car gives you more independence, especially if you're in the hills of Lascari, where public transport is hit and miss and the terrain is hard on foot, unless you're a seasoned hiker. Driving up the hills, we pass olive and lemon groves, spiky pears and purple morning glory weaving in and out of the wind-scorched conifers, which line our route to our hillside haven, Villa Elisabetta, in the Madonie National Park.
With all the wonderful amenities of a top-notch hotel - spacious pool, loungers, air con, brilliantly equipped kitchen - it's the view of the coastline that steals the thunder. Pearlescent skies in soft pinks and blues, greys and peaches, delight the eyes. The fragrance of pine and aromatic lavender are in the air.
By car you can visit plenty of ancient sites, from the Roman ruins at Enna to the castles and cathedrals further afield, not to mention the volcano, but it's a large island and we're too far from the famous Mt Etna for a day trip.
With children in tow, historical sights may not be first on the list, but the beach at Cefalu certainly is. It's a pretty coastal town, the north-west coast's rival to Taormina, where seafront cafes serving delicious pizzas oozing with cheese and tomatoes are just a short stroll away from the pretty old town, with its cobbled streets, trinket shops, bijou restaurants and buzzing town square and cathedral.
It's an ideal place for all generations. Youngsters can try their hand at surfing and canoeing in the warm sea, or peruse the beachfront stalls selling leather bags, scarves and ceramics, while older culture vultures venture up to the Gothic 12th century cathedral, or Duomo, and to the numerous museums in the town.
West of Cefalu, we find the ruins at Solunto, a wild location on impressive cliffs and one of the earliest Phoenician trading posts on the islands, but there are many other more extensive ruins elsewhere, including the Valley of the Temples in Agrigento in the west.
On another day, we drive inland from Lascari, through the foothills of the Madonie mountains, coming across the pretty town of Castelbuono, which houses an impressive 15th century feudal castle, old-fashioned streets and welcoming hostelries, where friendly restaurateurs serve mouthwatering pasta and cold drinks.
Back at our hillside villa, it's difficult to believe the island still harbours a strong Mafia influence - but with responsible tourism and a new generation, we may eventually see a Sicily that prefers to make its own choices and says "addio" to the mob.
Afloat in the Venetian Lagoon
More information: leboat.com.au It's the ultimate romantic dream - captaining your own boat through the canals and islands of Venice. Wind among gondolas and under cobblestone bridges linking the lagoon's 118 islands to the Grand Canal. From your sundeck, enjoy uninterrupted views of the intricate sculptures, colourful mosaics and imposing domes of St Mark's Basilica and the Gothic marble of the Doge's Palace.
Visit Murano, famous for glassmaking, its buildings as vivid as the famous treasures created inside, with bright red, yellow, green, pink and blue homes and factories lining the canal banks.
Make the most of your time in Venice with Le Boat's new guided flotilla option. Each flotilla features a dedicated host to guide you and provide insider tips and recommendations on what to see and do, as well as expert advice and assistance for boating novices.
Travelling as part of an eight-boat flotilla, you'll socialise with fellow flotilla-goers and enjoy lots of free time to explore at your own pace. The boats travel at only 6km/h, so you don't need any previous boating experience or a licence.
You'll visit Torcello and Burano islands, relax on the beach in Lido di Jesolo, take a trip back in time in Pellestrina and Chioggia, be swept up in Venice, explore the churches in Casier and shop the day away in Treviso.
Le Boat offers the widest selection of self-drive boating holidays in the UK and Europe.