Ewan McDonald criss-crosses picturesque Montenegro, one of the oldest - and newest - countries in Europe.
"Tell me something interesting about your country. Something that people on the other side of the world who've maybe never heard of it would relate to."
The tour guide considers the question, then ... "Casino Royale was set here. Novak Djokovic got married here last year, there were photos in magazines and on TV all over the world."
Fair enough. Except the tennis superstar is Serbian and James Bond never came to town. When Hollywood was making the movie in 2006, there were relationship difficulties on the set. With the Serbians, over a politically arranged marriage. In the movie, Czechoslovakia played body-double for Montenegro.
One of Europe's oldest and newest countries. One of those ridiculously tiny but lovable nations that used to feature in comedy movies with a king wearing an implausibly tight white uniform with gold epaulettes, gaudy sash and more medals across his chest than Valerie Adams. Played by Peter Ustinov.
Just across the Adriatic from Italy, it's squeezed between Bosnia-Herzegovina, Serbia, Croatia and Albania. Same size as Northland: at 13,000 sq km, the 42nd smallest of 50 European countries, just bigger than Cyprus, Luxembourg or Andorra.
Looking down, that is.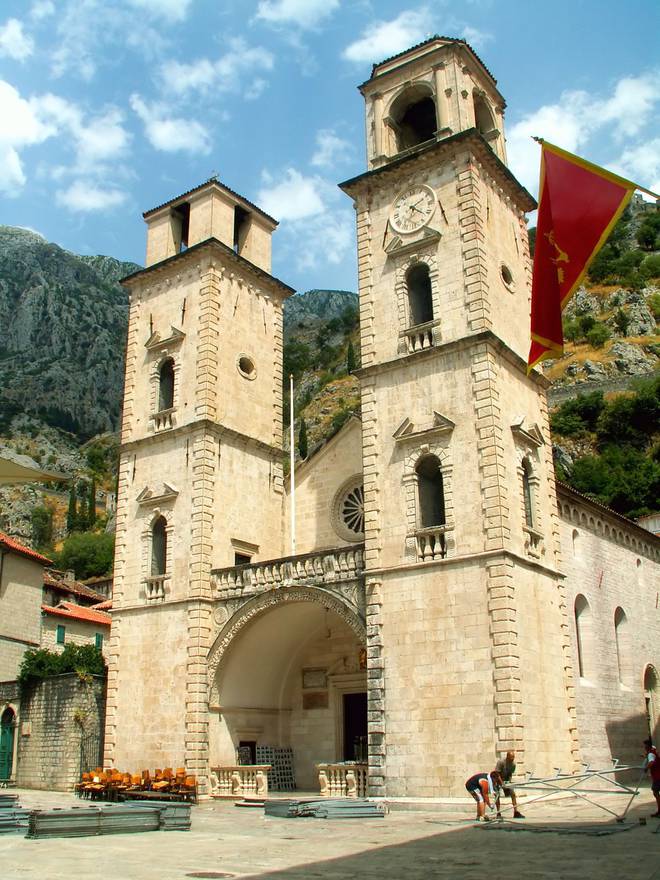 If they flattened out the landscape of impossibly vertical cliffs, the place would probably be the same size as Germany. There are 620,000 Montenegrins; somewhat fewer than Aucklanders.
Oldest because, name a tribe that's marauded the Balkans in the past 1200 years, they've had a crack at this patch of mountains, beaches, villages, goats, boar, olive groves and castles. Greeks, Romans, Huns, Goths, Venetians, Austro-Hungarians, Ottomans, Tito and his mob. The country was re-created from the meltdown of his fantasy Yugoslavia.
Newest because these proud, gritty, defiant people and their tiny, beautiful country can, today, tick off the must-haves of modern nationhood. Since 2007 they've had a seat at the United Nations, their own airline, local farmers selling vegetables at age-old markets for euros, a football team challenging England for a place at next year's European championships.
Enough scene-setting. Except that we have arrived in Montenegro by the most scenic route imaginable: the motor yacht SeaDream I gliding along the 18km Bay of Kotor, touristically endearingly but geographically incorrectly described as Europe's southernmost fiord.
Tree-clad mountains fall into the sea; orange-roofed villages cling to the bays; cream stone churches genuflect to tiny islands.
To add to the drama, there has been no rain for months and a forest fire is blazing on the cliffs.
Hotel-size liners are moored in the bay. Our much smaller ship glides past them and berths at the country's only cruise wharf, at the gates of the medieval walls of Kotor.
Ilya, his minibus and driver wait on the quayside.
We bypass Kotor and head north - well, upwards - past the market, churches and football stadium on a road with 29 hairpin bends. At Curve 14 we stop for photos. The port is already 1000m below, and we are barely halfway up the mountainside.
Ilya points out a near-vertical track across a gully. "That is how the farmers walked to market with their cheese and vegetables."
At the next corner he gestures at a stone shed. "That is a border post from the Austro-Hungarian days," he says. We are only 20 minutes' drive from the cruise-ship port. "In other words, the end of my country." In other words, this is where modern history began, the game of thrones that was World War I.
Fifteen hairpins later we crest the mountains - "See that one, that is the black peak, in Italian Montenegro, that is where our country takes its name" - and the drive opens into a highland valley.
"You have heard of Montengrin prosciutto?" asks Ilya, as if it's on special at Countdown this week. He tells us the best comes from the village of Njegusi, and by a miraculous coincidence we are just about to arrive there.
With due respect to the smoky hams of Spain and Italy, he is not wrong. It is honey-sweet and mouth-melting. The local honey is even more so, although the hard, salty bread isn't. Both are said to go down well with Montenegrin red wines and rakija, the local firewater. But it is only 11am.
The national pilsener is not half-bad.
Navigate forest fires, more hairpin bends, dubious roading infrastructure as Ilya relates the Byzantine (and Ottoman and all those other empires) history of Montenegro on the dodgy highway to the historic capital of Cetinje. Today it seems not unlike one of New Zealand's overlooked provincial towns; think Masterton or Ashburton.
It is almost impossible to imagine that a century ago it was one of Europe's fairy tale capitals with its own king and court, ambassadors from Russia, Prussia, Vienna and Paris, hosting elegant balls in chocolate-box embassies, curtains redolent with the cigar-smoke of gentleman spies.
Enough of the past. Down to the coast, to Montenegro's present and future. Wikipedia discreetly describes Montenegro's economy, one of Europe's most stable, as based on "services and tourism".
Given that it is strategically located between Russia and the likes of Italy and Switzerland, and uses the euro under a friendly arrangement (rumour has it the EU didn't find out for several years), it may be best to leave the definition of "services" to one side.
Tourism, however, starts at the bottom of the hill. Budva has been a destination for sunbathing, devil-may-care, hedonistic tourists since the Greeks started running their cruise ships into the port around 400BC.
And the party's never stopped. While St Tropez, Antibes, Capri were making the tabloids across the Med, Eastern Europeans headed for this 40km riviera of sheltered coves, sand and pebble beaches.
Tito loved the place: it became a socialist paradise of high-rise cheap-concrete hotel blocks and lounger-by-the-hire holidays.
In the 60s Sveti Stefan, a monastery turned royal palace turned playboy mansion just metres across a causeway from the mainland, hosted Princess Margaret, Sofia Loren, Kirk Douglas, Doris Day, Richard Burton and Elizabeth Taylor. Yugoslavia's unravelling put a stop to all that.
But all good wars must come to an end, and within months of independence, British entrepreneur Nat Rothschild recast the island as an even more exclusive resort. Secure enough for Djokovic to be married there.
Rothschild is not the only one to see this coast's potential: developers are queuing up to turn these miles of white, sandy, unknown beaches into resorts and infinity pools.
And the owners of the Hotel Splendid have built a picture-perfect replica of Casino Royale on their 10th floor.
Ilya's driver parks the minivan. In 38C heat we walk past chain restaurants to the medieval port-fortress, walls festooned with banners and neon light-chains spruiking a Balkan arts festival.
"You know I was supposed to be a New Zealander," Ilya says. "I had all the papers made out in 1997."
He tells his story. The confused, conflicted past and present of the Balkans. His home town, everything he knew, was being bombed. Friends were dying. There was fighting in the streets. Life was not a Rolling Stones song.
So what was a young geography student to do? He had the plane ticket when ... "I met her in a bar. I decided not to go. We have been married for 16 years. Our son will grow up as a Montenegrin."
He leaves us at the gate into Budva's Old Town. From there we could can turn right and head to the beach, lined with cafes and loungers, where the glamorous sip coffee and gossip.
Or turn left and get lost among the tourists from myriad nations in the alleys and shops and cafes of a town whose paths follow the same routes as a Google Streetmap from the 1500s.
Except that this medieval city was hit by an earthquake in 1979. Of 400 buildings, only eight escaped damage - so this is a fake, the work of EU-funded restoration experts.
Along the coast, past the new international airport and the former Austro-Hungarian navy base that a consortium is turning into a superyacht marina and resort, the motorway tunnel leads into Kotor.
Ilya says goodbye. He kisses me, who could have been his countryman if things had turned out differently, on both cheeks. We say goodbye with two words of Montenegrin, which used to be Serbo-Croatian until things turned out differently.
Inside the massive and genuinely centuries-old walls of Kotor, aristocratic houses line cobbled lanes; tiny, off-centred, old churches anchor quaint and geometrically imprecise squares.
The Venetian Republic owned this bastion from the 15th to the 18th centuries and it has left its marks, and its St Mark's, in a staunch, chin-out city with sheer cliff-ranges watching its back.
Shop signs lure you this way and that. Here, coffee, beer. There, ham or dried figs coiled into bay leaves from Njegusi. Across the square, a woman selling lace tablecloths.
There is much more to discover - skifields, adventure tourism, art and music and poetry - but in a few hours we have crossed almost half of this tiny, teenage nation, and glimpsed the fulfilled Montenegro.
Checklist
GETTING THERE
All three of Emirates' daily A380 services from Auckland connect at Dubai with the airline's services to the Mediterranean. Return Economy Class fares to Venice, Italy, start from $2619. emirates.com
DETAILS
SeaDream Yacht Club's two vessels make around 40 seven-day voyages between Mediterranean ports from May-November each year. Fares start from $7200. seadream.com