Copenhagen, the green capital of Europe is a mixed bag of brilliance, writes Rachel Parkin.
Stroll around Tivoli Gardens - Copenhagen's beloved fun fair that Michael Jackson reportedly tried to buy and Walt Disney copied - and try to wipe the grin from your face.
As we ride one of the tamer roller-coasters (paying the price for too many Tuborg beers and salty licorice liqueur the night before) I'm dazzled by one very good reason the Danish capital is cleaning up awards, as it cleans up the planet.
Near blinded by it in fact - a kaleidoscope of lights blanket the fairyland of rides and frivolity that is en route to being the world's first carbon-neutral amusement park, even investing in a wind turbine.
Dominating the global race to become the first carbon-neutral city, Copenhagen has also scooped World's Most Liveable City Award, European Green Capital, and recently even topped the World Happiness Report.
The fascinating paradox is - the Danes aren't allowed to talk about their triumphs.
In New Zealand we love to labour over our self-deprecating tendencies and "Tall Poppy Syndrome". (Even that line was self-deprecating.)
In Denmark they have even documented it.
It's called the Law of Jante and comprises 10 rules that amount to the same thing - you are no better than anyone else and therefore must never blow your own trumpet... no matter how grand the instrument.
Even when the mercury sits on 8C, wind chill more like -8, and it's drizzling, Copenhagen is brilliant.
Our pretty host says: "Most Danes don't bike when it's like this".
But more than half the population do bike - to work - when it isn't... and we've only got two days.
So off we trot - like Michelin men swamped by polyprops, merino and puffer jackets - for a taste of the city's 400km cycle network.
After crossing the harbour on Cykelslangen - or "Snake Bridge" - a new, bright orange, (yes, snake-like) cycle bridge - we pedal along the waterfront in search of the world-famous Little Mermaid statue (Hans Christian Andersen is arguably the most well-known Dane).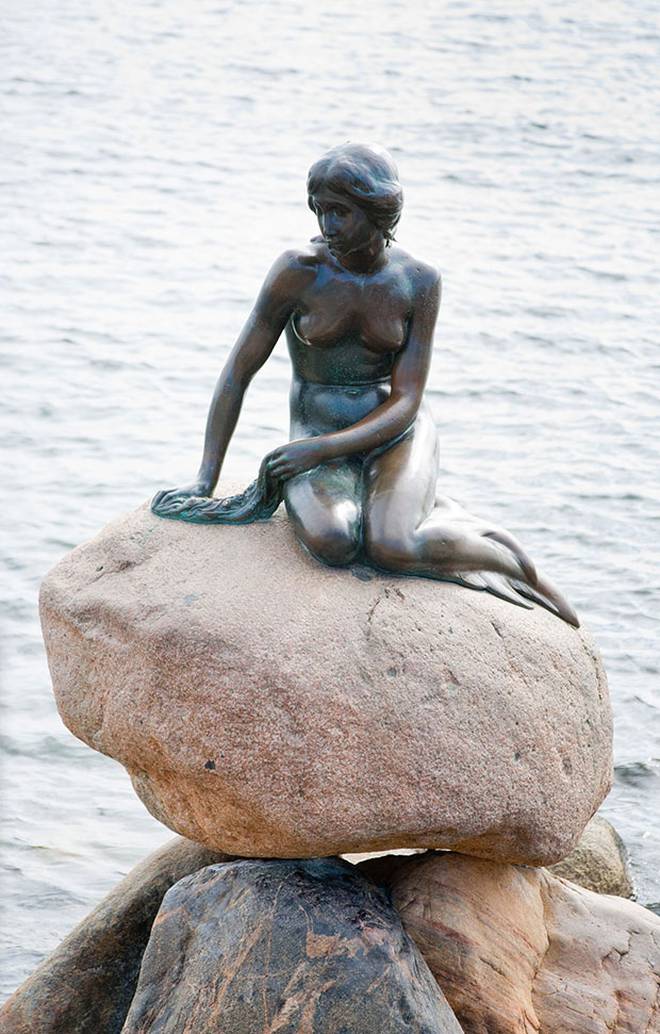 As the wind pushes my bike sideways and the harbour into a mass of whitecaps, a swim (no matter how many Tuborgs onboard) seems out of the question.
But in theory, it's possible to swim all year round, such is the eco-improved water quality. As far as the actual cityscape goes, Copenhagen is a mixed bag.
The grandeur of Amalienborg (the Danish Royals' winter home), Christiansborg Palace (the Danish parliament and main location for hit TV series Borgen) and other 18th century beauties is marred by construction that dominates the city while a new metro is being built (at snail's pace, locals tell us) by 2017.
And then there's Christiania - the former military base turned hippie commune taken over by squatters in 1971, operating under legalised self-rule (with a strong "green" trade) - just a nine-minute cycle from the city centre.
In the 48 hours we were there, contradiction within the Danish capital and indeed Danish culture (animal sex farms are only just being stamped out, while Marmite was for a time illegal) kept occurring to me.
Oh, and it's horrendously expensive.
So while a weekend in Copenhagen is, in my humble opinion, a must-do, tarry any longer on the New Zealand dollar and you may wish to remortgage the house.
On a budget?
• Hire bikes at splinster.com (Danish locals under-cutting the market by renting out their spares).
• Climb Rundetarn - a 268m tall "round tower" - for great city views.
• Sample a "glogg" (delicious Danish mulled wine complete with chopped almonds and raisins) and a "smorrebrod" - (specialty Danish open sandwich).
• Visit Tivoli Gardens - 99DKK entry and then pay-per-ride (so be judicious).
• For a night out head to the old Meatpacking district in Vesterbro.
• If kids are in tow, browse the Lego store on famous pedestrian street Stroget.
Checklist
Getting there
Emirates flies daily from Auckland to Copenhagen, via Australia and the airline's hub in Dubai. Return Economy Class prices start from $2733.