Tristram Clayton finds much to sing about cruising on the enormous Anthem of the Seas.
"Hey mate, I need a favour," said the Herald's Travel Editor, with a note of desperation in his voice.
"I need you to drop what you're doing and fly to New York this weekend to go on the inaugural sailing trip of a new cruise ship. It'll be full of gorgeous South American travel agents and all the booze you can drink.
"It's a five-day trip. You'd leave on Saturday."
My heart was pounding. New York. I was finally going to go to New York.
The city had long been the missing centrepiece in my half-completed jigsaw of world travel.
A gaping hole in a life devoted to the wonders of wanderlust.
The cruise, on the other hand, was less my cup of tea. Okay, I'd never actually been on one, but still, overweight Americans with loud shirts and even louder attitudes? Yeah, nah.
Four days later, I was in a taxi in a tunnel under the Hudson River.
We were travelling from downtown Manhattan to Cape Liberty in New Jersey where our vessel awaited. I had a hangover, had hardly slept in 36 hours but was anything but glum.
The previous night had been a wild, rip-roaring adventure.
My head was a jubilant jumble of architecture, restaurants, bars and chance encounters with fascinating New Yorkers. Oh, to have more time in this city of cities. Cruise, what cruise?
Then, through the blur of my happy haze I saw it. A shimmering mountain of steel. Eighteen storeys rising high above the water's edge.
But this was no Manhattan skyscraper. This was a ship, our ship, the $1.25 billion Anthem of the Seas.
Any lingering thoughts about revisiting my big night out in the Big Apple had vanished. I was boarding a miracle of modern engineering - it was time to concentrate, ditch the cliches and open my mind.
Of course, opening one's mind to the third-largest cruise ship in the world is a bit like an ant trying to understand astrophysics.
For starters: It's 348m long - that's three-and-a-half rugby fields or the height of the Sky Tower - with 20m extra for good measure.
She weighs almost 170,000 tonnes - that's 20,000 tonnes heavier than the Queen Mary 2, which dominated downtown Auckland when it became the largest cruise ship to visit New Zealand earlier in the year.
When it comes to people, this ship can comfortably accommodate almost 5000 - that's about the population of Wanaka - with 1600 crew to serve them.
As a first-time cruiser, the scale of these things is staggering. With my brain doing its best to process the numbers, it was time to board and find out what exactly the population of Wanaka on a single ship would look - and feel - like.
The first step, check-in, was surprisingly smooth. After the painful arrival queues at LAX and JFK airports, the passport and ticketing formalities to get on the ship were a breeze.
My first "wow" came about 15 seconds after boarding, as I arrived at the lifts that would take me to my 11th floor stateroom.
I was standing in an immense open foyer stretching 16 floors above me. On either side, six glass elevators effortlessly transported their human cargo up and down. On the rear wall, from floor to distant ceiling, a massive artwork of light and colour. In the other direction, two levels of luxury shops ending in another large, open area surrounded by bars and restaurants.
If this was a ship it was a ship like none I'd ever imagined.
My cabin was less dramatic but still larger than many hotel rooms I've stayed in.
After a quick lie down on the luxurious double bed, a shower in the surprisingly spacious bathroom and beer (why not?) on my personal balcony, it was time to venture out.
But when you're on a brand-new, billion-dollar ship, what is the first thing (apart from a shower and a beer) you're supposed to do?
I decided the best thing to do was go to the top. The very top.
The North Star observation tower is located on the ship's top deck. You're already high above the sea but you're about to go a lot higher.
That's because the North Star is actually a glass-walled capsule on the end of a 40m crane arm. By the time the arm is vertical, you're 100m above the water. Needless to say the 360-degree views of New York, New Jersey and the ship itself were electrifying.
The adrenaline hit was instant and massive.
Hangover gone, I was up for anything - and fortunately, on this ship 'anything' is everywhere.
First stop, a surf simulator where you can practise your best surf or boogie-board moves on a fast-moving, wave-shaped river of water - or in my case you can try and stand up for about 5 seconds before spectacularly wiping out.
Right next-door is the skydiving simulator - a cruise ship 'first' where you can (literally) fly in a vertical wind tunnel.
Next to that is a very large giraffe (don't ask me why) and the rock-climbing wall.
And next to that is the indoor sports zone - I didn't get to play basketball or attend the circus school but I did go roller-skating (for the first time in 30 years) and drive a bumper car - another cruise ship first.
The ship hadn't even left port yet but already I was shattered. This wasn't so much a cruise as an action sports adventure. So much for those cliches.
With evening approaching, I decided it was time to change down a gear - cue massage, followed by cocktails in two of the four pools and four spa pools on board.
It was at this point that the sun and surrounding landscape began to move rapidly away from the ship - or at least this is what appeared to be happening until I realised it was the ship that had begun to move.
I returned to my room and put on my best suit; the daily itinerary that had been placed on my freshly turned-down bed promised a special treat up top.
By the time I returned to Deck 16, night had fallen and we'd travelled around 8kms back up the Hudson River.
It was an unseasonably warm autumn evening but the view that greeted me froze me in my tracks.
There, in all its dazzling glory was the Manhattan skyline. From the One World Trade Center in the south, to Times Square in Midtown, to the Upper West Side and Harlem in the north, an almost unbroken chain of glittering skyscrapers.
Manhattan Island is around 20km long and from our mid-river, 16th-storey vantage point you felt you could reach out and touch it all.
If ever there was an occasion to drink Champagne, it was this moment. For both on and off the ship, the extraordinary power of human creativity was on display in all its mind-blowing glory.
Day two dawned clear and sunny with nothing but ocean as far as the eye could see.
Where day one had been intense, today would be indulgent. First up, a late breakfast in the Windjammer Marketplace, a kind of global food market where you can explore the world dish by dish.
I kept it simple with a couple of cream cheese and salmon bagels but believe me, if you wanted something more exotic it would have been there.
Naturally, the Italian barista made the perfect cup of coffee, just don't ask for a large one, as the pint-sized cup you'll get is ridiculous.
In order to squeeze as much as I could in on day one, I'd eaten most meals on the run.
There'd been a burger and chips from Johnny Rockets after the surf simulator and a hotdog between the skating and bumper cars. Lunch had been tapas-sized tasting dishes from four different restaurants.
But today there was no rush, which is just as well as the choice was mind-blowing.
Unlike most cruise ships, the Anthem of the Seas does not have a main dining room. Instead, the ship has 18 different restaurants with everything from modern fusion, to a steakhouse to fine Japanese to a Jamie Oliver's Italian.
This is as far from a pie and chips on the Picton Ferry as you can possibly get.
Of course, eating out isn't just about the food. The wine and wait staff are a big part of the perfect dining experience and once again, I wasn't disappointed. There seemed to be a wine for every plate and every palate and as for the waiters, they were attentive and fun without being sycophantic or annoying.
In fact, when it comes to the work/fun balance, the entire crew - from our nutty 'Captain Close' to our wonderfully eccentric Macedonian wine-waiter - deserves some praise.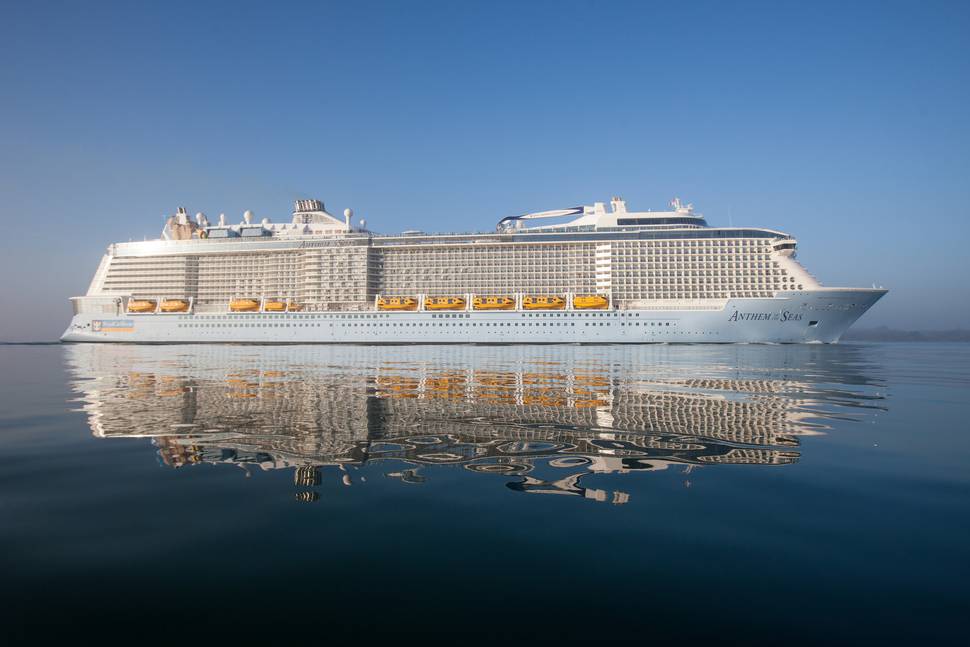 It can't be easy putting together a multinational team of 1600 with the right balance of quirkiness, humour, hard-work and attention to detail but somehow, these guys have nailed it.
The passengers, too, were great company and in the end I spent the entire day moving from restaurant to restaurant eating with new friends from Arizona to the Amazon.
After a big day 'researching' the ship's culinary offerings, I made a trip to the Bionic bar - where the cocktail of your choice is mixed and poured by two fast-moving robotic arms.
This was followed by a multimedia cabaret show and live music and dancing at the ship's largest nightclub.
At the start of the trip, I had been concerned about seasickness. But despite spending the day far out in the ocean (and having indulged in no small amount of eating and drinking), I still hadn't felt the slightest rock or roll.
If this was a normal cruise, I'd go to bed and wake up in Miami. Or the Bahamas. But this wasn't a normal cruise - this was the Anthem of the Seas' 'pre-inaugural' - a two-day trip designed to show off the ship to travel industry people from around the world.
Like my restaurant sampling dishes on day one, this was a tapas-sized 'cruisette'.
But then it dawned on me - apart from having to pay (around $200 a day, food included) - nothing would have been that different. There'd still be the surfing, skydiving and skating, the pools and those incredible restaurants. Captain Close would still be making his hilariously horrible jokes and the wine waiter from Macedonia would still pouring sensational reds. Would I come back for the real thing? You betcha.
CHECKLIST
Details: Anthem of the Seas' sister ship Ovation of the Seas will visit New Zealand for the first time in December next year. Royal Caribbean's Voyager of the Seas and Explorer of the Seas are sailing local waters this summer season, while Anthem of the Seas is operating 5-12 night itineraries out of Cape Liberty Cruise Port, New York.