The brightly coloured fish of the Marquesas would have inspired Doctor Seuss, writes Elisabeth Easther.
Travelling aboard the freighter ship Aranui 3 isn't simply about lazing on loungers and bronzing oneself by the pool.
There are also plenty of adventures to go on, from horse riding to hearty mountain hikes, motorised canoe trips to cultural excursions, not to mention the daily talks, conducted in three languages, on all manner of pertinent topics. And there we found the angle for this story.
Having attended a most splendid lecture on marine diversity and sustainable fishing, we learned that the dark blue waters of the plankton-rich Tahitian archipelago were teeming with life and, oh, how we wished we could fish in them.
On the tiny Marquesan island of Tahuata our wish came true because one of the optional excursions was deep-sea fishing.
When my son discovered this, his eyes lit up, because Theo loves everything about fish:
a) Watching them
b) Catching them
c) Eating them
d) All of the above
The night before we were due to go, we were warned that the weather was closing in but we woke to a typical Marquesan morning, a spit of rain, a heap of sun, some wind, essentially a lot of character.
The conditions weren't perfect but the day was deemed good enough and we promised the crew, cross our hearts and hope to die, we weren't the seasick types. Neptune was smiling on us.
Fortified by a hearty breakfast of mangoes and pain au chocolat, we clambered down the side of the ship and on to a barge before being handed aboard The Driftwood where our crew of two groovy dudes were waiting to whisk us away. Trawling as we went, I'm not sure what our skipper was hoping we'd catch but, if the size of the lures was anything to go by, it was going to be big.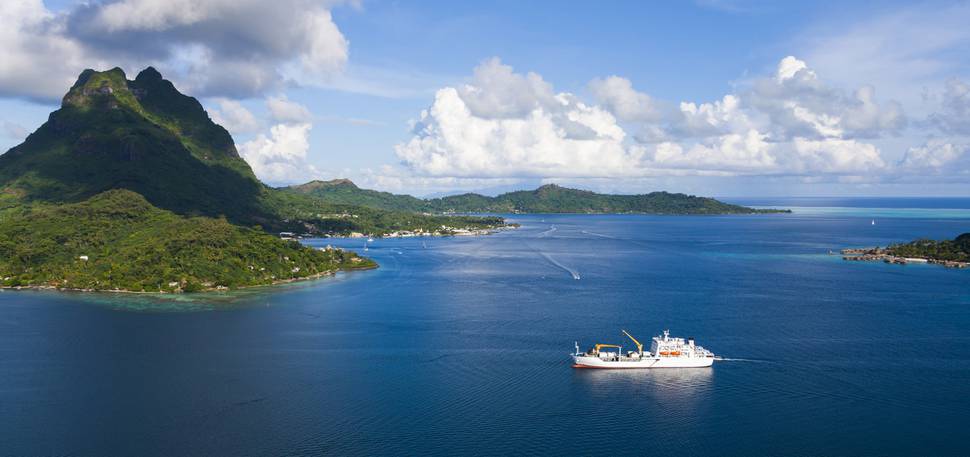 Giving trawling a whirl for about an hour, tootling along, lures bobbing in our wake, we were ready and waiting with bated breath for the telltale tug of a strike. With French pop music as our soundtrack, a drop of rain fell and a moody mist reached down from the mountains. We motored close to the rugged coast. The serrated hills were carpeted in dense bush, opening up every now and then to reveal a house or two, peeking out mysteriously. I was curious to know, who lives in these isolated places? What are their lives like? Where do they do their shopping? What happens when someone falls ill?
Putting an end to my interior musings, the captain made a call and announced we were to start fishing with bait.
Instead of anchoring we allowed ourselves to drift. We baited up and the instant our lines were down the nibbles began.
Theo caught the first fish, a rather small fellow so he gave it a smooch, as tradition dictates, before throwing it back into the water.
Theo also caught the second third and fourth fish, I hooked the fifth fish (but who's counting) and a few more had to go back.
One fish, two fish, red fish blue fish, these colourful coral creatures looked as if they'd been designed by Dr Seuss.
A blue jack, a parrotfish, several leather jackets, a prosaically named poisson rouge (red fish), even a goatfish, named for his bottom-feeding beard.
Every time we caught more than three non-eating fish in a row the skipper would call out, "changez, changez" before starting the motor and transporting us to bluer pastures.
When the fishing started in earnest I have to confess, at the first few bites, I may have let out a squeal or two but I quickly sensed that was not cool and I forced myself to internalise my enthusiasm for the rest of the day. Except for one moment, when I had no choice but to gasp, just before we called it a day, I took a mighty strike and my rod was nearly tugged out of my hands - before I could gather my wits and start reeling, the line went slack, hook, line and sinker all taken. Must've been a monster.
Then it was over, we'd had our fun and we knew that, come dinnertime, the Aranui chef would do us proud and we'd be able to relive our masterful moments all over again - sharing the fruits de mer of our labours with our fellow passengers while regaling them with the tale of the one that got away.
CHECKLIST
Details: Aranui 3 will be replaced next year with Aranui 5. Ultimate Cruising has all-inclusive packages.
The writer travelled courtesy of Aranui.