Austria's magical capital is a splendid showcase of gilded architecture that can best be viewed from a bicycle seat, writes Paul Rush
As we gear up for a group ride across Vienna, Gabriela Steiner tells me: "I've cycled 30 years with a helmet but stopped this year and feel motorists respect me more as a result."
I'm shocked at the subjective rationale that underpins this statement by our articulate cycling guide who is an architect, an enthusiastic rider and free thinker who owns six bikes.
Then I'm reminded of the controversy raging at home about whether our helmet laws are a deterrent for riders or a lifesaver. Cycling advocates say our mandatory helmet law is a failed experiment with no reduction in injuries and it appears Austrians share this view.
I awoke this morning in the beautiful city that inspired the creative genius of Mozart, Beethoven and Strauss and felt the need to cruise the streets and get into the rhythm of the place. And I'll wear a helmet. There are 1500km of cycleways and dedicated road lanes for two-wheel exploration in this onetime hub of the mighty Habsburg Empire — no better way to experience the ebb and flow of Viennese life.
Our ride starts in the leafy Stadtpark beneath the angelic gold-plated statue of Johann Strauss opposite the excellent Intercontinental Hotel. Steiner says we need to cut through the First District to avoid the cluttered cycle lanes of the famous grand boulevard called the Ringstrasse that celebrates its 150th anniversary this year.
In a surprisingly short time we wheel our way down leafy lanes and cycle paths to the Staatsoper, or State Opera House. This grand neo-Renaissance-style building has an imposing facade of arches and decorative columns. It's one of the world's busiest opera houses with 60 opera and 300 ballet performances each year.
"The opera is wunderbar," says Steiner, with more than a hint of nostalgia. "We used to throw rotten eggs and tomatoes on to the stage but not now. The performances are so moving we give standing ovations."
Dashing off at warp speed she leads us in a single conga line towards the Hofburg Palace.
With our elongated line of cyclists, crossing traffic light intersections can be problematic. As a mountain biking enthusiast I'm a little uncomfortable in city traffic so I'm keeping close to our guide. I'm amazed at the size and grandeur of the vast Hofburg Palace and I swivel 360 degrees to take it all in. What began as a small fortress in 1275 has burgeoned into an area containing the imperial apartments and treasuries of the Habsburgs, several museums, the National Library, Spanish Riding School and the President of Austria's offices.
At the nearby Parliament Building we line up our fleet of bikes for group photos under the watchful eye of a gilded Athena, the Greek virgin goddess of wisdom. The palatial parliament was built in the Greek style with stately Doric columns in recognition that democracy was born in Greece.
From here we duck and dive around open plazas and green swathes of parkland to the Rathaus City Hall and on to the Burgtheater, the principal theatre stage in the German-speaking world. From there, Steiner navigates our group through a maze of streets past the Borse stock market to the Danube Canal.
The kilometres have rolled away under the guidance of our cycling guru. I've been cranking the pedals at a moderate pace, occasionally sitting bolt upright to take in the surrounding sights and, lo and behold, we have circumnavigated the central commercial district.
At a rest stop under the Aspernbrucke Bridge our guide explains how she regularly cycles from her home outside the Ringstrasse to the Holy Moly Restaurant and floating swimming pool on a barge. There's also an artificial sandy beach and sunbathing cabanas on the embankment.
Steiner's family is leading the vanguard of cyclists who spurn cars.
"My generation of professional and arty people are choosing not to obtain a driving licence," she says.
"Car ownership involves a huge loss of productive time in finding a park and being caught in traffic jams. I cycle to work in high heels with my dress tucked into my underwear — you can do anything on a bike."
Wending our way through a seemingly deserted concrete jungle of residential projects, we reach the Danube River and stop in the centre of the Reichsbrucke Bridge. The Vienna Woods stand out downstream in contrast to the tightly packed skyscrapers of Donau City on the right bank.
Below us is the remarkable 21km slither of Donau Island bisected by cycle paths stretching to infinity that Steiner says could keep your wheels spinning all day.
A dozen sleek river cruise boats, each 135m long and 11m wide to fit the Danube locks, hug the left bank in line awaiting a new cohort of passengers to be wined and dined along the legendary waterways.
Leading the queue is the shiny Avalon Illumination, just christened with the appellation of Suite Ship for its innovative sliding panorama windows that instantly transform a living room into an open-air balcony.
Our homeward journey takes us down the broad, bustling Lassallestrasse past the eye-popping Franz von Assisi church and the big ferris wheel of Prater Park.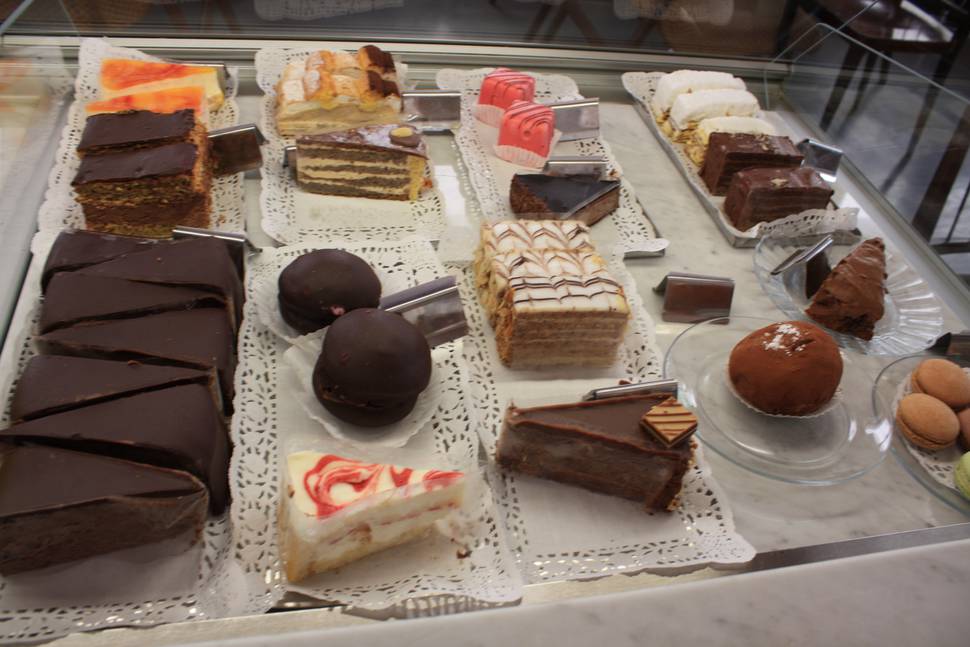 Our final stop is at the popular Cafe Pruckel. Once inside this colourful cornucopia of sweet treats, gourmet snacks and strong espresso coffee my bruised skin is soon forgotten. I drool over big slices of apfelstrudel and sachertorte chocolate cake and gobble up an organic salad.
"The Viennese could never ride anywhere that lacked a cafe," Steiner tells us. "We believe in personal freedom and lifestyle choice. As an upper-middle class freelancer I have a job that I love that allows me time to enjoy life to the full. This is the Viennese way.
"We have everything we need here. I don't have to show off a big car. Our emphasis is on living well, eating fresh organic, seasonal produce and pursuing the best quality of life. Living in Vienna can be an idyllic bourgeois, bohemian existence and we love to travel."
Steiner's passionate endorsement of life in Vienna on two wheels greatly impressed us. Vienna regularly appears in the top 10 most liveable cities, as does our beloved City of Sails. Remarkably, this modern, multi-cultural metropolis still retains a village atmosphere in the districts we visited.
My trusty GT full-suspension mountain bike is languishing in the shed. I'm sure Steiner would approve if I changed my mode of transport. But then there's the vexatious question of the helmet. New Zealand and Australia are the only countries that fine helmetless riders. It's a nice racy bike colour so I'll wear it until we get dedicated cycle lanes like Vienna.
IF YOU GO
Avalon Waterways offers more than 25 itineraries through Europe on six rivers. There is a choice of travel between 5 and 24 days. Its eight-day A Taste of the Danube itinerary from Vienna to Budapest costs $2523 each, twin-share. It also offers an earlybird discount of $650 a couple on all of this year's European river cruises.
Cathay Pacific has regular flights from Auckland to Europe via Hong Kong. Its premium economy seats offer extra space and footrests to give a comfortable reclining position.
Pedal Power bike tours offers a range of itineraries for the scenic and architectural highlights of Vienna. Bikes with baskets, child seats or trailers are available with hotel pickups, maps and directions.
Paul Rush travelled to Vienna courtesy of Cathay Pacific Airlines and Avalon Waterways.