Mackerel floss anyone? Jesse Mulligan finds new and innovative Asian eateries in Sydney.
Unlike Melbourne - everyone's favourite example of a walkable, navigable foodie paradise - Sydney is big, and hard to grapple with. For too long, I put off booking an eating weekend there because it seemed impossible to narrow down where I would go.
When I did finally commit to 48 hours of Sydney gluttony, I decided to thin-slice it by genre, rather than area. There are great restaurants in average suburbs and average restaurants in great suburbs, so instead of choosing a neighbourhood, you're better to choose a style, then stalk around the city sniffing out meals, and enjoying what you stumble upon on the way.
Sydney's immigrant population has always been a portal to fantastic Asian food, but often those motherland cuisines are now being used just as a starting point, as chefs fuse traditional ingredients and dishes with modern fine dining techniques and presentation. Here are five fantastic new Asian restaurants you should try during a visit to Sydney:
Sepia
As soon as you book your trip, book a table at Sepia. The Sydney Morning Herald Restaurant of the Year last year, Sepia mixes the best of Japanese izakaya (shared plates, charcoal cooking, bamboo skewers) with the best of fine dining (vintage champagne, exquisite presentation, perfect service). The tasting menu is the only option on the weekend, but during the week you can order a drink and casual yakitori - cooked over 1000C oak charcoal imported from Japan. This food is as good as it gets, with surprises and delights in every dish.
What to order: Wagyu brisket, slow cooked then grilled over coals and served with pickled pink shallots.
Sura by Ku
It's a nice walk from the city up Oxford St to Paddington, and if you have enough energy you can stroll a little further to this friendly, family-run Korean restaurant in Woollahra. I'm crazy for kim chi, the fermented cabbage side dish that works with just about anything This is a great place to try the mellower-style Korean sake, too.
What to order: The tiramisu, a local version of the classic Italian dish made with green tea extract and pistachio instead of coffee.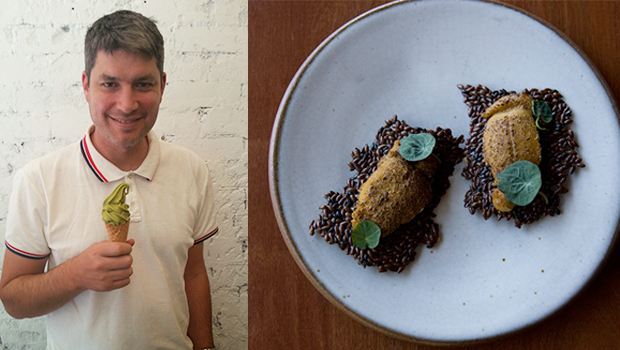 Left: Jesse Mulligan tries a green tea ice cream. Right: Modern Korean food from Moon Park. Photos / Victoria Mulligan, Supplied

Serving traditional Korean flavours with high-end fine dining tricks, Moon Park is another must-visit in Sydney. The food is beautiful and perfect, and it's also a great spot if you're interested in wine - the sommelier has an unusual and memorable list.
The menu is full of incredible creations, so just order the banquet. Ingredients like mackerel floss, acorn jelly and maesil marshmallow are as much an intellectual challenge as a taste experience.
What to order: Bibimbap - traditional comfort food enriched with subtle new textures and flavours, this dish has everything that makes Moon Park so great.
Cho Cho San
Cho Cho San is light, urban and stylish, and combines a casual, communal style with precise, excellent service. The food - modern Japanese - is so good you want to close your eyes and block out everything that isn't happening in your mouth. If in doubt, choose from the raw section of the menu - though you can't go wrong, no matter what you order. We finished with a green tea ice cream in a cone - perfect to eat on a hot Sydney day as you amble back to the hotel.
What to order: Ocean trout with black pepper and wasabi. This would make my top 10 dishes of all time - the trout looks and tastes like salmon, but a bit less rich. The cold freshness of the sliced fish is perfectly complemented by the sweet and salty Japanese sauce, with a big wasabi kick at the end. Absolutely unmissable.
China Diner
It's very easy to follow the locals and catch a bus to Bondi Beach for the afternoon, and the food and drink is much more sophisticated than you might expect for a beach suburb. China Diner is a big, buzzy restaurant where it's okay to arrive with sand on your feet. As you'd expect, the food is predominantly Chinese - that means plenty of fatty cuts and barbecued meat, but there's also a lot of fresher stuff to choose from.
What to order: The steamed barramundi is sensational, drawing Vietnamese flavours with a tart and sweet pickled green mango dressing.
CHECKLIST
Accommodation: Pullman Hyde Park.
Online: Sydney.com
Jesse Mulligan travelled courtesy of Destination NSW.