Sarah Lang gets on her bike for her health – and a slice of history.
The tourism slogans of New Zealand towns have often made me cringe. Think "Hamilton, more than you'd expect", "Wanganui, take a look at us now", "Dunedin, it's all right here" and the blush-inducing "Right up my Hutt Valley".
But, down in Otago, the Clutha district's tag is much less cringe-worthy and much more apt: "Clutha Country: where everyone says hello". They actually do. During a weekend in Lawrence, I met a crowd of locals at The Prospector, a multi-tasking cafe/bar/restaurant/motel. People struck up conversations, invited me for a cuppa and told me their stories.
Trisha Ashby was one. She lived in Perth for 30 years before moving back to New Zealand to be closer to family, lead a simpler life, and set up the Lawrence Jailhouse B&B in - you guessed it - the old jail and police station.
Clutha, which stretches inland from the coast south of Dunedin, is a jigsaw puzzle of unique areas. It is perhaps best known for scenic wonderland The Catlins and New Zealand's second-longest river, the Clutha Mata-au, which bisects its biggest town, Balclutha.
In Clutha's northern climes, an hour's drive from Dunedin, Lawrence - population 550 - isn't merely a pit-stop to pick up home-made baking and preserves at The Wild Walnut cafe, or to browse the gift shop and hand-weaver's gallery. Lawrence is also the gateway to the goldfields, full of history and hidden gems.
It's where, on the evening of May 20, 1861, solitary Australian prospector Gabriel Read dug a hole in a creek bed and found, as he wrote, "gold shining like the stars of Orion on a dark, frosty night". Cue the Central Otago gold rush - New Zealand's first - which drew more than 11,000 hopefuls (then double Dunedin's population) to new township Lawrence.
You'll discover this and more at Gabriel's Gully reserve with its Pick and Shovel monument, 80-minute walking track, and information panels. Here, I can almost visualise the calico tents pitched where the steep hills climbed away from the valley.
One gully to the east, the settlement of Weatherstons was once the life of the goldfields party, thanks to Hart's Black Horse Brewery, which quenched Otago thirsts from 1866 until 1923. In the building ruins, I spy a 19th-century time-traveller wearing a velvet corset and waistcoat, bustle skirt, feathered headpiece and lace necklace. It is local character Kim Murtagh, who calls herself Dusty after a gold-mining-era broad.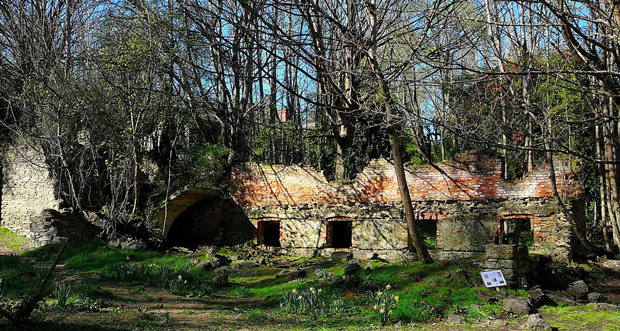 The historic Hart's Black Horse Brewery in Lawrence quenched thirsts from 1866 to 1923. Photo / Supplied
Telling tales of yore and singing miners' songs, Dusty shows us around the former brewing plant, malthouse, homestead, woodland gardens, rhododendron forest and 10ha of daffodils first planted in 1895. A heavily involved trustee of Hart's Daffodil Charitable Trust, Dusty is working to restore the brewery and its grounds, and runs tours by arrangement through "Dusty's Trails".
As well as brewery tours, she takes historical walking and bus tours of the Lawrence area, including the brewery, Gabriel's Gully and the Tuapeka Goldfields Museum.
The small museum tells the story of the gold-miners' lives, from tent dwellers to wealthy merchants and Chinese migrants. Artefacts include a replica mud-brick goldminer's cottage and a black-and-white-photo gallery of settlers.
That past meets the present in the Clutha Gold Trail, opened in October 2013 as one of the Nga Haerenga New Zealand Cycle Trail's "Great Rides". You can hire bikes or take guided tours of the 73km, beginner's-level trail from Roxburgh to Lawrence.
The smooth, wide track follows railway lines, old settler roads and the banks of the Clutha River, past gorges and farmland. It takes a leisurely two days, with accommodation along the way.
On a schedule, we decide to bike a few kilometres of the 19.4km section from Lawrence to Beaumont. Handily, the guys from iBike Hire Lawrence will drop off and pick up bikes - and the cyclists if necessary - anywhere along the trail. We cycle past farmland and through the 400m Big Hill Tunnel, where I was glad of my headtorch.
We ditch the bikes at Beaumont Bridge, where Beaumont Jet offers various tours of the Clutha River. Owner Dave Crawford is joined behind the wheel by Eco Tour guide Bill Dacker, who has a stick for a staff, gumboots and long ponytail. No one knows more about the river, the wildlife and the area than this historian, who specialises in Maori and the environment, and lives in a riverbank cottage.
Glancing at his laminated-plastic folder, Dacker talks with his hands while recounting the history of the river that was the lifeblood first of Maori (who named it Mata-au after its whirling eddies) then of European settlers.
We speed along the turquoise water, past the weeping willows hugging the riverbanks, spotting a deer in the bush. Eventually we disembark at 7ha Birch Island/Moa Nui in the middle of the river, and follow Dacker through the forest of beech, totara and matai. The river keeps predators out and protects the inhabitants, especially insects and invertebrates, making it an ecological Noah's ark.
On the ride back, we scream with delight as Crawford does his legendary 360-degree boat spins. After that adrenalin rush, we decamp to the historic Beaumont Hotel, which has a bar, meals and guestrooms, and doubles as a caravan/campervan park with tent sites.
From motels to B&Bs, there are plenty of places to stay in Lawrence and its surrounds. But if you're looking for luxury, don't go past Cascade Creek Retreat near Milton, half-an-hour's drive from Dunedin Airport.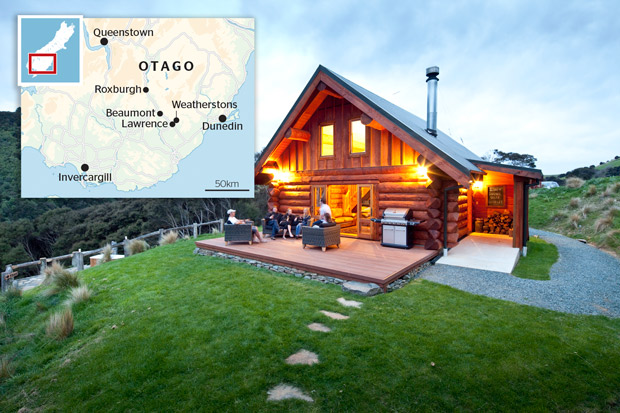 Cascade Creek Retreat near Milton. Photos/ Supplied
Dave and Janene Divers, as friendly a farming couple as you'll find, opened the boutique, eco-tourism guesthouse in 2012 on their 2000ha sheep-and-beef farm. But this is anything but a regular farmstay.
Turning a corner of the farm track, it feels as if we have entered a different world. A log cabin stands sentry over a jaw-dropping valley of native bush that the couple is protecting and regenerating through replanting. They have carved out private walking tracks which span a 45-minute loop track to a day-long hike through the valley, gullies, farmland, stream and swimming hole into a canyon.
Dave built the cabin using recycled and locally sourced materials and hand-crafting reused timber into furniture and finishing work, including the doors, bedheads and mantelpiece. The open fire is well-used in winter, and the deck with outdoor furniture and barbecue in summer.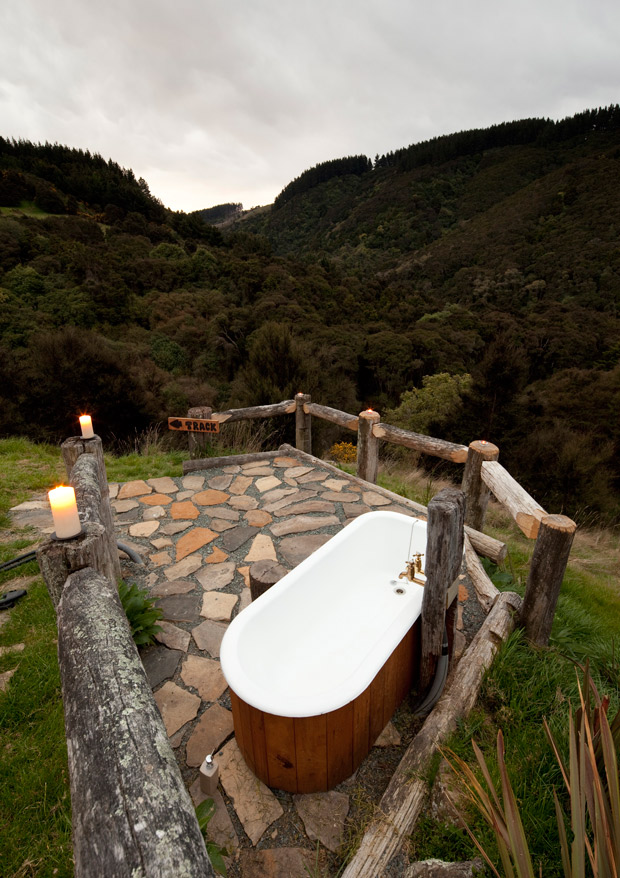 Cascade Creek Retreat boasts an outdoor bath. Photos/ Supplied
I can't wait to come back to soak up the luxury, serenity and views. And I'll be back to Lawrence, too, for the history and, most of all, the people.
IF YOU GO
Further information: See See cluthanz.com and lawrence.co.nz.