Justine Tyerman laps up life at one of Sydney's most prestigious residences, but misses the cut for a celebrity soirée ...
I arrived at La Corniche in the "twilight zone", that trance-like state between wired wakefulness and semi-somnambulance. Three flights and 32 hours of flying from London to Sydney had taken their stealthy toll.
My sweet daughter and dear husband banished me with a glass of bubbly to the luxurious spa bath, one of two at the opulent harbour-side residence, where I lay hallucinating in my jet-lagged state.
Photos: La Corniche, Sydney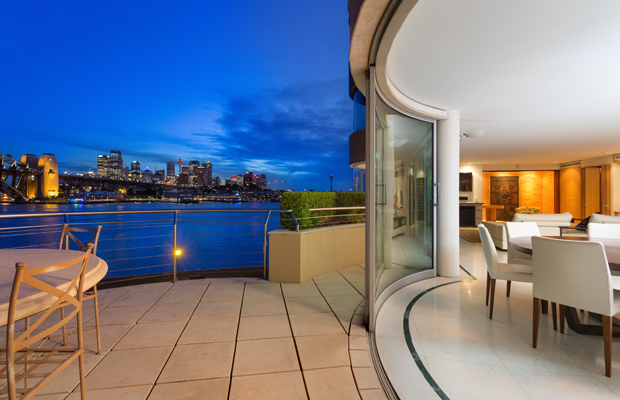 The view from La Corniche's balcony. Photo / Supplied
I had of a series of visions.
Sydney's iconic sights were parading in front of my heavy-lidded eyes, showing off in the sunset. The Opera House was perfectly framed by the Harbour Bridge, the vaulted shells glowing pinkish gold in the last rays of the sun.
The ferries zipped back and forth across the satin waters of the harbour and just as I nodded off, I was startled awake by the ear-splitting foghorn of a massive white ocean liner, cruising past so close I could almost see the passengers' expressions of excitement as they sailed under the brightly-illuminated bridge.
Wrapped in a soft robe from the dressing room, I padded across the deep plush carpet of the palatial master bedroom, down the long marble hallway to the state-of-the-art kitchen where my food-obsessed husband and daughter were preparing dinner and having an animated conversation.
They were on a high, fresh from their work-out in the gym, sauna and heated lap pool - down a few steps from our residence which occupied the whole fifth floor at one of Sydney's most prestigious addresses.
Sophie was wide-eyed, experimenting with the impressive array of German Gaggenau appliances while Chris was playing with the Nespresso machine, doing a George Clooney impersonation.

La Corniche's huge kitchen. Photo / Supplied
For once, they were not elbowing each other out of the way because each had masses of marble bench space and every imaginable utensil to do their own gourmet thing.
We could have dined out but ensconced in the sumptuous luxury of La Corniche with spectacular panoramas from every window and balcony, there seemed no valid reason to expend precious energy.
Instead we feasted on delicious salmon and fresh salads, delivered to the residence as part of the Luxe Houses concierge service. Dining at the 10-seater round table in the curved window, we watched trains rumble across the bridge and the famous yellow and green Manly ferry muscling its way into Circular Quay.
The Sydney sights were competing with each other, shouting "look at me, look at me" - it was almost too much visual stimulation to process in my jetlagged state.
I had many adventures that night, thanks to my deranged body clock. Awake at 3.27am, I explored the multitudinous delights of this exceptional private home, owned by a New Zealand family, with the entire place to myself.
I wandered around the balconies and sat at the outside table overlooking the harbour. The Opera House had mysteriously disappeared, confirming suspicions that my earlier experiences had indeed been an apparition. The bridge was still visible but sensible Sydney had turned off a million or so lights at some point after midnight.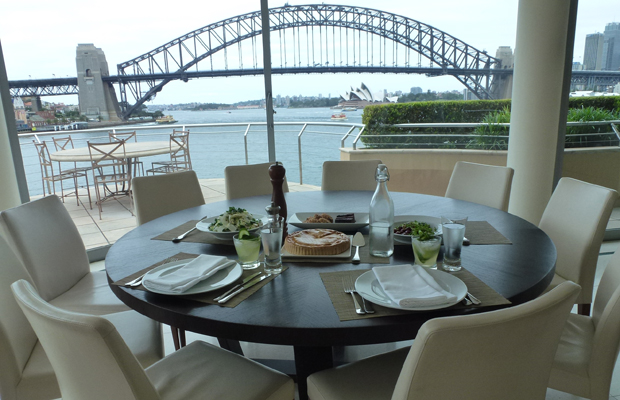 Lunch with a view of the Sydney Harbour Bridge. Photo / Supplied
I masqueraded as chairman of the board, seated at the handsome oval walnut table in the conference room where a pair of massive antique doors are an imposing wall feature. I examined the beautiful Italian sculptures in the dining/lounge area, sat at the bar and ordered an imaginary nightcap as if I was one of the many celebrities who regularly stay at La Corniche; and explored the nooks and crannies of the butler's pantry and laundry next to the kitchen.
In Goldilocks mode, I tested all the beds in the house and can confidently report they are superbly comfortable with finest linen and pillows like puffy clouds but sadly, not invested with magical powers to promote sleep.
I tried out the inviting leather armchair and footrest set in the curved window of the living room beside a set of powerful binoculars, and leafed through fascinating books on Sydney's history and the building of the bridge, but the information was far too interesting to act as a sedative.
The elusive fairy dust finally came when I curled up under the softest woollen blanket on the generous white leather L-shaped couch in the living room and flicked through the many channels on the huge flat screen wall television.
I woke up hours later, well rested, with the first rays of sun dancing across the marble floor and delicious breakfast and coffee aromas emanating from the kitchen.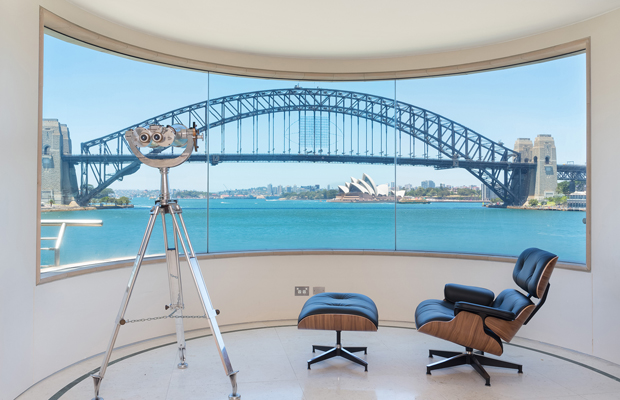 Relax and watch Sydney's water traffic go by outside the window. Photo / Supplied
Despite the chilly spring morning, the whole apartment was cosy and warm thanks to the underfloor heating. The gas fire and air conditioning were not needed.
I was reassured to see the Harbour Bridge and Opera House were startlingly real in the bright morning sun ... and as the first of the behemoth cruise liners slid quietly past at eye height, there was hot competition for the binoculars.
In the days that followed, we lived like celebrities - a splendid lunch was prepared and served for us by chef-to-the-stars, Clancy Atkinson; beauty therapists called by to pamper mother and daughter and a personal shopper took our orders for some wedding gifts I needed to buy in a hurry.
When we could drag ourselves away, we ventured into the neighbourhood. Our rental car was garaged securely at the foot of the private lift but we opted to explore Sydney by ferry and foot, starting with the historic finger wharves at Walsh Bay. The next day we strolled along the boardwalk to Luna Park and through the wide toothy-mouth entrance way to the grand old amusement park.
We met Luxe Houses founder and CEO Jessica Kirkpatrick who has welcomed many a celebrity to the 200 prestigious private rental properties she manages in Australia and New Zealand.
I was expecting a middle-aged, hard-nosed Aussie businesswoman but instead met a beautiful, clever young entrepreneur who has carved out a high-end niche market, securing Australia's most desirable properties for her rich and famous clientele including Gerard Butler and Ronan Keating.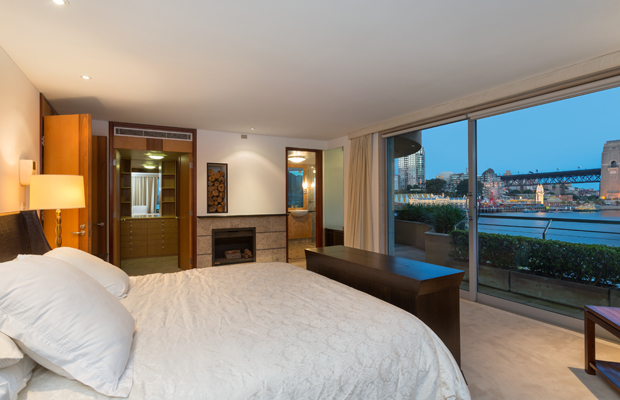 One of the bedrooms at La Corniche. Photo / Supplied
"In recent years we have seen the emergence of the domestic and international luxury traveller seeking more bespoke accommodation," says Kirkpatrick.
"The Luxe Houses portfolio provides these discerning travellers with an elite experience in some of Australia's most exclusive private houses.
"It's where stars, black-book celebrities and well-to-do expats call first to seek outstanding accommodation.
"La Corniche is one of our flagship properties but there are stunning multi-million dollar listings scattered all around Sydney including fashion icon Collette Dinnigan's former Paddington home and stylish Tamarama mansions overlooking the sand, sea and coastal walkway to world-famous Bondi Beach."
If you have an extra special occasion to celebrate, want to impress the living daylights out of someone, have a spare $15,000 to splurge on a week or always fancied living like an A-lister with a concierge at your beck and call, have a chat with Jessica and her team.
Luxe Houses are also used by businesses for corporate, public relations and media events, VIP client entertainment, product launches, advertising campaigns, movie/photography shoots and conferences.
For something completely different, Jessica can always arrange a luxury super yacht, private jet or even fighter jet experience for you.
The primo times to book La Corniche are New Year to watch the spectacular fireworks launched from the bridge arches or the annual Vivid Festival in May-June where the bridge and Opera House are centrepieces of a fabulous light and music extravaganza.
After four idyllic days, we reluctantly returned to reality, moving out just in time for chef Clancy to prepare for the birthday soirée Ronan Keating was throwing for his girlfriend.
He later told me the evening was a fantastic success and Ronan loved the food. However, our chef friend had a major complaint about the venue.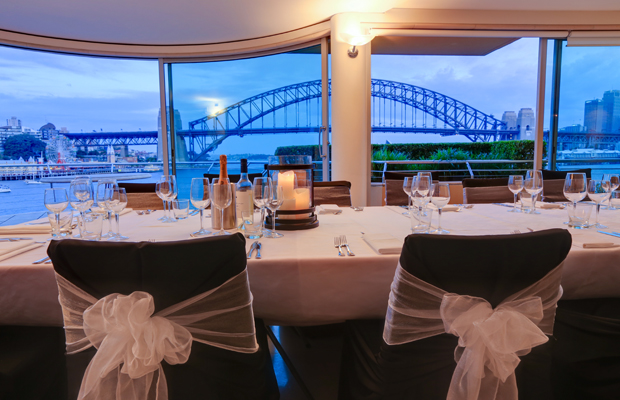 The dining area, set up for Ronan Keating's party. Photo / Supplied
The views from the La Corniche kitchen at night were such a distraction, he said he found it hard to concentrate on the task at hand.
CHECKLIST
Getting there: Air New Zealand flies direct to Sydney from Auckland, Wellington, Christchurch, Queenstown and Rotorua with flight options also available on alliance partner Virgin Australia.
Accommodation: La Corniche is managed by Luxe Houses, which also has 200 other spectacular properties in Australia and New Zealand for hire.
Justine Tyerman was a guest of Luxe Houses.