After the excesses of Christmas and New Year celebrations, Joelle Thomson investigates North Island walks for you to check out on your holidays.
It's a household name for most Aucklanders, but Mangere Mountain is hardly on the beaten track, even if it does have its own education trust, community gardens and the cottage home of the second Maori king, King Tawhiao. The volcano is last known to have erupted 20,000 years ago and is one of Auckland's most dramatic volcanos, with its vast indentation in the centre. Walking paths take visitors all around this spectacular spot, offering vast views over its curvaceous terrain, which conceals hidden tunnels to explore and soils that are so fertile, they are now home to a growing number of indigenous Maori edible plants.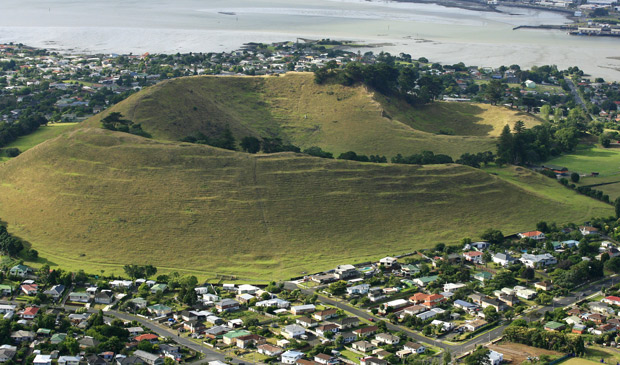 Mangere Mountain last erupted 20,000 years ago. Photo/ Martin Sykes
Pararaha Valley at Whatipu, Auckland
Whatipu's (pictured above) untouched, raw beauty makes it seem so much further away from Auckland's urban sprawl than just an hour's drive, especially given that it is also home to three outstanding tramps and several shorter day walks, such as this one. The Pararaha Valley Track epitomises this beautiful beach's remote, rugged and windswept drama, not least because it is only in the past five years that it has morphed from being a knee-high mud walk to a proper bushwalk. It begins at the Lone Kauri car park, taking in beach, wetlands, native forest and dramatic cliff views. It is also an easy walk. Just 30 minutes will cover the entire 1.1km.
Broken Hills walking tracks, Coromandel
It's hard to believe that the well-concealed Broken Hills camping ground was once a bustling gold mining township - until you start walking the well-marked tracks in these hills that cradle the Tairua River between them. These walks are mostly brief. The 1.9km-long Water Race tunnel track and the 1.3km loop Third Branch track are the tip of a long list in the Broken Hills area, both of which link to others and are littered with rustic gold mining remnants and a fascinating array of short, medium and long tunnels. Not all of the tunnels are accessible to walkers. Some are closed for safety reasons. Others are being re-mined and others remain walkable, so take a torch to check out the glow-worms, wetas and the damp, narrow tunnels worked in at the turn of last century. If a little more exercise takes your fancy, the Collins Drive loop track is a two-to-three hours return walk.
Mangatainoka Hot Springs, Hawkes Bay
If a cruisy walk is in order, then here it is; a 45-minute jaunt along a meandering river to a rewarding destination: hot springs. This is one of the Kaweka Forest Park's hidden gems. It begins on Makahu Rd, 75km northwest of Napier and, because the hot springs are the destination, this walk attracts a vast number of people who are out in the bush on hunting, fishing, picnics and camping expeditions. It is graded "easy" and that, along with its brevity, makes Mangatainoka Hot Springs the ultimate family walk for members of all ages and stages. And for those who want to stay a little longer, there is a camping site nearby. Or you can choose a longer, slightly more challenging walk from Makahu Rd to Te Puia Lodge, which takes two to three hours, with a stop at Mangatainoka along the way. Check out the Department of Conservation's website for maps and details.
Mt Kaukau, Wellington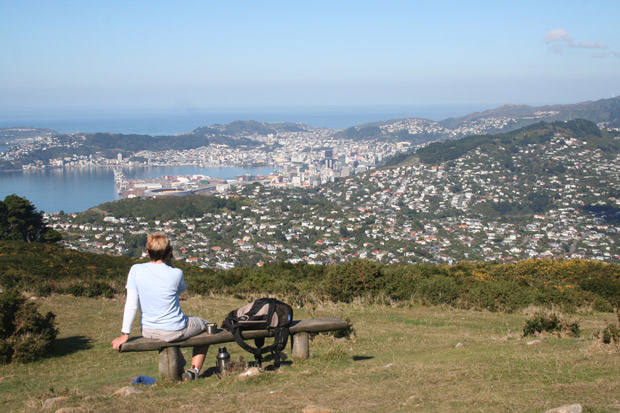 Mt Kaukau offers spectacular views of Wellington. Photo / Andrew Bonallack
This 6km steep, uphill pathway offers a little of everything for keen walkers - dense and beautiful native bush, spectacular views and a great work out. Mt Kaukau has the highest vantage point for views of any point around Wellington Harbour with its 360-degree outlook south over the glistening Cook Strait to Mt Tapuae-o-Uenuku; a 2885m peak in the Kaikoura Ranges. In the other direction, the views face the Rimutakas; northwest to Kapiti Island (where Te Rauparaha once holed up) and east to the Orongorongo Ranges on the opposite side of Wellington Harbour. Dense native bush lines most of the wide pathway for about three-quarters of the walk, which can be approached from Simla Cres, via Johnsonville and through the Khandallah Reserve. The reserve is the main entry point to Mt Kaukau walkway and it is also home to a 30m-long unheated outdoor pool and cafe. The top of Mt Kaukau is windy, so take a jacket. It is also one of the most outstanding views of the capital city, its majestic harbour and hills.