Elisabeth Easther finds a town with Scandinavian heritage and real socks appeal.
Where is it?
In the North Island's Tararua District on SH2. It's 210km north of Wellington, 515km south of Auckland and 20km northeast of Dannevirke.
Origin of name: Norsewood was settled by migrants from Norway and other parts of Scandinavia who were brought over to open a road and rail link through 70 Mile Bush, they named the town to remind themselves of home and there's still a strong sense of that heritage.
Population: 330.
Town slogan: Heritage Village or A Special Village.
Town mascot: The trolls, mostly carved out of macrocarpa. Sadly, some drunken idiots have trashed a few - silly buggers.
Infamous locals: The central characters from the television series The Almighty Johnsons hailed from Norsewood.
Golf clubbed: In 2009, a chap at the centre of a manhunt, wanted for murder, holed up in the Norsewood Golf Club toilets. He hid there from the police, putting the village into lockdown, until the Armed Offenders Squad apprehended him.
Local legend: Tug O'Brien owns O'Briens Auto Services, the local garage and he can fix anything, plus he's in a band and can often be found down at The Crown, when he's not mending things.
Best website: norsewood.co.nz and the Norsewood Facebook page sees a lot of action.
Main employer: The Kiwi Sock Company and NZ Natural Clothing - their website says they're "serious stockists of Swanndri [and] Norsewear". Well, it's a serious business. Agriculture is also a big player in the local economy.
Source of pride: The welcoming locals - even if it's your first visit, you'll feel as if you've come home.
Town fiestas: May 17 is Norway Day, celebrating Norwegian independence and it's a great day out for the whole family. The Annual Flower Show in November is also a winner.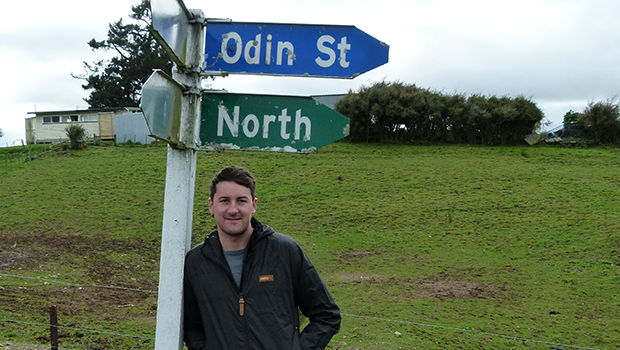 Actor Emmett Skilton finds a Norsewood connection to his character from 'The Almighty Johnsons'. Photo / Supplied
Here for a short time? Grab a coffee at Cafe Norsewood on Coronation Street, sample delicious Dutch treats at the superette, buy some socks at the local factory and pop into the Hovding Gallery.
Best reasons to stop: Fuel, food, socks and the full-scale Norwegian Heritage Village at Johanna's World, a memory park created in honour of the early settlers. There, you'll find a reproduction of the log cottage in Norway where Johanna Christiansen was born. There are also fairytale trolls inside the troll cave.
Best place to take the kids: The Water Wheel Reserve on Hovding Street has some great play equipment including an old tractor and a double flying fox where kids can race each other side by side.
Best park: Anzac Park is a free domain and you can camp there if you fancy and take a stroll through the heritage bush.
Best facilities: There are plenty of places to spend a penny including Upper Norsewood, Water Wheel Reserve and at the NZ Natural Clothing Factory Shop.
Best walks: Take the Troll Stroll and decipher the signs in troll language while you're at it. Anzac Park Bush Walk is lovely and the historic cemetery is fascinating for a meander. There are also some more serious tracks in the wider region including Apiti Track, it starts about 6km from Norsewood and goes over The Ruahines, (highest point 1213m). Or trot up to Sunrise Hut (a 20-minute drive to the north) it's a stunning walk and takes 2-3 hours.
Best views: The Ruahine Ranges look stunning from all over town, ditto the Takapau Plains 3km north of Norsewood where the vistas are awesome, or gaze out across the land from Sunrise Hut.
Best swim: Take a dip in the streams and rivers, ask a local and they'll point you in the right direction for finding good access.
Best museum: Norsewood Pioneer Cottage Museum on Coronation Street is filled with artefacts as well as the old jail and machinery. Open seven days from 9am-4pm and just $2 to get in.
Nice arts: At Hovding Gallery you can admire pieces by master carver Jeff Bryan and even watch him work.
Top shop: New Zealand Natural Clothing Shop and Factory where you can buy Norsewear gear and factory seconds. There are also slide shows and various exhibits celebrating socks.
Cream of the coffee: Cafe Norsewood, they also do a monster all-day breakfast. Or try a Dutch Brew at the Scandi Superette, where you'll also find delicious Dutch baked goods. Or grab a free filter coffee at NZNC Factory shop.
Yum: Cafe Norsewood provides cabinet food and a full menu during the day, or grab a sandwich bursting with filling at the superette.
Stay a while: Tourists love it here, and there are overnight parks for campervans if you're that way inclined. Plus, you can go to The NZ Natural Clothing Company for free ultrafast broadband.
Best food of an evening: The Crown Hotel's bar (21 Coronation Street) does wholesome bar meals, mixed grills, fresh fish, or takeaway fish and chips if you'd rather.
Wet your whistle: The Crown Hotel is the perfect place to have a beer with the friendly locals, it's a real focal point for the community and they also provide mid-range accommodation.
Give us a clue: See if you can decipher the Troll language on the Troll Stroll.
Best kept secret: Norsewood Golf Club's green fees are just $10.
Wildlife: Check out the long-finned eels in the Mangarangiora Stream beside the sock factory, with access opening to the public this summer. A charitable trust has been set up to create a rest area, a sculpture park and eel feeding area.
Safety warnings: Look both ways when crossing the road because a pretty big highway bisects the town or, even better, use the overbridge.
Visitors say: This town has socks appeal.
Locals say: Glad you noticed.
Thanks to Phil at Norsewood Natural Clothing for shaking his pom-poms for Norsewood.