Travel disasters give us great stories, but drama-free holidays are golden, writes Tristram Clayton.
I've always believed that to end up with a decent travel story something has to go wrong.
Think about it. What's the first story you're going to tell fellow backpackers when supping a $2 Kingfisher in a $10-a-night Delhi guesthouse?
The 99 times you enjoyed a delicious, not-too-spicy, full-of-flavour Thali, or, the one time something went wrong and you were caught halfway to the communal bathroom with a fetid dhal-like substance completely encircling your bare feet?
All those times you arrived in a new country and the customs officer waved you through with a nonchalant shrug, or, that time crossing the Ruzizi River from Rwanda to Congo a border-guard stoned on God-knows-what stuck his AK47 in your face and said, "New visa. Fifty dollars. Now."
The lifetime of Kiwi summer holidays spent peering out the car window at the luminous green fields, or, the one time you got a puncture in the middle of nowhere, with no spare and it began to rain.
Yep, disease, danger, disaster have always been the basis of my favourite travel stories - always, that is, until my latest jaunt to Australia. This was a trip, a mid-week "Boys' Weekend" no less, on which absolutely nothing went wrong - that still ended up producing a bloody good travel yarn.
My first piece of "everything going right" began at Auckland Airport.
Surely it's some kind of record for an economy-class passenger: exactly 19 minutes after paying for my taxi outside the terminal, I was sitting in the Qantas lounge eating a lamb curry and drinking a Fat Yak pale ale.
Only 19 minutes to check in, go upstairs, complete customs formalities, pass through bag check and make my way to the lounge. Even better: I'm not a Qantas lounge member.
My crazy run of luck continued on the Jetstar plane (I got seat 1F - a lifesaver for we of the long-legged variety), through customs at the other end (22 minutes from plane doors opening to getting into a taxi outside Sydney Airport) to the drive into town. Despite it being 5pm, it took only 22 minutes to reach our hotel in Market St in downtown Sydney.
And what a hotel it was.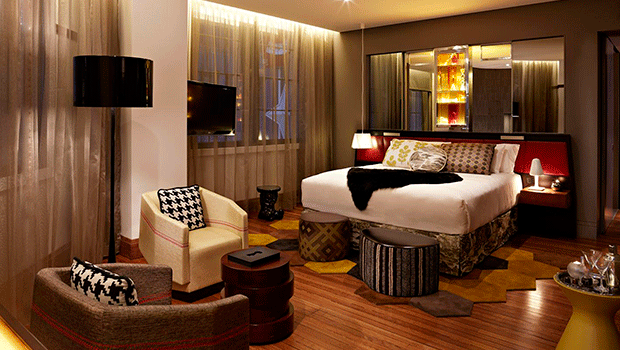 The luxurious bedrooms at the QT Hotel in Sydney.
I know a traditional "Boys' Weekend" would have us staying in an Ibis in Parramatta but I never said this was going to be a traditional "Boys' Weekend".
Yes, we were there for sport - Rugby League's Origin II no less - but no, we would not be roughing it.
I've never stayed in a boutique hotel before, but two nights in QT Sydney has left me eager for more of the same.
The hotel has been chiselled out of the historic Gowings and State theatre buildings - a jaw-droppingly gorgeous piece of Gothic and Art Deco-influenced architecture.
The rooms are truly designer - luxurious bedding covered in red sheepskin rugs, black-tiled walk-in showers, an oversized hot tub and an impressive array of cocktail-making equipment.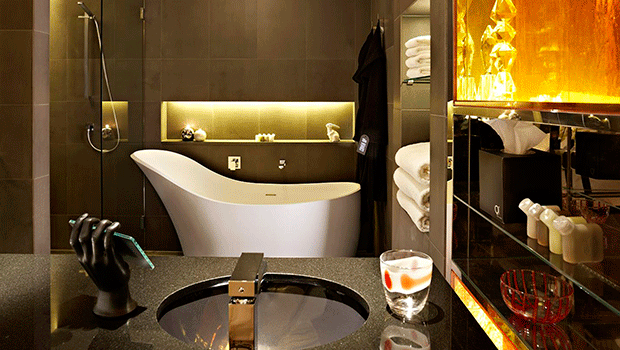 The hotel's bathroom with oversized hot tub.
Joined by Sydneysider mates, we decided to eat in a style more in keeping with the stereotype of our gender: a manly barbecue - albeit at 678 Korean BBQ Restaurant just around the corner.
The next day the manliness continued.
First, a head-clearing swim with the sharks at Sydney Aquarium. True, there was a barrier between us and the sharks but, hey, we were indeed in the actual, same piece of water as them.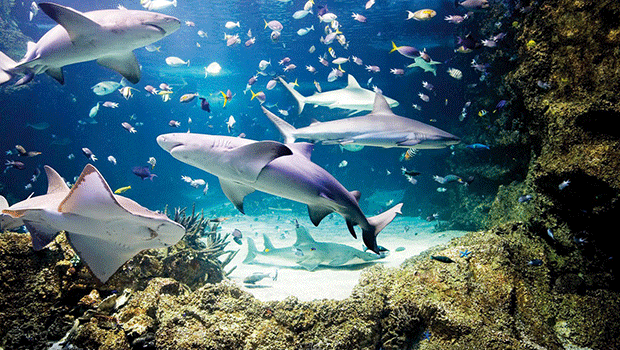 Swimming with sharks at Sydney Aquarium makes for a good boys' weekend activity.
Then it was up to the top of Sydney Tower - quite impressive but being 19m shorter than Auckland's Sky Tower (not to brag), nothing we couldn't handle. From there it was lunch at Rose Bay a little to the east of the CBD.
With Sydney in the middle of a mini mid-winter heatwave, we had a refreshing pick-me-up at Catalina - a waterfront restaurant with a deck stretching far out over the water. Sitting there, in the baking sun, gazing north out over the harbour, we wondered why on earth we weren't all living in this stunning city.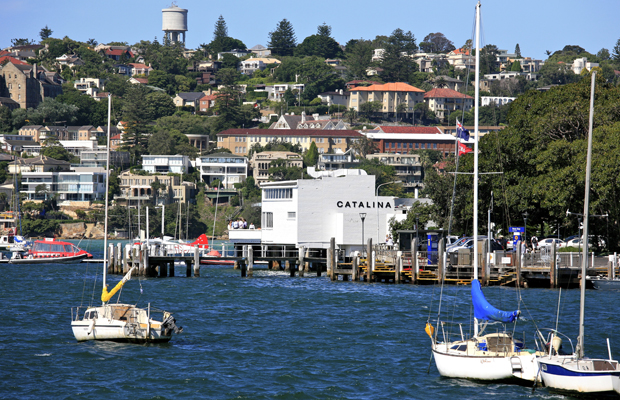 The Catalina Restaurant in Rose Bay. Photo / Creative Commons image by Flickr user Alex Proimos
Soon, we had an even better view, taking off for a scenic seaplane flight over the harbour.
For the first five minutes our plane gently motored across the water. But, once clear of all other maritime traffic, it was full throttle and a smooth lift-off towards the CBD and harbour bridge.
From there we were treated to a spectacular sightseeing ride out through Sydney Heads, over Manly, up the east coast beaches to Palm Beach in Sydney's far north.
The return journey gave a great view of North Sydney's multimillion dollar clifftop properties before a surprisingly close pass of the harbour bridge and a gentle-as-a-baby's-bottom landing back in Rose Bay.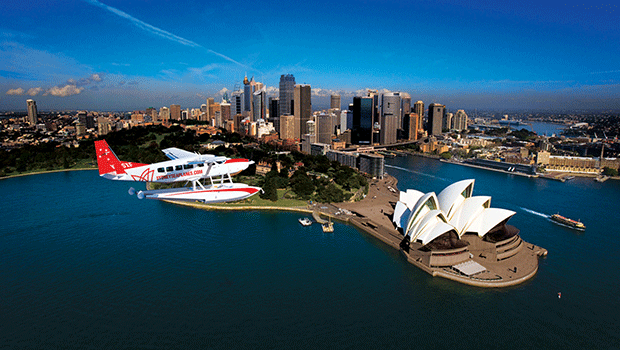 Sydney Seaplane flying over the Sydney Harbour. Photo / Supplied
Next up, the real reason for coming to Sydney - Origin II at Olympic Stadium in Sydney's west - a match as big they get in Australia.
Forget about the Wallabies v All Blacks - Origin is Australia's number one sport played between the country's two best teams.
The team from New South Wales hadn't won a series against Queensland for eight long years. A win would finally put the nightmare to rest.
But against the hard men from the North nothing could be taken for granted.
Little did they know four Kiwis were on their way and everything was going right.
First, the easy train ride from Circular Quay to the stadium.
Then, the buying of many, many pints of Hahn Super Dry - it's only 3.5 per cent alcohol so this line doesn't really constitute glamourisation of excessive drinking.
Then, the taking of our amazing seats on the 30m line in the middle of a crowd of 82,500.
Then the win.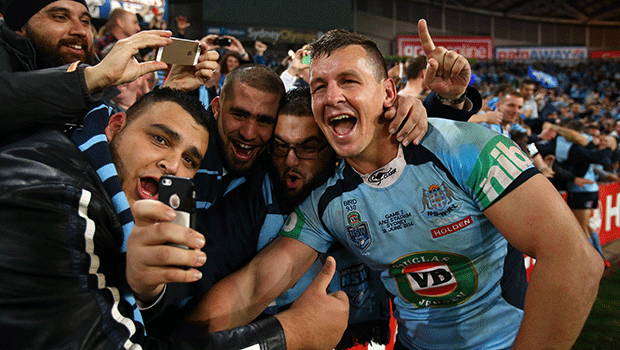 Greg Bird of the Blues celebrates winning the State of Origin series between the New South Wales Blues and the Queensland Maroons at ANZ Stadium. Photo / Getty Images
Yep, this was a "Boys' Weekend" like no other. No arrests. No flights missed. No monkeys. And no tattoos.
I could get used to travelling like this.
CHECKLIST
Getting there: The 2015 State of Origin series will be played in Sydney (May 27), Melbourne (June 17) and Brisbane (July 8).
Further information: Tickets for Origin II at the MCG are on sale at ticketek.com.au. Tickets for Origin I and III are still to go on sale.