With a little planning and imagination, you can complete a Swiss tour without breaking the bank, writes Rosemarie North.
Since its dramatic scenery first captured travellers' imaginations in the 1700s, Switzerland has been a popular destination. In spite of its first-class reputation - it even costs to use a public loo - it is still possible to have a grand Swiss experience on a micro budget.
Bargain tripping
On Sunday morning on the train to Zurich, a retired man in a checked shirt pulls out a thick book. He thumbs intently through its Rizla-thin pages. It's not a holy book but it might as well be. It's the Swiss railway timetable, the lubricant that keeps the country's eight million inhabitants moving.
Swiss railways crisscross seriously dramatic landscapes. The classic Alpine route is the Glacier Express from Zermatt to St Moritz or Davos. The eight-hour trip takes you across 291 bridges and through 91 tunnels up to an altitude of 2033m. Panorama windows help passengers take it all in. This is one country where you'll feel less embarrassed saying the journey is the destination.
Almost no Swiss rail passenger pays full price. Join them. Several passes make trains a great budget option. Full details at sbb.ch/en include supersaver tickets (where you must travel on the train you select), the Swiss pass (which entitles you to unlimited travel and free museum entry) from CHF204 ($274). Plan your trip on that website or at swisstravelsystem.com
Both sites are a mine of information about special events and festivals.
The system is convenient - trains can take wheelchairs, skis, mountain bikes and even send your luggage straight to the airport. The network is among the world's densest, known for the frequency and reliability of services and integration with buses, ferries and gondolas.
This level of busyness - over a land area roughly that of Fiordland - requires, well, Swiss precision. About 100 stations offer 60 minutes of free WiFi now, and more will be added this year.
One word of warning: you can no longer buy tickets from conductors on the train. Make sure you have yours when you board or you face a fine of more than CHF75.
While we're issuing warnings, be aware that Switzerland is not New Zealand. On a train between Geneva and Berne I saw a man pick-pocketed while the thief's accomplice "bumped into" the victim. Don't put your wallet or passport in your pocket. Of course you'll go with travel insurance - it could be seriously expensive not to.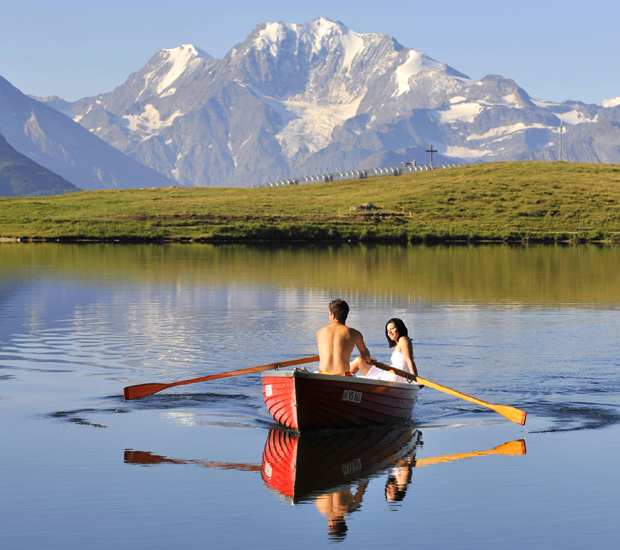 Switzerland gives you many options for day trips, with beautiful scenery all around. Photo / Aletsch Arena
Cheap sleeps
On the topic of Swiss Zen (journey as destination), consider staying in remarkable accommodation. Youth hostels are often in historic buildings but completely modernised - like one in Solothurn that started life in the 13th century and evolved into a riverside customhouse before becoming a great place to stay. A double room with shower and toilet will set you back CHF101 a night, including breakfast. Like many hostels, it's wheelchair-friendly.
Prices are similar at Bellinzona Youth Hostel at the foot of the Unesco world-heritage site of Montebello. Industrial-chic Basel youth hostel is more expensive (CHF135) but rates include an unlimited tram and bus pass. TripAdvisor.com has more tips on budget accommodation in Switzerland.
If you're staying in one place for a few days, renting a holiday apartment or chalet might be a good option. In summer, consider camping - there are campsites (with cabins too) in spectacular locations.
Bargain drama
In 1840, Frankenstein author Mary Shelley visited the Rhine Falls, in the north of Switzerland, writing afterwards, " ... the spray fell thickly on us, as standing on it and looking up, we saw wave, and rock, and cloud, and the clear heavens through its glittering ever-moving veil. This was a new sight, exceeding anything I had ever before seen; however, not to be wet through, I was obliged quickly to tear myself away."
These days, the Rhine Falls are a family-friendly outing, with gentle strolls around the dramatic site, views of an old mill, picnic spots galore, plus stairs for closer access to the thundering fall, where 2000m3 of water a second crash into a basin. It's all free unless you want access to platforms that take you within touching distance of the falls (CHF5 or $7). If you're feeling flush, excuse the pun, take a boat to a cliff projecting from the centre of the falls. Take a raincoat - you'll be in the spray zone.
Type "daytrips" into myswitzerland.com to get ideas for outings all over Switzerland, complete with detailed weather information for any time of year, event listings and comments from real visitors.
Summer is full of free public events like Swiss National Day (August 1, a public holiday), the huge house and techno party that is the Zurich Street Parade (August) and hundreds of street or neighbourhood parties (BYO sausages, salad and sunblock).
At other times of the year, look out for spring and autumn processions up and down alps (traffic-stopping herds of cows with flowers wrapped around their horns and shepherds in traditional gear), Berne's Onion Market (November), Christmas markets, New Year's fireworks displays, the Fete de l'Escalade in Geneva (December) and Fasnacht (carnival) in Lucerne and Basle (February or March).
The Swiss eat their main meal in the middle of the day. Doing this can save you a small fortune. A bland main course at an average restaurant can easily set you back CHF25. Instead, eat dinner at lunchtime at the self-service restaurants attached to the big supermarkets. The Migros chain of supermarkets has restaurants serving sweet and sour chicken with rice and a salad or a soup for CHF10.50. For the same price you can have mushroom ravioli or several other dishes.
Pony up CHF14.50 and you can have horsemeat with herbs and tomatoes. Shops and markets also give you the chance to create a picnic - with amazing bread, cheeses, dried meats and seasonal fruit. Just be aware that Migros stores do not sell any alcohol, in line with the chain's 1920s feed-the-people philosophy.
Coop/Konsum stores have beer, wine and spirits. In Switzerland you're never far from cool, fresh water. Look out for signs indicating the water is not potable - these are rare.
The Swiss take their evenings and weekends seriously. This means shops are likely to close by 7pm during the week, after 4pm on Saturday and all Sunday.
After saving all this dosh, don't forget to splash out on some of life's great pleasures, like a coffee sipped in the restaurant car of a train. Cost: CHF4.30. Views: priceless.
CHECKLIST
Getting there: Emirates flies to Zurich, via the airline's hub in Dubai.