Elisabeth Easther visited her turangawaewae and learned that lemurs are lovely and Cambridge's river trails are superb.
When I was growing up in Hamilton, school trips to Hilldale Zoo Park were highlights; I vividly recall chasing kunekune piglets there — in the olden days, children weren't discouraged from hounding innocent creatures. Back then it was really a glorified farm, but oh, how it's blossomed.
Hamilton Zoo, as it's now known, covers more than 25 spectacular hectares, which are inhabited by a range of native and exotic animals, from mammals to birds, reptiles to amphibians. Also, it must be noted, the cafe's nachos were tremendous at only $9 a serve.
On a bitter day, three generations of Easthers braved the driving rain to stand beneath umbrellas and watch a pair of rhinos lock horns. The eight-year-old, unfazed by the damp, could've watched them all day and the 87-year-old was mesmerised by the less aggressive skinks, lizards and native birds.
But the highlight for all of us was the fabulous Face2Face lemur experience. We could have chosen southern white rhinoceroses, Sumatran tigers or chimpanzees but settled on the animal we could cop a good feel of. At $15 a person, it's such good value.
Monique, our lemur expert, explained it's much more fun to meet the animals in fine weather, when visitors sit on a log and the lemurs climb all over them. But we didn't mind as, thanks to the rain, we had the zoo to ourselves.
Originally from Madagascar, lemurs are sociable, family-oriented creatures but, as their native habitats are under threat (and their fur and meat are prized), they are now considered critically endangered. Hamilton's lucky lemurs are oblivious to their plight and, with under-floor heating in their shelters, they didn't venture too far beyond their verandas. No matter how much rain bucketed down, nothing could dampen our enthusiasm.
With hands sanitised and soles sprayed for bugs, we called first on a pair of black and white ruff-necked lemurs and fed them a combination of chopped banana and raisins. These fine furry fellows particularly liked being scratched under the arms, and their coats were so plush, our hearts nearly burst with affection.
Next on our delivery round were the more gregarious ringtails, who are so over being told to "move it move it", we didn't insult them by singing the song from Madagascar to them.
These guys, classified as "near threatened", are a little more outgoing: when we put our hands out to feed them, they'd grab one of our fingers with their paws and hold on until the food was gone then look at us as if to say, "fill 'er up buddy, I don't have all day". Even with the rain soaking our raincoats, the entire experience was an absolute joy.
Next day, when the rain cleared, we sallied forth to Avantidrome — Home of Cycling between Cambridge and Hamilton. I'd heard so many people rave about it that I needed to visit for myself. The rumours are true, it is so cool.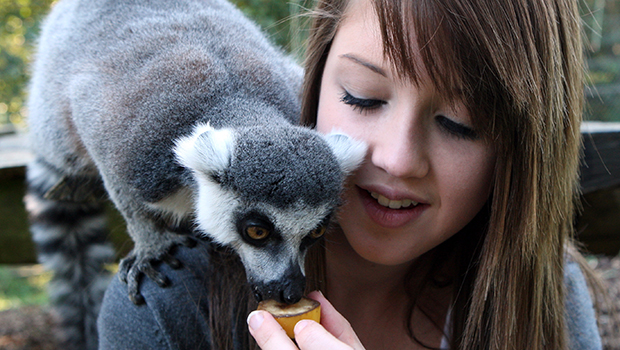 Feeding lemurs at Hamilton Zoo. Photo / Supplied
Admittedly, my son isn't as keen on cycling as I am so sometimes, when I take him on two-wheeled trips, carrots are dangled along the way. Or I hire a tagalong and just tow him at my pace. But when he saw the Gallagher Bike Skills Course outside the velodrome his face lit up and I knew I was going to have a much easier ride. And what's more, it's free and open seven days a week, 365 days a year.
The first course was a miniature version of a city street with giveaway signs, a roundabout, a pedestrian crossing, even traffic lights — all the things you might encounter on real roads, which is such a good way to train kids for the day they do play in traffic.
After a few loops, we hopped next door to the skills and pump tracks, ideal for increasing confidence. Before long Theo was ripping it up. At one jump he even got a little air and I could tell from his face he was elated, if a little surprised.
Finally we were ready for Te Awa, The Great New Zealand River Ride, a wide concrete boardwalk that heads out through the countryside following the river through undulating dairy land. Over bridges and up and down dale, this path is a beauty with plenty of strategically placed picnic tables for resting and refuelling.
Cycling the short 3.2km trail we turned around at the Gaslight Theatre, although we could have gone further, 4km through Cambridge town, to join on to the 8km Karapiro Track. Once completed, Te Awa will stretch for 70km along the Waikato River but as our shadows grew longer, we took that as our cue to head home.
It really is neat riding, whether you choose the long or the short of it with the Waikato region gaining another great string to its tourism bow.
NEED TO KNOW
Avantidrome: The facilities in and outside (including the cafe) are super and if you don't have your own bike, Mike at the Avanti Bike Shop will sort you out with one from $15 for an hour, $25 for four hours or $40 for the day. Call (07) 823 071.
Te Awa — The Great New Zealand River Ride: Nearly 2000 people use the track from the Avantidrome to Cambridge every weekend. The scenery is fabulous, as is the riparian planting along the edges of the path and the interpretation panels.
Hamilton Zoo: Entry costs $9-$20 and under-threes are free. Face2Face encounters cost an additional $15.
Elisabeth Easther was the guest of Hamilton and Waikato Tourism — Destination Waikato.