Somerset Maugham and Graham Greene penned works here, writes Wynne Gray.
A pair of elderly, gleaming Citroens stand guard on the pavement outside Hotel Metropole in Hanoi.
They are a nod to the French influence which has shaped this opulent resting place in the midst of a hustling city.
Seeing a fair chunk of the world has delivered me into all sorts of accommodation, from a room with a broken door, a sparking television and blocked shower in Rome to a magnificent display of technology in Hong Kong.
As long as my digs are clean, central, have strong internet access and are not above a nightclub, then we remain on good terms.
A hotel is a hotel is a hotel. Usually. Until you get to a place like the Metropole.
It has hosted a clutch of famous writers such as Somerset Maugham and Graham Greene while they penned their works, Charlie Chaplin and wife Oona honeymooned there while actor Jane Fonda and singer Joan Baez were guests during the Vietnam War.
Baez recorded Where Are You Now My Son? during air raids in her stay in 1972 (see below) and returned for the first time last year when she presented a self-portrait, which now hangs in the foyer.
A visit to the rediscovered hotel bomb shelter amidst recordings of Baez's song and a very instructive historical tour, gives guests a tiny inkling of life during those Christmas air raids.
The walls of several halls are covered in picture galleries with text about the events and guests who have been companions during the hotel's intriguing history.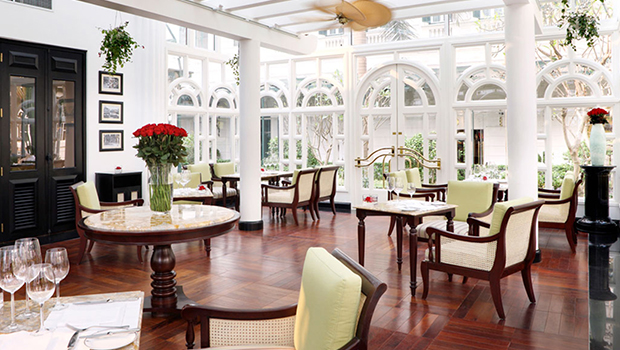 The hotel has an understated affluence which wraps its arms around you. Photo / Supplied
The 111-year-old hotel does not shriek opulence, it does not have garish chrome or gold trappings, but it has an understated affluence which wraps its arms around you.
From the concierge to the rest of the staff, there is help and attention to duty without some of that fawning nonsense you can encounter.
Want a meal, a visit to the local underwater puppet show, the Opera House, the Central Prison or any advice ...? The staff are on hand to provide options.
Want a chauffeur or cyclo anywhere, they will deliver. Want to use the hotel facilities and you are well served.
Breakfast is a delight, from the array of seasonal fruit to local delicacies and Western-style cooked offerings, all served in a room which quietly says this is Hanoi and not some ugly copy of European dining.
A pool beckons for those who just want to read and cool off from temperatures which hover in the early 30s or to recover after a day of wandering through this famous city.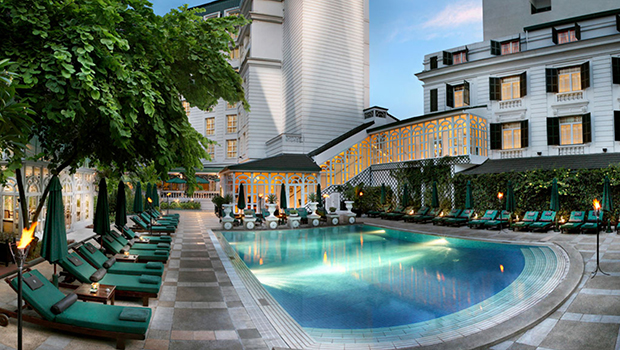 The Hotel Metropole's pool beckons for those who just want to read and cool off. Photo / Supplied
One night a week there is a mini-market on one of the hotel wings where you can find or inquire about any of the artworks, furniture, craftworks, clothing or fashion accessories which underpin the city's economy.
Traffic buzzes around the Metropole, seven or eight lanes of motorbikes carrying families and what looks to be half of their possessions but, inside the hotel, there is not a noise.
It is a tranquil retreat from the outside chaos, an intriguing juxtaposition in a fascinating city.
Solace sought
All through the Vietnam War, folk singer Joan Baez was a fervent campaigner for peace.
Where Are You Now, My Son?, the title track of Joan Baez' 1973 album, runs to 22 minutes. It refers to the repeated question of a mother who was looking for her son during the US "Christmas Bombing" of December 1972, 11 days of continued bombardment of North Vietnam and Hanoi. Baez survived these at the Hotel Metropole, then called Thong Nhat. She spent many hours in its air-raid shelter.
Where are you now, my son? is spoken as well as sung, and includes actual recordings of the bombing raids.