Peter Feeney finds Dunedin is a supercity minus the sleaze.
It's easy to forget - until you go there and soak up the extraordinary architecture - that in its heyday Dunedin was New Zealand's pre-eminent city.
The Scots first settled in 1848 and Dunedin grew stupendously wealthy from the 1860s to 1890s from gold, state-led investments, and the sheep's back.
The austere Scots settlement was overrun with riff-raff, including Jewish and Chinese settlers who have left an enduring mark on the city. The Theomins (of Olveston House) and the drapery merchants Hallensteins were among the early Jewish folk. Dunedin still has the world's southernmost synagogue.

Chinese merchant Choi Sew Hoy invented the gold bucket dredge. A massive building spree in Oamaru sandstone and local bluestone culminated in Consultancy House, built in 1910, then the tallest building in the Southern Hemisphere.
The city boasted New Zealand's first university, first medical and dental schools, first newspaper and first public art gallery. Vogel's, Bell Tea, oven-maker Shacklock, Cadbury and Speight's brewery were all founded here.

Dunedin's supremacy gradually declined, but the legacy of architectural heritage, University think-tank, and entrepreneurial nous, remained.
Like much of New Zealand, Dunedin has been hammered by manufacturing closures in recent decades. But since 2000, employment and economic growth have outstripped population.
Dunedin is emerging as an immensely liveable city where people reside because they choose to, where eco-tourism and heritage do-ups are flourishing, and art and innovation are thriving. The city's compact size has more than a little to do with it.
Dunedin is a super-city, minus the sleaze. It is New Zealand's second biggest city by area, and is 90 per cent rural. But in the central city you can drive almost anywhere in less than 10 minutes, and not much more by bike. It was originally built for walking and its population has only doubled since 1910, the latest census has revealed.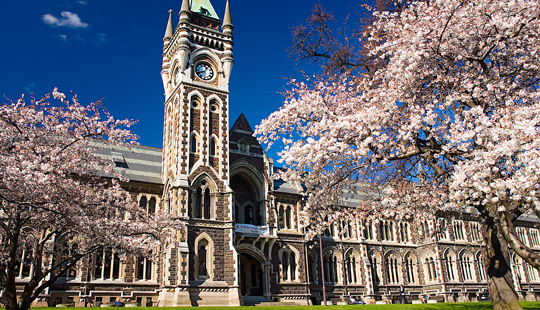 The University of Otago was New Zealand's first.
I pounded its pavements with the affable Athol Parks, of City Walks. It was obvious how much of the old city has escaped the wrecking ball. Elsewhere, progress has meant ugly glass towers and malls that have sucked the soul out of the CBD.
Since the earthquakes that cut a scythe through Christchurch's architectural heritage, Dunedin now boasts the highest density of historic buildings of any New Zealand city, an embarrassment of architectural riches in Gothic and classical Victorian-Edwardian style.
On earlier visits I remember the downtown looking distinctly tatty. Now, developers, building owners and council are working together to preserve the past.
In 1994, the Dunedin City Council bought the iconic railway station off NZR for the princely sum of $1. It is now restored to its full 1906 splendour and hosts the weekly farmers' market.
Upstairs you'll find the New Zealand Sports Hall of Fame and next door the old art deco bus station has been restored and incorporated into the expanded Toitu Otago Settlers Museum, which re-opened in 2012.
Opposite, the magnificent original courthouse is to be restored at a cost of millions.
The old Chief Post Office is being made into offices, with a hotel on top. Tenants are lining up to occupy recent Victorian do-ups such as the old BNZ building on Princes St, or the wonderful, just-redeveloped buildings of the nearby trendy Warehouse Precinct.
I teamed up with city planner Glen Hazeldine to visit this precinct, a cluster of historic buildings near the waterfront that easily rivals Auckland's Britomart in size.
The area is home to Dunedin-born IT international success story, ADInstruments, and the development office of AVOS Systems, a new-tech company founded by YouTube's co-founders.
Hazeldine and I popped into Paul Williams' shop, Wine Freedom, housed in the ground floor of the 1880s NMA building. Born and bred in Dunedin, Williams' love of wine took him to Christchurch, Wellington and eventually London, working for Montana wines. Now he's back with his own internet-based wine business.
He exemplifies one of Dunedin's advantages - a returning diaspora.
"Dunedin is more comfortable with itself than it's ever been. People are moving back who appreciate what Dunedin delivers - a small-town feel, big-city infrastructure."
The entrepreneurial groove is well in evidence at the outdoor farmers' market, held each Saturday morning all year round, rain or shine. Otago fresh produce - Whitestone cheese and Cardrona merino lamb - sit alongside vibrant food and beverage from Dunedin companies and personalities to match.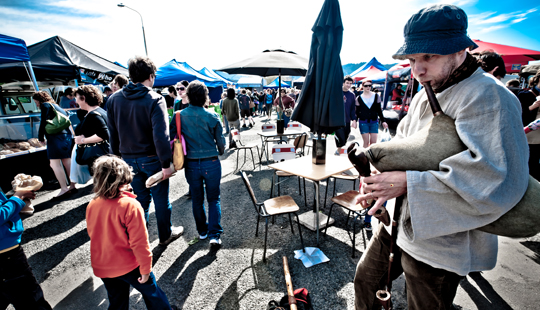 A busker pipes for patrons at the Dunedin Farmers' Market.
The lifestyle Dunedin boasts - cheap-as-chips real estate, low rents, proximity to everything and wildlife on your front doorstep - has long attracted artists and designers, including the likes of Colin McCahon and Ralph Hotere.
I popped into the Brett McDowell Gallery just down from the Octogon. When I visited, McDowell was setting up for the Barry Brickell exhibition, commemorating the 150th anniversary of the Dunedin Gasworks.
Brickell is the well-known potter, conservationist and founder of Coromandel's Driving Creek Railway. Getting a show with the iconic Brickell is a major coup for any gallery and how it happened illustrates Dunedin's advantages of scale.
McDowell was visiting the Gasworks when he got chatting to Ann Barsby, a member of the trust. She told McDowell about the upcoming 150th celebrations. Coincidentally Brickell's name came up and, says McDowell, "in a eureka moment I remembered that gasworks of all types were one of Barry's driving passions".
He rang Brickell who "immediately jumped at the chance to dedicate an entire show to gasworks, and their hot, steamy, dirty, smelly wonder".
Following on from the Brickell exhibition, McDowell's gallery showed the work of artist Martin Thompson, hot on the heels of his exhibition in New York City.
Thompson is a renowned international artist who now lives, you guessed it, in Dunedin.
IF YOU GO
Getting there: Jetstar runs a daily direct service from Auckland.
Staying there: The Southern Cross Hotel is at 118 High St.