New Zealand hostage to confront radical Islamic cleric facing global terrorism charges.
A radical Islamic cleric standing trial in New York on global terrorism charges will this week come face-to-face with a New Zealand woman caught in a terrifying kidnapping two decades ago.
Mary Quin, 59, was holidaying in Yemen in 1998 when her small tour group was taken hostage by armed and masked militants.
Hours later, a firefight broke out between the terrorists and Yemeni government troops in which four of the 16 hostages were killed.
Dr Quin was able to escape, and later documented her harrowing ordeal in a book, Kidnapped in Yemen.
Her research, which included speaking with diplomats, FBI agents and a former Prime Minister of the Arabian state, led her to the man she believed was behind the attack: Egyptian-born cleric Mustafa Kamel Mustafa, also known as Abu Hamza al-Masri. The hook-handed, one-eyed imam was jailed in Britain for inciting murder and racial hatred before being extradited to the US in 2012 to stand trial on 11 terrorism charges.
Palmerston North-born Dr Quin is seen as the star prosecution witness.
A tape-recording of a bold encounter she had with Abu Hamza at his Finsbury Park mosque in north London will be played to the jury in New York.
The mosque attracted hundreds of young Muslims, including 9/11 conspirator Zacarias Moussaoui and convicted terrorist "shoe bomber" Richard Reid.
Abu Hamza has called the 9/11 attacks "a towering day in history" and described Osama bin Laden as a "hero" over his role in the Yemen desert kidnapping.
The meeting came after Dr Quin - who was last year appointed chief executive of the Government's research and development body Callaghan Innovation - flew to London to challenge him.
After seeing the high-profile mullah arrive at his mosque, she approached him and he agreed to a 15-minute chat with her that would last an hour, the Sunday People newspaper reports.
"I am surprised that you would have come here," Abu Hamza told her.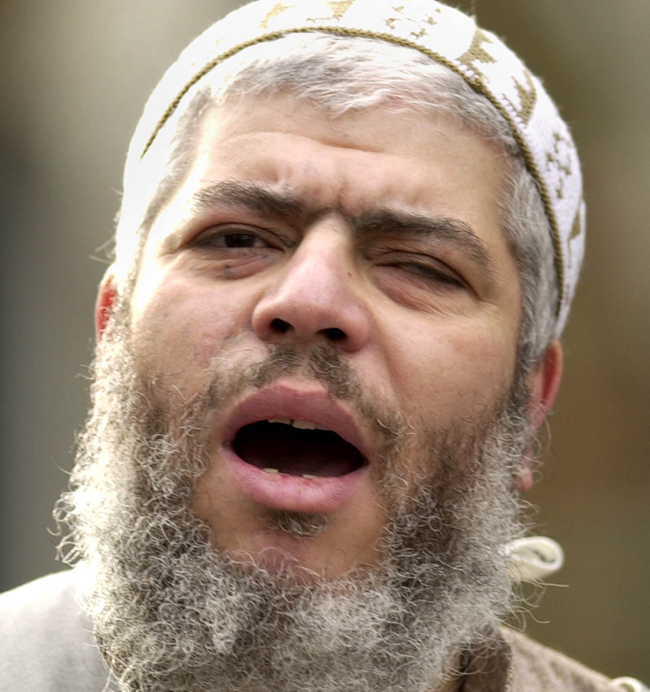 Abu Hamza al-Masri.
Dr Quin asked his permission to record their conversation and was surprised when he agreed.
On tape, he admitted to providing his associate Abu Hassan, who led the hostage group, with a satellite phone and to being in contact with him during the ambush.
Abu Hamza said the plan was to exchange the tourists for terror suspects, including his own son and stepson, the Sunday People reports.
The hostage-takers were instructed to keep the innocent travellers safe and alive, and Abu Hamza regretted that it ended in bloodshed. "We never thought it would be that bad," he said.
At the end of the meeting, Abu Hamza gave Dr Quin his cellphone number if she had any more questions.
Abu Hamza, 56, denies conspiring to support al-Qaeda before and after the September 11, 2011, terror attacks.
Prosecutors allege he tried to start a terrorist training camp in Oregon a year after Dr Quin's kidnapping.
Dr Quin will take the stand this week. The trial, in its second week, is scheduled to last a month.
She declined to comment before she took the stand.
She wouldn't say whether she is in New York to give evidence in person, or whether she'll be appearing via audio visual link.
"I'm not going to be making any comment on the trial, certainly not before it's over."
A former senior executive with Xerox and Kodak, Dr Quin was appointed to lead Callaghan Innovation last year, and moved to Wellington for the role.