New television drama Vinyl teams Martin Scorsese with Mick Jagger for a story of sex drugs and rock 'n' roll from when the Big Apple was rotten. Russell Baillie reports from Los Angeles.
Even Mick Jagger and Martin Scorsese can't always get what they want.
The pair first talked about a music business movie back in the 1990s. But it's taken until now for the idea to come to fruition.
It's also much altered from the original concept - a fusing of Jagger's music biz inside knowledge with the director's ability to create worlds where the inhabitants play by their own rules.
"I had an idea years ago that I took to Marty and asked him what he thought, and we tried to develop it as a movie," says Jagger, via satellite feed to a Los Angeles press event.
"And we developed it and developed it. We wrote scripts. It was a very sprawling idea. And when TV series came online and started to become interesting, respectable, money making, we decided to make a TV series of it."
Well that's the simple version.
The Global Financial Crisis stopped the long-gestating Jagger-Scorsese movie in its tracks and delivered instead Vinyl, a highly anticipated 10-part HBO-backed television drama.
Terence Winter, Vinyl's writer and showrunner (and the creator of Boardwalk Empire on which Scorsese was executive producer) honed the Casino-influenced film project into a television series set on the mean streets of New York in 1973.
Back then, the Big Apple was drug-addled, crime-ridden and on the verge of bankruptcy.
"It was an exciting dangerous, exhilarating place," says the Brooklyn-bred Winter, "and often out of those places great art is born and that was certainly true in the music business."
The series includes depictions of the big rock acts of the day alongside fictitious ones. The pilot episode dramatises an early gig by the New York Dolls as well scenes involving Led Zeppelin and the band's legendary manager Peter Grant.
Winter: "It felt like if we were going to tell this story and say 'this is the rock 'n' roll world in 1973', you couldn't tell that story without acknowledging - and in our case depicting - the bands who were prominent at that point.
"So it's everybody from Alice Cooper to Led Zeppelin to David Bowie. Elvis Presley pops up at one point. The challenge was to make people confused: 'Are these guys a real band?'"
However, the lead characters in Vinyl are music biz guys, not rock stars. Winter's script was influenced by the likes of Fredric Dannen's revealing American record biz book Hit Men, looking at the dirty underbelly of the once glamorous business. A business, which in 1973, was quitting New York for Los Angeles.
The focus on the men behind the labels maybe isn't surprising given Jagger's hands-on approach to the business side of the Stones.
"I got really involved in record companies," he says. "How they worked and who was good, who was bad, who paid who, who screwed who, who ended up with the money."
Vinyl's leading character is Richie Finestra, head of the fictitious American Century Records.
The label has fallen on hard times and up for sale. Finestra seems to have lost his mojo for finding hot new acts. His empire is crumbling around him.
"It's quite Shakespearean actually," says New York actor Bobby Cannavale, who was cast in the Finestra role on the strength of his Emmy-winning role as maniac gangster Gyp Rosetti in Boardwalk.
"I look at the guy as a king with a kingdom and the kingdom has been taken away from him and he is going to do everything he can.
"If he has to f*** somebody over, he will f*** them over. If he has to kill somebody he will. He will do whatever he has to do to hold on to that."
Richie isn't just the lead character, he's the conduit for much of the music that Scorsese - who directed the pilot as he did with Boardwalk - wanted injected into the show in a particular way.
"I wanted to create something where music becomes part of the narrative, but the whole narrative is like a piece of music," says the director.
"So you are hearing what he hears in his head, whether he wants to hear it or not."
Olivia Wilde plays Finestra's wife Devon. Her character is a former Andy Warhol model/actress/ party girl now adjusting to a sober life in the suburbs with her children.
"I was intrigued that a bunch of men creating a show were so interested in creating a complex woman," she says of her attraction to the show.
The sexual politics of the series are those of the period it is set in, says Winter.
"As much as it's the women's lib era it's still much closer to the Mad Men era than it is to 2015."
Also cast is Ray Romano, unrecognisable from his days on sitcom Everybody Loves Raymond as Richie's right-hand man, Zac Yankovich.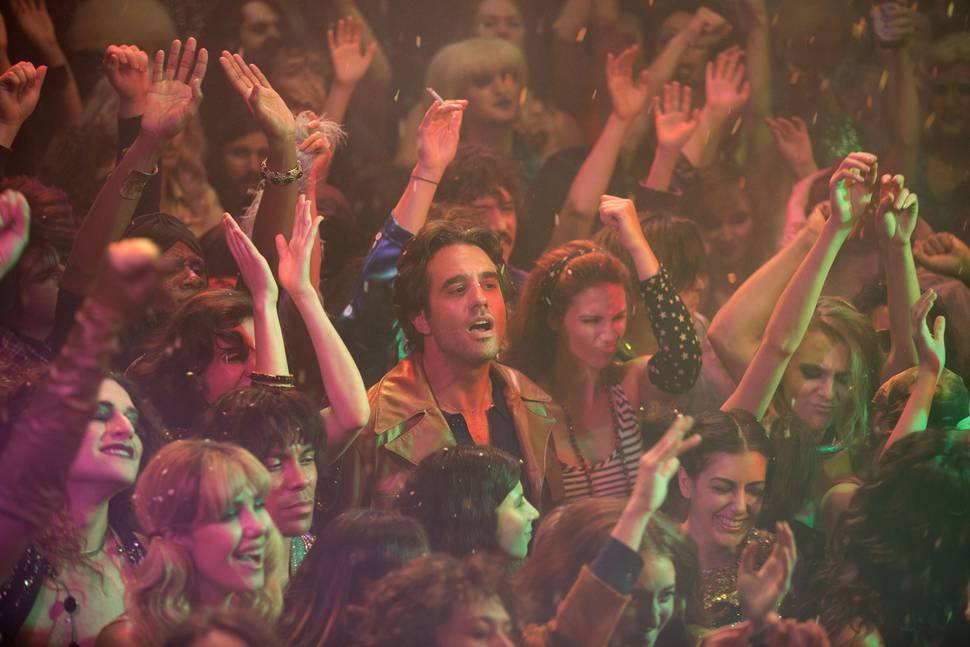 As someone who remembers 1973 from the first time round, Romano says returning there has been strange. "It's like this time travel to go back as a grown man, at the backside of midlife, to visiting this time which was so influential on me. It's very trippy. And I am snorting a lot of fake coke."
Yes, Vinyl has sex and drugs and rock'n'roll in abundant qualities. But it's actually a character study of Richie, says Winter.
"It's about being true to your vision and true to yourself even in the face of ruination."
And yes he may be related to characters Winter has written before - like Tony Soprano or Boardwalk's Nucky Thompson.
"A lot of these guys are cut from the same psychological cloth, maybe. A lot of them are on a hamster wheel and if they stop moving they die.
"There is always some kind of frenetic behaviour happening. They don't lie well in bed at night because I think they are haunted and they fill that space with drugs and alcohol and women and all the other distractions which makes writing about them so much fun."
Vinyl is also an ode to New York's bad old days and the music it produced, coincidentally in the year Scorsese released the movie Mean Streets, with Stones songs prominent on the soundtrack.
"Punk, disco, hip-hop all happened in 1973 in New York City for some reason," says Winter. "Those tumultuous times give rise to incredible art.
"The perspective of 40 years later gives us enough time to look back at it at without romanticising it too much."
What: Vinyl
Where: SoHo
When: Mondays 8.30pm (encores Sundays 9.30pm from Feb 21 and Monday 7.30pm from Feb 22)