Union Pacific, the railroad created with a stroke of Abraham Lincoln's pen, is now tinkering with the next wave of transportation technology: drones.

While internet companies such as Amazon.com dream of aerial deliveries and Google studies high-altitude robot craft to provide Web access, basic industries are also poised to join the ranks of early adopters. Rail carriers, utilities and pipeline operators all could make use of the kind of surveillance performed by US Air Force drones.

Equipped with a camera, the shoe-box-sized aircraft would be perfect for safety checks on Union Pacific's 640 kilometres of bridges, Chief Executive Officer Jack Koraleski said. He and other senior managers saw their first demonstration of a helicopter-style drone on April 21.

"You could send a drone to do the inspection and then if it saw something you could send a person up to do the final inspection," Koraleski said in an interview at Bloomberg's headquarters in New York. "We're just starting to explore what might make sense and how you could use them."

Commercial models would be diminutive cousins to the plane-size versions flown by the military to gather intelligence and, on occasion, launch air-to-ground missiles.
Initial US flight rules are still in the works, and may limit drones to less-populated areas, low altitudes and trips in sight of an operator.
That would open up industrial uses such as flybys to look at a Union Pacific bridge, not new and unproven applications like Amazon's vision of drones flitting door to door laden with e-commerce orders.
"It's the real mundane things," said Brian Argrow, a professor of aerospace engineering sciences at the University of Colorado in Boulder. "It will be operations in airspaces in which there's low risk of collision and interference from people and property."

Industrial users outside the United States are already racing ahead, according to the Arlington, Virginia-based Association for Unmanned Vehicle Systems International.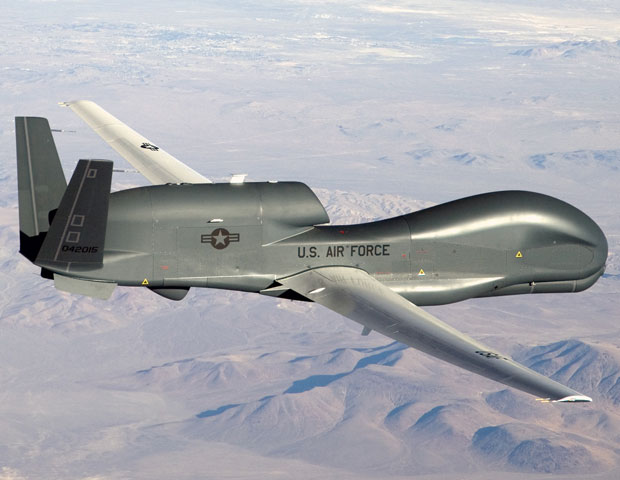 Global Hawk plane drone. Photo / US Air Force
Real estate agents in Canada are showing properties remotely, and mining companies in Australia are surveying with drones. Japan has gone further, letting drones work as robot crop-dusters.
Ben Gielow, the trade group's general counsel, helped corral support from more than 30 commercial organisations for an April letter urging the Federal Aviation Administration to pick up the pace of rulemaking that may not yield even preliminary regulations until later this year. Police, ski-resort operators and barley growers were among the signatories.

"We're all begging the FAA to regulate us," Gielow said in a telephone interview. "We need regulatory certainly to allow this industry to take off."

Aerial real estate photos and inspections of pipes and power lines are all good candidates for unmanned systems - as are the bridges scattered across the 32,000 miles of tracks owned by Union Pacific, the largest publicly traded US railroad.
Carriers have been checking bridges since the dawn of the industry in the 19th century, predating even President Lincoln's signing of the 1862 law to build a transcontinental line. (Union Pacific laid track from east to west). Inspections are crucial: the structures bear the weight of multiple locomotives thundering across with 100 or more cars.
Union Pacific now sends two-person teams for visual checks on foot or in snooper trucks - vehicles equipped with a basket raised on a hydraulic arm, said Stephanie Serkhoshian, a spokeswoman for the Omaha, Nebraska-based railroad. Drones would augment, not replace, in-person examinations, she said.

The drone demonstrated for Union Pacific was a rotary-wing aircraft with four propellers, said Koraleski, holding his hands apart at less than his shoulders' width to indicate its size.
Watch: $1m camcopter drones
Transpower is trialling robots and an unmanned mini-helicopter, which is used by military overseas, to make inspection of high voltage lines and substations safer and cheaper.
Union Pacific doesn't have a timeline to decide on whether to adopt drones, said Koraleski, who declined to identify the unit he reviewed. He joked that the drone was equipped with a laser, not a camera, and said he teased his technology chief because the craft lacked Union Pacific livery.

"My first question was, 'Why isn't it armour yellow with harbour-mist grey trim? I mean really, what is this pink thing?'" Koraleski said.

Small drones can carry 5 to 10 pounds and fly about 20 to 30 minutes before their lithium batteries need to be recharged, said Terrence McKenna, chief of commercialisation of small unmanned aircraft for Manassas, Virginia-based drone maker Aurora Flight Sciences. That limits their range of use even without FAA rules that may require line-of-sight operation.

Technology to fulfil Amazon's more-ambitious vision of delivery drones or Google's idea to transmit internet signals with perpetually hovering aircraft is years away, McKenna said.

Last month, Google acquired Titan Aerospace, the maker of high-altitude, solar-powered drones that provide wireless internet connectivity in remote areas. Facebook agreed in March to buy Britain's Ascenta to help the social-networking company with its effort to spread Web access with drones, satellites and lasers.

Read more:
•Transpower's spy in the sky
In December, Amazon CEO Jeff Bezos announced that the Seattle-based company is testing drones to deliver goods within a 10-mile radius of its warehouses. Spokesmen for Google and Facebook declined to discuss their drone initiatives last week, and Amazon didn't respond to a request for comment.

The FAA has struggled to regulate the smaller drones because of US skies already are crowded with the most private planes in the world, said Les Dorr, an agency spokesman.

"We're aware of the desire of the industry to move more quickly," he said. "We have to make sure the rule-making process ensures safety while at the same time not imposing undue restrictions on an emerging industry."

Waiting on the FAA will give Union Pacific more time to study the technology, said Koraleski, who joined the railroad in 1972 when computers were limited to the accounting department.

"We're just scratching the surface of it," he said. "We're just starting to explore what might makes sense and how you would use them."
- Bloomberg