Dylan Cleaver's Midweek Fixture
The Crusaders are the best team in Super Rugby but they're nowhere near the most interesting.
That's not a knock on the red-and-black machine – a team that plays a brand of rugby that is both high-functioning and entertaining.
Scott Robertson is cut from a unique bolt of cloth and is 80 decent minutes from emulating Dave Rennie and Graham Henry as the only coaches to win Super Rugby titles in their first two seasons.
The Crusaders have become so synonymous with success that the eight-season Blackadder era – where they missed the playoffs just once but finished no better than runner-up – will be judged as lost years.
You could write a tedious column about how good the Crusaders are using pat phrases like "synonymous with success" (see above) and "culture of achievement", and you would do so without fear of contradiction. The online link to that column would probably be shared several times among Cantabrians on Facechat.
Or you could instead look at the Hurricanes and write something along the lines of: "What the hell has been going on there..?"
The Wellington-based franchise is, by the length of the Trentham straight, the most intriguing team in Super Rugby. They are also the competition's most inexplicable side, having spent the majority of the second half of the season playing like little boys lost.
The departing Chris Boyd looks like he has spent the past few months marooned on an island with only a volleyball for company. When, in one of his final acts as coach, he explained that any team would have lost to the Crusaders by 20, he looked ready to run into the sea.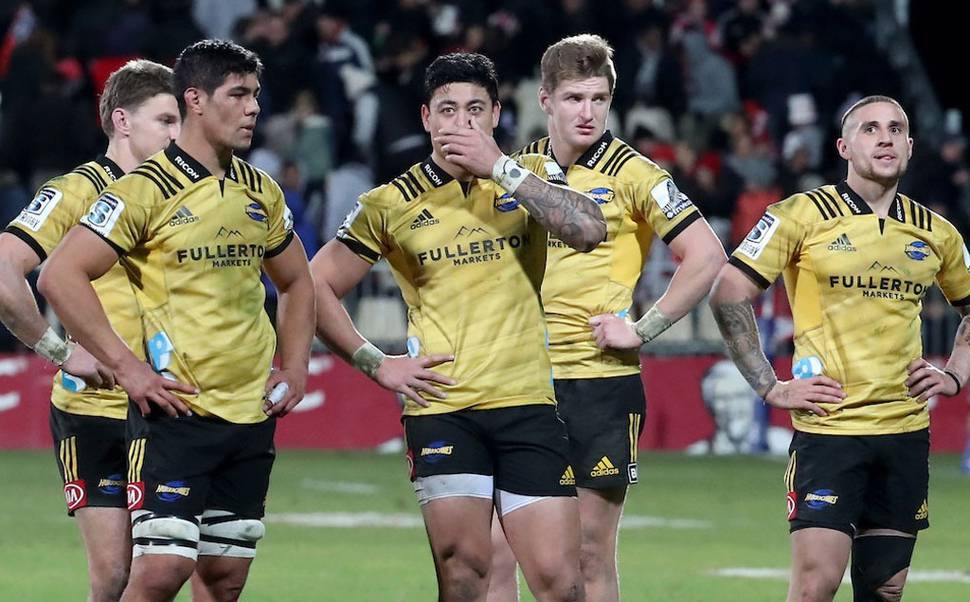 It wasn't so much the fact they didn't beat the Crusaders, which, if you refer to paragraphs one through five, is a difficult task, but the realisation they never threw a punch. There was more fight in the CEO's Twitter account over the past month than there was on the field. The Hurricanes were a collective version of Joseph Parker between rounds one and 10, without the final flurry.
The team's transcendent talent, the one most often seen with a 10 on his back, has looked strangely impotent. While talk of Beauden Barrett ceding to Richie Mo'unga in the international pecking order might be a clickbait construct, if All Blacks selection was a true meritocracy based on current form, could you really complain if Richie Mo'unga went to the head of the queue?
Barrett really was only symptom of a greater malaise in the capital. Yes, apologists can point out that the Hurricanes still did better than 11 other teams; they could argue that they were debilitated by key injuries.
All of this maybe true and yet it seems such a shallow, insincere, after-the-fact lowering of expectations.
Having left Christchurch for the second time in two months with nothing to show for it except false humility, it is not unreasonable to ask whether a cold wind was blowing through this ultra-talented squad.
Assistant-turned-head coach John Plumtree should take some responsibility for the side's collapse as he will no doubt take responsibility for any turnaround.
His Hurricanes are already the most interesting storyline of 2019.
--
Not everybody agreed with last week's assessment that the Super Rugby qualification and playoff format was the best thing about the competition. Most of the blowback seemed to emanate from Hamilton, where the third-placed-out-of-five-in-their-division Chiefs are based.
Guess what? The best two teams made the final, which will be hosted by the division winner with the best record. If you were a neutral you'd have to concede it's worked out pretty well, wouldn't you?
--
The netball community has had time to digest the "findings" of the review into the dismal Silver Ferns' Commonwealth Games campaign. You have to hope there are some real nuggets and insight in the sealed section because from what I've seen, any Mildred or Edna that has watched the Ferns over the past two years could have reached those conclusions.

THE WEEK IN MEDIA ...
A slightly different tack this week, with no link to a feature as such but rather to one of the most profound paragraphs I've read in a sports book and it comes from our very own Steven Adams in that most unloved of literary genres - the mid-career semi-autobiography.
"To represent New Zealand as a young athlete costs a lot of money, not just in basketball but all sports… I knew of players who went on every trip, at least once a year, because their parents could easily afford to pay for each tournament. But there were a lot of players, most of them brown, some of them the best in the country, who never represented New Zealand because they couldn't afford to trial, let alone to fly overseas. I hate to think how many guys I played with who could have had careers in basketball if they'd just been given more help when they were younger."
This paragraph should be printed out in 200-point font, turned into a poster and be placed on the walls of the offices of Sports Minister Grant Robertson and sports tsar Peter Miskimmin.