The push for gender parity at the Olympics is proving to be a catalyst for the Hastings Giants Boxing Academy.
"It's recognising girls having confidence while navigating through high school is just as important as boys having confidence," says owner/trainer Craig McDougall before hosting the inaugural New Zealand v Samoa amateur promotion, in conjunction with the Hawke's Bay Youth Trust and with the support of Tremains, at the Hastings Sports Centre from 4.30pm today.
The 13-bout event, including seven match-ups against Samoan athletes, is an attempt to entice countries to the Hawke's Bay city annually not just to reinforce the values of the code but also foster a relationship bigger than boxing.
Olympics introduced three divisions of female boxing in 2012 in London before bumping it to five in Rio in 2016 so with a projection of seven at the 2020 Tokyo Olympic Games will come at the expense of men's categories.
McDougall says the intentions of the International Olympic Committee, the parent body of the games, were tabled at a meeting in Sophia, Bulgaria, in September.
According to Kiwi delegate Trish Howie, the policy covers not only athletes but also coaches, officials and administrators.
The goal is to boost female numbers but also encourage those already involved to participate at a higher level.
Consequently Giants academy has finally started a female class for 10 to 14-year-olds five weeks ago after recruiting and training 20 adults in March to mentor youngsters.
Enter Davis Ataera as a personal trainer/coach, Trudi Collins as mentor/acupuncturist and Susan Kitson as coach/manager/yoga teacher with the assistance of Cassie Kitson, a year 10 at Havelock North High School.
"It's not only for the social service and support for our girls in the community but also to show them a clear pathway to benefit," says McDougall, who invited Olympian boxer Alexis Pritchard, of Auckland, to the academy yesterday to share her story with the youngsters.
"It's a desire for people to recognise they have excellence within them," he says. "They all have potential greatness in them so we're trying to inspire them."
McDougall says the national cahmpionship traditionally in the South Island have smaller number of competitors but this year in Christchurch the females eclipsed males 39-33 in the elite (19 to 40-year-old) divisions despite 11 divisions for the latter.
The absence of females in the youth divisions had caught his eye, thus the drive for youth classes to ensure continuity in growth as older pugilists retire.
McDougall emphasises while boxing will become a ticket for the fairer sex to make more sound decisions under duress to be safer on the streets it is imperative not to be confused with self-defence.
"We have to be careful because with self-defence you're talking about survival and it's no longer a sport ... it's having the confidence to run to a neighbour's place and things like that," he says, hoping to have a few youngsters at the nationals in the Bay next October.
"We believe that the growth coming on so fast for the boys, the men and the clubs all working together we believe Hawke's Bay boxing will really cement a clear pathway for young girls to be successful."
While the jury is out on how the fans will turnout to the promotion today McDougall believes the boxing will be exciting.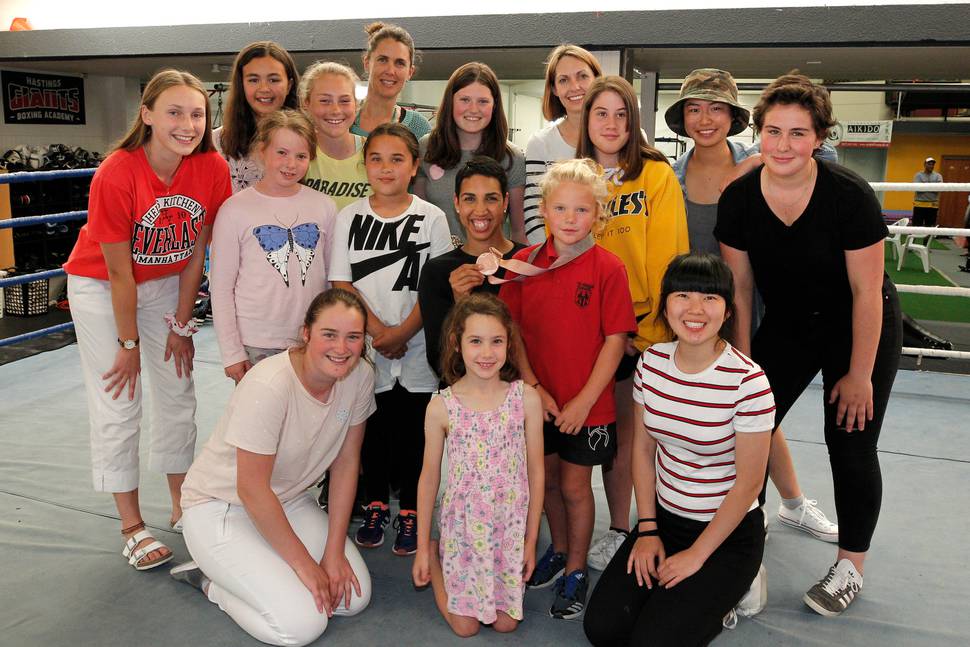 RED v BLUE
■ Austin McDougall (Giants) v Kyan Mooney (Palmerston Nth), 42kg MC, 3 x 1.5 mins.
■ Taine Murray (Giants) v Ben Jenkins (PN), 57kg J, 3 x 2 mins.
■ Alex Coull (Giants) v Oscar Hodgeson (PN), 40kg MC, 3 x 1.5 mins.
■ Jett Varcoe (Giants) v Kwahli Beauchamp (Christchurch), 36kg C, 3 x 1.5mins.
■ Khan Purcell (Ruahapia) v Caleb Foot (PN), 60kg Y, 3 x 2 mins.
■ Kal Walker (Giants) v Jean-Pierre Bouchet (Napier), 81kg E, 3 x 2 mins.
Intermission (10 mins)
NZ v SAMOA
Anthems
■ Hadley McDougall (Giants) v Darious Poulava (Marist, Samoa), 45kg C, 3 x 1.5 mins.
■ Shirahn Lee (Ruahapia) v Seanoa Hall (M Samoa), 60kg Y, 3 x 3 mins.
■ Sam Burdett-Clark (Christchurch) v Iosefo Floesi (M Samoa), 64kg E, 3 x 3 mins.
■ Egelani Taito (Whanganui) v Vili Moli (M Samoa), 81kg E, 3 x 2 mins.
■ Titi Motusaga (Auckland) v Eric Tuia (M Samoa), 91kg E, 3 x 3 mins.
■ Chris Siotaliva'a (Ruahapia) v Michael Seko (M Samoa), +91kg E, 3 x 2 mins.
■ Saili Fiso (Giants) v Henry Tyrell ( M Samoa), 75kg E, 3 x 3 mins.