Julian Thompson finds his father Robert "Tommo" Thompson hard to describe but words such as loyal and driven, and the term "larger than life" spring to mind.
A former Māori All Black and Wallaby, Tommo died on Sunday, aged 71, after a short battle with cancer.
He was well-known in rugby circles and a loyal Kahukura Rugby Club supporter but for Thompson, he was simply "my dad".
"You couldn't ask for a better father.
"He was proud of all your sports and wanted you to be the best in all you did. He was pretty firm, he had his rules and you didn't break them."
Thompson said, as a child in Rotorua, his family would often have people come to stay. At the time he didn't realise who they were but they were often former All Blacks and Wallabies.
"It was just common to have famous people at the house having a beer and talking rubbish with Dad, playing the guitar," he said.
"He's pretty hard to describe because he's a special man. He's the sort of guy that knew everybody.
"He fitted into all sorts of different groups ... He was all about having a laugh."
Tommo was born and bred in Rotorua and played for Kahukura Rugby Club from a young age.
He would train every day, regularly running up Mt Ngongotahā, even on Christmas Day.
"He was a pretty physical guy, pretty driven."
At 21, he pulled on the Māori All Blacks jersey but the following year his leg was broken during a game.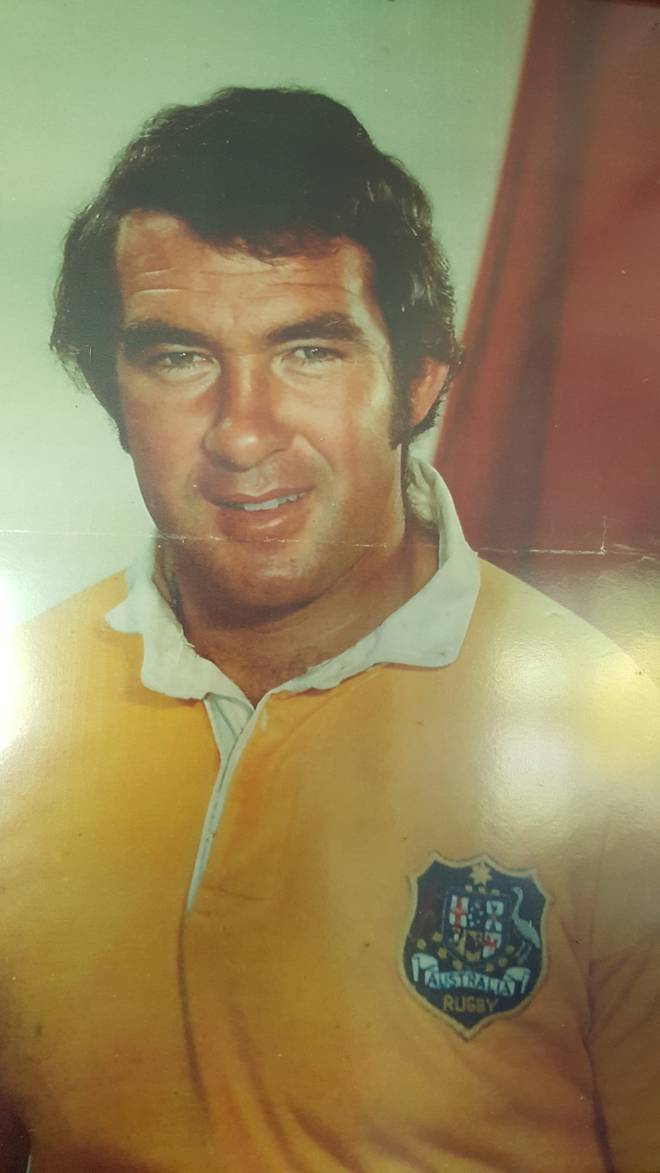 "They said he'd walk with a cane and never play rugby again. He was devastated," Thompson said.
"That year he watched his best mate, Alan McNaughton, become an All Black."
Tommo shifted to Perth with his wife-to-be Jenny and walked around a field every day until he could walk properly. Then he started to jog, Thompson said.
He started to play rugby in Australia and was eventually chosen for the Wallabies after his team, Western Suburbs, played South Africa.
They lost 44-18 but Tommo scored all 18 points.
All up, Tommo played 28 tests for the Aussies before returning to Rotorua.
He continued to be involved with Kahukura Rugby Club, as a player, coach, manager and administrator.
"He would come and watch the seniors play even if they weren't doing well.
"He watched his grandsons play, he came down with his big chair every weekend," Thompson said.
"He was a larger than life figure. You can't comprehend how he affected people and how he inspired people. He's going to be hugely missed, not just by family."
Last year Tommo launched a book based on his time in both countries' colours. It was called A Bob Each Way.
Bruce Eager has known Tommo since the mid-1960s but got to know him better when they both lived in Perth in 1970 and played for Western Suburbs.
"He's been a great friend, ever since I've known him and a very generous person. He'd give you his last dollar.
"He always took interest in my family and my boys."
Chrissy Preston knew Tommo for about 30 years, meeting through Kahukura Rugby Club, where they are now both life members.
"He always looked after me, every since I started there.
"We're going to miss him sitting on the sidelines every week."
Preston said Tommo always had a story to share.
"He did so much in his life. Every week of his life something exciting happened."
Tommo's battle with cancer was brief but he still had time to organise his own funeral.
He wanted to have it at Kahukura Rugby Club to try and raise some money for the club.
Thompson said golf was his dad's next love when he couldn't play rugby anymore.
"He loved the camaraderie and banter he was a family man and loved all those things."
Tommo leaves behind his children Julian and Alexi, daughter-in-law Dana, and four grandchildren.
His service will be held at Kahukura Rugby Club tomorrow .
ROBERT 'TOMMO' THOMPSON
Born: Rotorua, March 8, 1947.
Education: St Michael's Primary, Rotorua Intermediate, Boys' High.
Family: Widower (wife Jenny), son, daughter, one granddaughter, three grandsons.
Countries toured: New Zealand "Provincial sides in '72 Wallabies' tour.", South Africa three times, France, Fiji, Tonga, America, Canada "playing in a snowfall", Malaysia.