The All Blacks live in a world that demands constant evolution but the harsh reality is this quest to adapt must now accelerate as rivals fast grasp their trends and tactics.
With the World Cup 10 months away, the clock is ticking to reinvent.
Because it generally occurs so rarely, defeat for the All Blacks often sees context lost, with many immediately diving off the deep end.
Steve Hansen is not a poor coach, nor the All Blacks suddenly a poor team, following their second loss of the season.
Losses to Ireland and South Africa, and the comeback victory over England at Twickenham have, however, revealed where the All Blacks must improve.
As Ireland will now discover, leading the pack means accepting more analysis and scrutiny than anyone.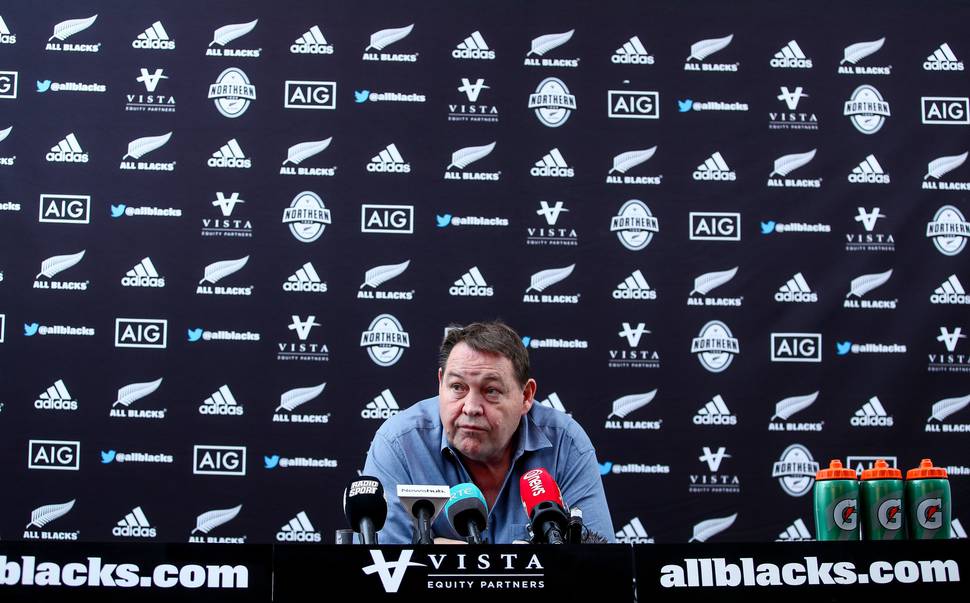 The All Blacks held pole position for nine years and it is increasingly clear that the opposition – those with astute management teams – have worked out many of their favoured pet plays.
Some of what the All Blacks do on attack, in phase play, has become predictable.
Hansen changed the game by up-skilling his tight forwards, using them in the midfield to throw backdoor passes to create space for lethal playmakers.
For a long time this worked brilliantly. Not so much anymore, though.
Quality opposition, having seen it so many times before, are much better at reading cues, identifying receivers and making heavy spot tackles which force mistakes.
Brodie Retallick was but one victim caught with ball and man several times against Ireland; a reflection of homework paying dividends.
This is just one area the All Blacks may make amendments as they seek to evolve.
One alternative could be playing more direct; using pick-and-go to suck in defences and, thus, limiting the ability to fan out and cover the full width of the field.
"We've known for quite a wee while that there's a little bit in our game that's not quite ticking but we're confident we'll fix that. We just need a bit of time," Hansen said prior to flying to Rome for his side's final assignment of the season.
"We've tried to change how we wanted to play and we're still stuck between the old way and the new way and we haven't got it right yet.
"Did we think we were going to have it right by now? Probably not. We've got a bit of work to do over the summer. We're not going to fix it in a week but we will fix it and when we get it right we'll see some big improvements.
"When you introduce something new after doing something for four or five years it's hard to break those habits, particularly under pressure. At times last night we left opportunities on the park if we had of gone new way but it is about everybody seeing the same picture at the same time.
"We've just got to be patient with that and get our decision-making better."
New tactics could also feature more inside plays – like the one Damian McKenzie scored from against England.
Even when this does not produce clean breaks it holds inside defenders, gives trailing support more chance to keep the ball alive and get to rucks, where the All Blacks were beaten to the punch at times in Dublin.
Accuracy of box kicks and the chase line also needs attention. Too often receivers with pace and quick feet are beating the first defender which sees them attack a fractured line and make easy metres out of danger.
Many of these aspects require small tweaks but pressure decisions at this level are made in split seconds and, as Hansen notes, mastering mental switches is difficult.
Similar structures are evident throughout the global game and the difference between first and second is finding these influential, incremental improvements.
As New Zealand's ever-demanding rugby public grows twitchy, Hansen's message is to keep the faith.
"It's moments like this when you've had a bit of adversity when you've got to set your sail to the wind and stand up and be strong in your convictions about where you're going. The critical facts and current reality of what's happening have to be reviewed. Some things you can fix straight away and some things you've got to keep working at.
"I'm pretty excited about the upside we've got. Would I like to get there a bit quicker than we are? Yeah I would but we haven't so that's a reality."