Napier Boys' High School have retained their Hawke's Bay Secondary Schools' crown on the platform of progression.
The Damion and Dwayne Davies-coached Sky Blues beat arch rivals Hastings Boys' High School 74-64 in the final at the Pettigrew-Green Arena, Taradale, on Friday night.
That sense of evolution, said Damion Davies, was evident when juxtaposed with the result from last year after NBHS pipped HBHS by a basket. They had gone through undefeated in the eight-team Bay league, beating the Curtis Wooten-coached HBHS in the round-robin phase as well.
Read more: Basketball: Hawks first assistant coach Morgan Maskell inspires NGHS Senior A team to crown
Basketball: The Hawks have some unfinished business from three final quarters to attend to
A robust junior development Davies established with youngsters from intermediate school days four years ago is paying dividends, after he targeted those heading for NBHS to ensure continuity.
"Dwayne and I have coaches the juniors and the seniors in the last five years or so and seen them come through so that's definitely been beneficial," he says of his twin brother who also was a former Taylor Corporation Hawks player.
Damion Davies' sons, Tyrese, a centre, and Isaiah, a power forward, are co-captains of the champion NBHS senior team.
Year 13 pupils Tyrese and Isaiah claimed the MVP award in the final with the former claiming a match-high 27 points. Guards Clifton Bush jnr and Kobe Kara scored 18 and 10 points, respectively, as the other double-figure contributors.
The coach said the other important preparation NBHS had had was entering other events along the way to enable them to gauge their worth.
NBHS went through undefeated in their Super 8 campaign but stumbling on the final hurdle against champions Palmerston North Boys' High School by eight points.
Davies' young charges had also competed in the Mel Young Memorial Invitational Tournament at the Peak Sports Centre in Hamilton last week.
The seniors emerged champions after beating the likes of traditional powerhouses Auckland Grammar, New Plymouth Boys' High School and St John's College of Hamilton, who he rated as the best zone 2 side.
Eight of the 12 squad members will be back next year so the senior team will remain a force despite losing the Davies brothers.
Damion Davies put that down to the success of the 2017 champions NBHS junior team who would feed about eight players into the senior ranks, which will include six year 11s, a couple of year 12s and a year 10.
"Our year 11s get quite a few minutes. It's not like they are sitting on the bench so they get good experience at this level so when next year comes they'll be well suited to that level."
The coaching siblings will remain despite Damion's sons graduating at the end of this year.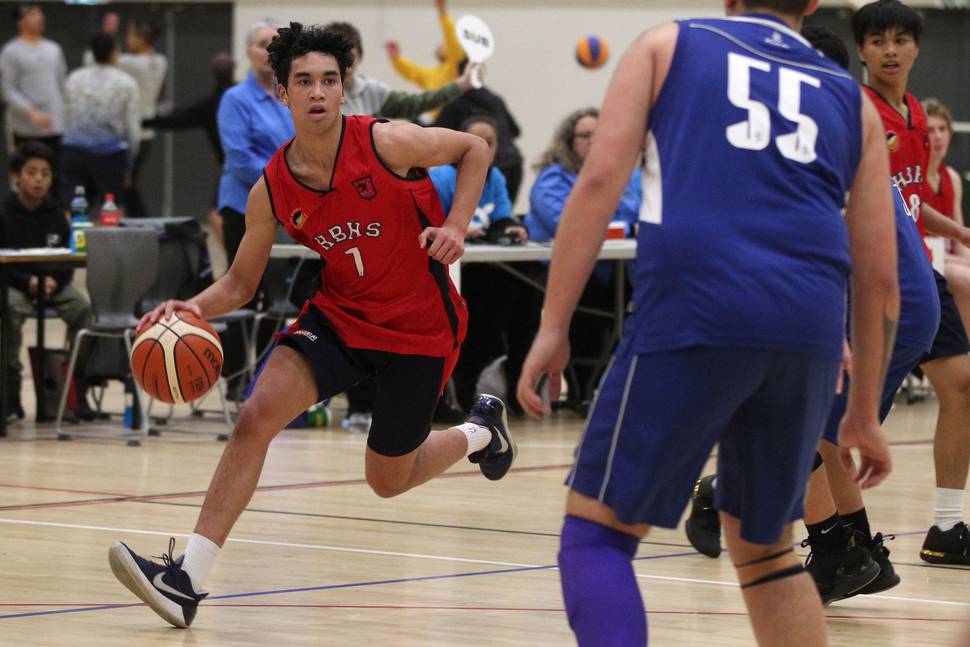 Wooten said the Devante Miller-skippered HBHS were the "smallest team by far" in this year's Super 8.
"We just got killed on the boards. We couldn't link because of our size and that really affected our passing.
"I think last year's squad were going to be my best team ever but injuries and me missing three months of practice due to surgery really hurt us so we've lost the majority of those players," lamented the former Hawks coach.
However, four weeks ago Wooten picked up a new player, Nikau Joyce, of Hamilton, who stands at 1.98m.
With Joyce in the equation he didn't expect NBHS to trounce them by 30-plus points.
"Even with us for four weeks, Naikau sprained his ankle and missed a whole week and a half of practice so we're a totally different team to what we were at Super 8 three weeks ago."
Wooten said on Friday night HBHS missed 17 throws from the charity line.
"In the last four minutes it was an eight-point game. We had two steals and missed them easy lay ups which would have cut it to four.
"A four-point game is different to a eight or 10 one with two minutes to go."
If HBHS had love from the rims on any given match they would be fine but last Friday night they didn't find much traction.
He said NBHS was one of the best teams in the country and also up there defensively.
"They've been building this team for three years. In another two weeks to the premiership it wouldn't surprise me if we are both in the top four," he said before the national qualifying premiership tournament in Palmerston North from Wednesday, September 5.
The schools will try to secure a berth for the nationals in the first week of October.