Do coaches and players reach for a cluster of cliches to garnish a season or does basketball playoffs really hit a crescendo for some vintage offerings?
Taylor Corporation Hawks coach Zico Coronel is of the belief what fans will see in the Sal's Pizza National Basketball League (NBL) Final Four this weekend has enough subtleties to elevate its status than regular-season matches.
For starters, premier champions Cigna Wellington Saints, Mike Pero Nelson Giants, SIT Zerofees Southland Sharks and the Hawks deserve to be in the playoffs this season.
"The team that does the best of all that preparation put themselves in the best position to apply all of that and trust their habits," says Coronel before the fourth-placed Hawks meet the Saints in a 5pm tip off in the first semifinal at the ASB Trust Arena in the capital city.
It's a privilege for the Jarrod Kenny-captained Hawks to be in the playoffs because it isn't a given every year, so when the opportunity arises Coronel expects all four franchises to leave nothing to what-ifs.
The rules of engagement, of course, do not change but a week's hiatus to rest those weary limbs, attend whiteboard and videotape sessions as well as find stability among the ranks will become crucial factors in deciding who will clip those nylon nets around the rims after the dust settles in the 5pm final tomorrow.
Second-placed Giants face the Sharks in a 7pm tip off to see who will progress to the final.
Not having played the defending champions since June 10 at home, Coronel says it is quite frustrating for both parties because they have mutated, as the season wore on, to become marginally different beasts.
"If you had played them like a week ago you would have felt like you know them well so that is the factor."
The videotape footage will become pivotal in conducting analyses to iron out any wrinkles in finding ascendancy in rotations that have become ingrained in the collective like the sixth sense.
But to those looking from outside, three face-offs against the Wellingtonians and the Hawks came away without a point in the regular season so, it seems, the result is inevitable. Or is it?
"In all those games we were in the lead in the third quarter at some point at least but, to the Saints, [coach] Kevin Braswell and Shea Ili's immense credit, they have been doing exceptionally well all year in winning close games."
Coronel says a paper measure of teams in the league reveals the potency through imports and Australian National Basketball League (ANBL) — Sharks seven, Giants six and Saints five.
Conversely, the Hawks have two — Australian import centre Angus Brandt and point guard Kenny — although they have former Tall Black Everard Bartlett who appears to have found his mojo and American import power forward Jamie Skeen who believes he's on the cusp of breaking out of his cocoon.
Swingmen Ethan Rusbatch, Hyrum Harris and Mitchell Newton have earned stripes with Tall Blacks coach Paul Henare on the international platform at some level.
Conspicuously the Hawks franchise didn't fill its three-player import quota and did a lion's share of the job in the regular season with one or other overseas player.
To suggest perennial favourites Wellington should win easily is simply a hark back to history rather than what has transpired this winter, Coronel says.
"The Saints team, for instance, is very different from the last year's one," he says, adding Corey Webster, Tai Wesley and Josh Duinker were starters last season but now the likes of Leon Henry and Jordan Ngatai have shuffled up the playing order. Coronel says it's remarkable the Saints lose so many players and still finish first.
"We've done enough to know we can be competitive with them and we need to finish games if we're up and finish better."
The week off, he says, makes a difference with recovery and optimal training.
Getting a handle on what the Saints are about also is part of the homework.
On reflection, Coronel believes the Hawks have, arguably, had the most difficult of draws this season in a league where every team doesn't play another the same number of times.
The chance of adversity was ever present, especially early in the season. The Hawks had their fair share of knock-backs, especially in the three losses to the Saints as well as to the Sharks in Invercargill.
"The great story of this group is they have always been very unified," says Coronel.
"When there has been constructive criticism they have kept it internal and not complained outside of the group."
That fault-finding exercise has been a face-to-face one to help them incrementally grow stronger, as opposed to cutting down individuals to toe the line.
That strength, he says, was reflected in the reversal of results against teams after making the cut in the Final Four.
"Time builds habits so it's not just like you'll pick things up straight away," says Coronel.
"Our habits are still growing but it's getting closer to a level that we'll be pleased with."
However, there's always more for the Hawks to aspire to.
Since the international window early last month, he says the Hawks have found more consistency and cohesiveness rather than when they let players come and go through the revolving door of availability.
Coronel points out the Hawks came agonisingly close to beating Wellington in their final outing when they didn't have the services of Bay-born Bartlett and Boomer Brandt.
"They are two pretty good pieces to have back."
While pleased to have made the Final Four, Coronel emphasises that isn't going to quench their thirst of satisfaction.
"You buy yourself an extra week to continue to get better but we're not satisfied with what we've done because we can play better basketball."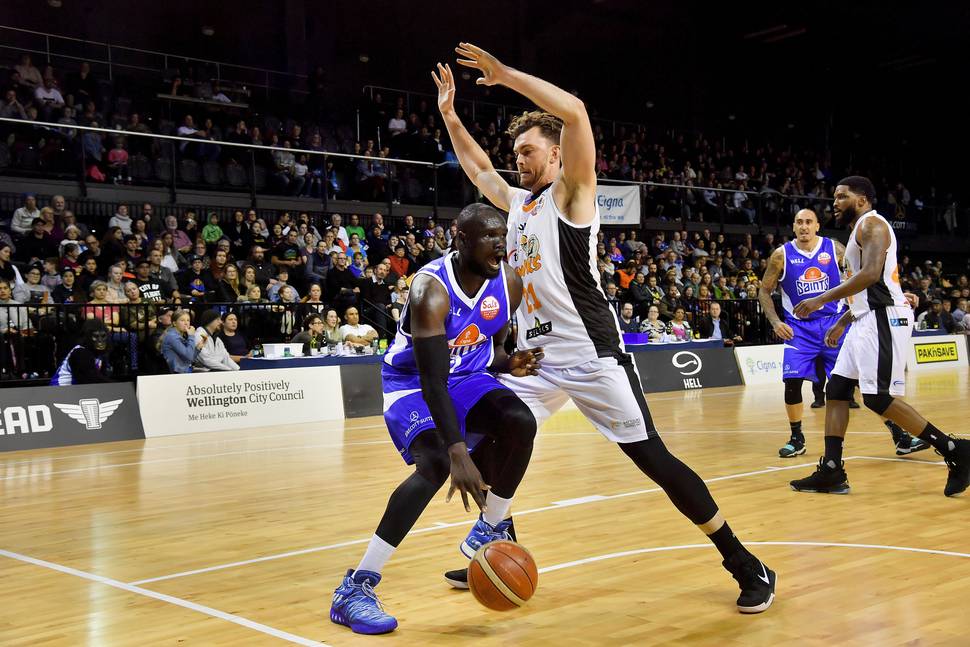 To enter the Saints' house to do the unthinkable, he reckons, is an amazing challenge in itself, never mind trying to secure the Bay franchise's second NBL crown.
"It's a great crowd and an amazing atmosphere. Nick Mills Snr does the best job in the league of leading his team," he says, stressing general manager Fran Scholey's competence is an equally vital cog in the wheel.
However, Coronel says beating Saints doesn't mean the Hawks should go on to claim the crown because the Sharks are big and Giants are deep with a number of stalwarts.
"You can't say either of these semifinals is really the final."
A couple of seasons ago one could have predicted the Saints were going to beat the Sharks in the final in Invercargill but this year is different.
"It's a real up-for-grabs Final Four," says the career NBL assistant coach from New Plymouth who embarked on his maiden voyage as head coach this season with a new franchise.
Ironically, he was New Zealand Breakers-bound Braswell's deputy for a few seasons so should have some invaluable insight on what makes the Saints coach tick.
Coronel says after the games some may well reflect on how they should have seen it coming but right now it's "good value for people at the TAB".