Now isn't the time to condemn the Bledisloe rivalry as dead or meaningless. Not when the Wallabies, after a similarly poor start to the series in Sydney last year, came within three minutes of winning back the Bledisloe Cup.
Nor does it seem particularly wise for the knives to be sharpening in Australia for Wallabies coach Michael Cheika. Supposedly he has the next three tests to prove himself or there will be a new coach at the helm through to the World Cup.
Not everyone is a fan of his hang it all out there approach. His coaching box antics, his refusal to say All Blacks or name either Sam Whitelock or Owen Franks in praising them for reaching 100 caps and his previous post-game rants alluding to refereeing conspiracies working against his team, promote the sense he's not only built an obsessive dislike of the New Zealand national team but that he's also not prepared to be as honest with himself as he needs to be about where his side is failing.
But just as Cheika might be avoiding a confrontation with the truth, so too are those who want him out on the basis the Wallabies are under performing.
The better solution for Rugby Australia is to recalibrate expectations and understand that it is significantly harder to win the Bledisloe Cup than it is to win the World Cup.
New Zealanders shouldn't see this as a position of arrogance or complacency, more a resonating fact that the All Blacks haven't lost successive tests since 2011 and only the Springboks in the last 10 years have been able to beat them one week and back it up the next.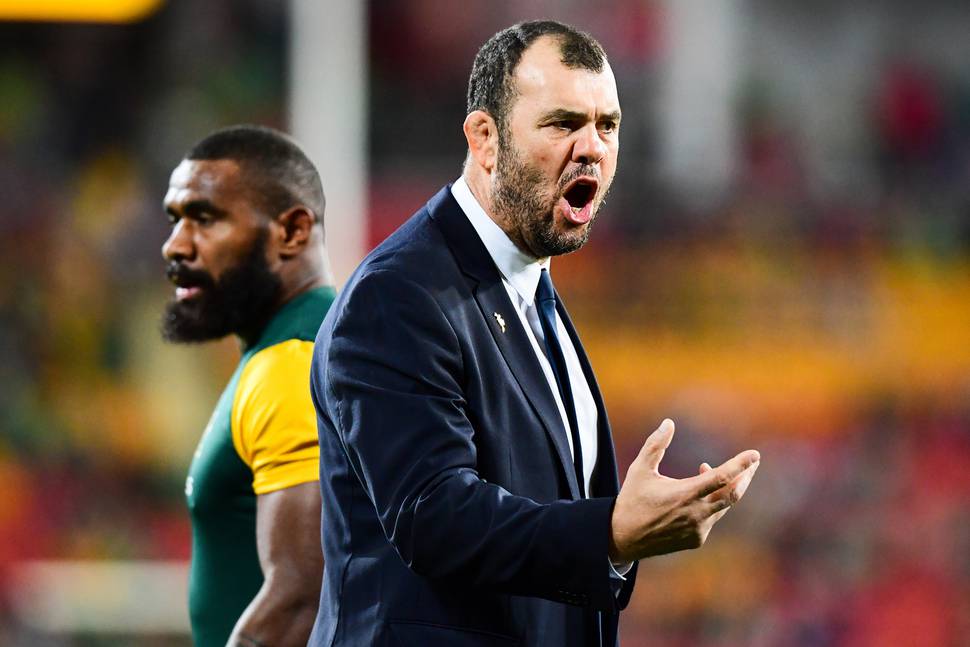 Beating the All Blacks twice in a calendar year is rugby's almost impossible assignment.
Once is doable, but it usually takes a bit of luck, a sensational performance and for the All Blacks to be suffering a few key injuries. But doing it twice…
For Australia to win a World Cup, they only have to beat the All Blacks once, if at all.
That's not to suggest it is easy, but to highlight there is a difference having to defeat, say, England, Wales and Ireland in successive weeks at a World Cup, compared with having to beat the All Blacks twice in three attempts to win the Bledisloe.
For all that has been made of Ireland's excellent victory against the All Blacks in Chicago 2016, perhaps what got missed was that they couldn't back it up two weeks later in Dublin.
England lost for to the All Blacks in 2014, France three this year, Wales three in 2016 and South Africa haven't managed a win against the All Blacks since 2014.
The reason the All Blacks have been the number one side in the world for as long as they have, is not because they are necessarily better than everyone else – although when they are on their game they probably fractionally are - but that they are more consistent than everyone else.
They tend to fail fast, learn fast and fix fast. Whatever gets exposed in defeat is patched up in days and it is rare indeed for the All Blacks to follow one poor performance with another.
Which is why it's crazy that the Wallabies appear ready to tear themselves apart if they don't reclaim the Beldisloe this year.
Crazy because it's hard to see how axing Cheika would be justified or leave them in a better place.
Executives in Australia need to apply some perspective and consider the overall state of the game in Australia.
Everyone on this side of the Tasman can see that Australia's Super Rugby sides are hindered by relatively poor coaching set-ups.
The quality just isn't there and nor would it appear is it in place further down the scale which is leaving Australia's best young players lacking in the basic skills.
There are clearly good players within the system and Chieka only needs to find 23 to compete with the All Blacks, but it is still not a fair fight when his players are coming into the Wallabies from poorly performing Super Rugby sides where the bar is set relatively low in regard to skill application and execution.
Compare this with New Zealand where four of the five Super Rugby sides have an obvious intensity in their environment and are centres of excellence.
These are problems beyond Cheika's control or remit and rather than believe the Wallabies are continually under-performing, perhaps they are going about as well as could be expected.
Perhaps they have found their true position in world rugby and it is a misplaced sense of ambition on the other side of the Tasman and a failure to appreciate the continued excellence of the All Blacks on this, which has resulted in Cheika's head being placed on the metaphorical guillotine.
Would Ireland be faring much better in this part of the world than Australia? What would England's record look like if they had to play the All Blacks three times a year as well as South Africa twice?
"They're playing the number one team in the world and because they lose to us they're a poor side? I think that's probably naïve," All Blacks coach Steve Hansen said when the Australian media probed him, hoping for an easy headline.
"They played the number two side [Ireland] in June and they beat them in one test and they lost the other and they were narrow [losses], they weren't big thumpings.
"We want Australian rugby to be strong. I think it is strong. You have to understand that when these two teams play, you're going to have scoreboards that blow out.
"Does it hurt New Zealand rugby? No, but we want them to be strong and I think they're getting there. Obviously the patience in Australia is wearing thin because we've managed to keep the Bledisloe. We don't have it yet and we've got to earn it on Saturday night and if we don't it will be one each and look out."