Usain Bolt has officially started his attempt to obtain an A-League contract, walking onto Central Coast Stadium in front of a packed media contingent to strut his stuff.
Bolt, who arrived in Australia on Saturday, enjoyed a brief training session with the Central Coast Mariners.
A 15-minute passing drill was coach Mike Mulvey's first chance to judge the Jamaican sprint superstar's football skills, and he showed some nice touches in a light workout that lasted less than an hour.
Speaking to the media this afternoon, Bolt said he fared pretty well for day one of training, which is always the toughest test no matter what sport you're in.
"It's just like track and field, the first day of training's always the roughest one … but it felt OK," Bolt said. "I'm not setting myself any targets … I'm just going to put in the work.
"I don't know what to expect so I'm just here to push myself, learn as much as possible.
"For me it's a blank slate. I'm here to learn and get better, that's my focus."
Bolt said although his ultimate goal is obviously to win a contract, he's not setting the bar too high at this stage in his football journey, determined to first get his fitness up then go from there.
He also said his temperament and understanding of the game are his biggest attributes, in addition to his speed, and he's determined to prove the naysayers wrong.
"I'm very cool under pressure, that's one thing," Bolt said. "My ability to understand very quickly and learn the game is very good.
"I've expressed that I'm OK on the wing, I'm good at centre forward but at the end of the day he (the coach) will tell me what formation and where I'll play.
"I don't want to be treated as the world's fastest man, I want to be treated as a footballer because that's what I want to be.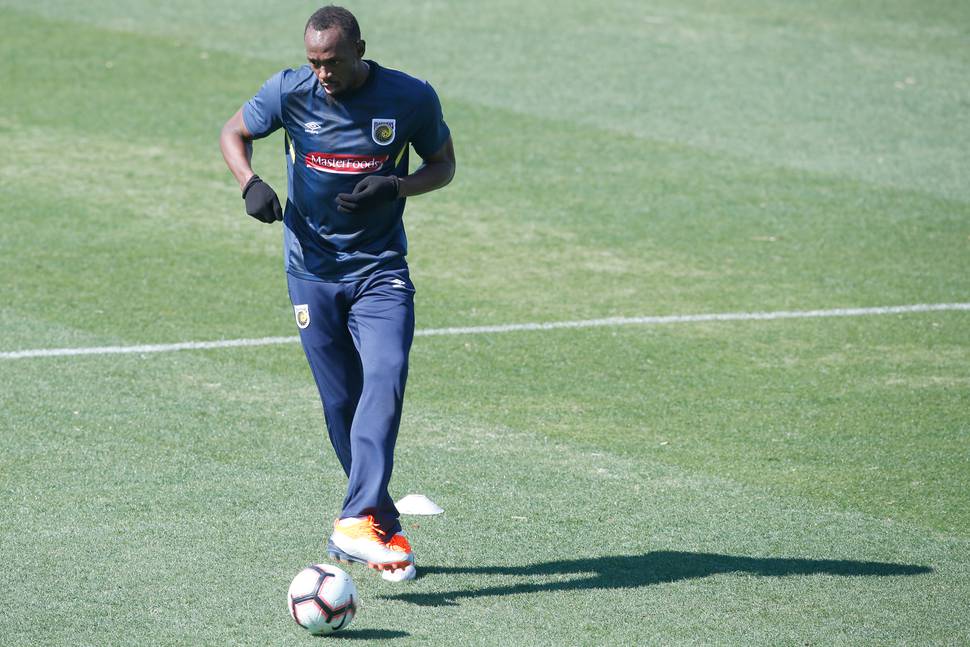 "People will say a lot of things about me, but I'll prove them wrong.''
Asked about the challenge of getting his body in the right condition to play the round ball game rather than sprint 100m, Bolt said he thinks everything will be "relatively easy" once his fitness reaches the level it needs to be at.
"Today was good, we're taking it a step at a time, working on fitness, level by level, day by day and then I will push myself," he said.
"As long as you get fit in football it's relatively easy. That's how I look at it, I don't know yet.
"I've seen as long as you are fit it's relatively easy with the running. As long as I get my body in shape and get some mileage (into my legs) I should be fine."
The renowned party boy said although he's keen to enjoy the lifestyle Down Under, performing on the pitch is his No. 1 priority and he's adamant he will "respect the rules".
Bolt gave all the right answers, showing he'll be a class act off the pitch if he does gain a call-up. He was respectful and humble — not exactly a trait you'd associate with the Jamaican in his track career — and repeatedly acknowledged the onus was on him to prove he was deserving of a contract.
He said he is "really appreciative of everything the Mariners have done" and promised to always be approachable for the supporters.
"If you follow my career, you would know I'm all about the fans," Bolt said. "They make the sport what it is, so I try my best to give back. Sometimes people just want to have a conversation, so feel free to come up and say hi.''
Fox Sports football expert Daniel Garb was full of praise for the way Bolt handled himself in such a "humble manner".
"He's dedicated to this, he wants to work hard, which great," Garb said.
Today was about stretching the legs in his first run around after a long flight to Australia and he didn't get out of second gear as he trundled around the park receiving passes and dishing them off to potential teammates.
As the rest of the squad played a half-pitch game, Bolt left the main group to do some stretching and conditioning work with Mariners head of performance Andrew Young.
Fox Sports football commentator Adam Peacock noted Bolt favoured his preferred left foot. "He's all left, he doesn't want to know about kicking it with his right at the moment," Peacock said.
The eight-time Olympic gold medallist was all smiles as he celebrated his 32nd birthday in windy conditions in Gosford.
A crowd of approximately 50 journalists and photographers crowded around the players' tunnel to get a glimpse of Bolt, who gave a thumbs up as he walked onto the field.
"At the moment it's all about creating opportunities so until we see what happens, what's the worst that can happen? We say thanks for your time on the Central Coast and keep working. There's nothing too wrong with that," Mariners chief executive Shaun Mielekamp told Fox Sports.
"For us it's really about getting him out there, see what he can do and let his performance (as a footballer) do the talking."
Bolt, whose "indefinite" training period with the Mariners has resulted in unprecedented worldwide media coverage for the A-League, will be eased into his football duties.
It's been just over a year since he retired from athletics and while the 100m sprint king is naturally fit and keeps active, diving head-first into training with a professional football team in pre-season mode is too big a risk for all concerned.
Bolt has previously trained with clubs in Germany, South Africa and Norway without being offered a contract.