Alas, for Aucklanders, it is back to being the ghost at the Super Rugby feast. Finals football is for other cities - not Auckland.
Come this point in the year, rugby is only for the people of Hamilton, Wellington, Dunedin and Christchurch, as for the fifth year in a row the Chiefs, Hurricanes, Highlanders and Crusaders all made the last eight while the Blues didn't.
That's how it has been for the last seven years and other than two semifinals appearances in 2011 and 2007, that's how it has been for the last 15 years.
Instead, while the star-studded Crusaders and Hurricanes prepare to do battle, with the winner immediately shortening their odds to be crowned champions, the Blues are once again left trying to scramble a positive narrative about a possible new beginning on the back of yet another disastrous campaign.
This isn't a new scenario. It is quite tired in fact - a story that is starting to feel as old as time itself and one that with each re-telling, becomes more difficult to believe. If Blues fans have stopped listening or caring, who could blame them?
If they are cynical about another supposed new dawn being on the horizon, they have every right to be.
The club has let them down for so long; failed to deliver on any of its promises and each new beginning collapses as hard and as fast as the last.
Trust has been broken, perhaps not irretrievably, but certainly to the point where rebuilding it is going to be enormously challenging and it will take more than a few good signings and a revamped coaching team to have the fan base in any way confident about what is likely to happen in 2019.
If legendary NFL coach Vince Lombardi was right that winning is a habit, by logical extension, so is losing and the question everyone has is how are the Blues going to break this endemic pattern of failure and bring finals football back to Auckland?
Everyone seems to want to put a timeframe on how long it will take to fix the club, but why get hung about that?
There are obvious short term problems that can be remedied in time for the 2019 season and a number of long term issues that will most likely take a number of years to change.
The club has taken half a step in the right direction in regard to one of the biggest short-term problems – and that is the hiring of a stronger, more experienced coaching team around head coach Tana Umaga.
It is only half a step as while Leon MacDonald and Tom Coventry have proven to be quality operators at other Super Rugby clubs, they have to be trusted and allowed to do their jobs in Auckland.
This year it was apparent that Umaga lost faith in his wider coaching team quite early in the campaign. None of Dave Ellis, Steve Jackson or Alistair Rogers re-applied for their jobs.
MacDonald and Coventry are robust characters, will have firm ideas and will fight their corner – Umaga will need to trust them, be willing to defer to them at times and have faith that they know what they are doing.
If they can work as a unified force where they can respectively challenge one another then there is genuine hope that the three other major short-term problems can be sorted.
The Blues need a pack that can consistently scrummage well, win lineout ball, organise an effective driving maul and deliver quick tackle ball.
When Coventry was at the Chiefs between 2012 and 2015, that's all he did with the pack – drill them relentlessly on those core basics. It worked. The Chiefs won two titles and could physically hold their own against any team in the competition.
Defensively, the Blues were awful this year. They conceded 509 points, which was the third worst in the competition and meant they were leaking an average of 32 points a game.
Defence is driven as much by attitude and desire as it is structure and technique and no one knows that better than Umaga who remains, arguably, the greatest All Blacks defender of the professional age.
His challenge is to instil in his team the same excellence he achieved as a player and make teams work for their points. Stop giving away cheap tries.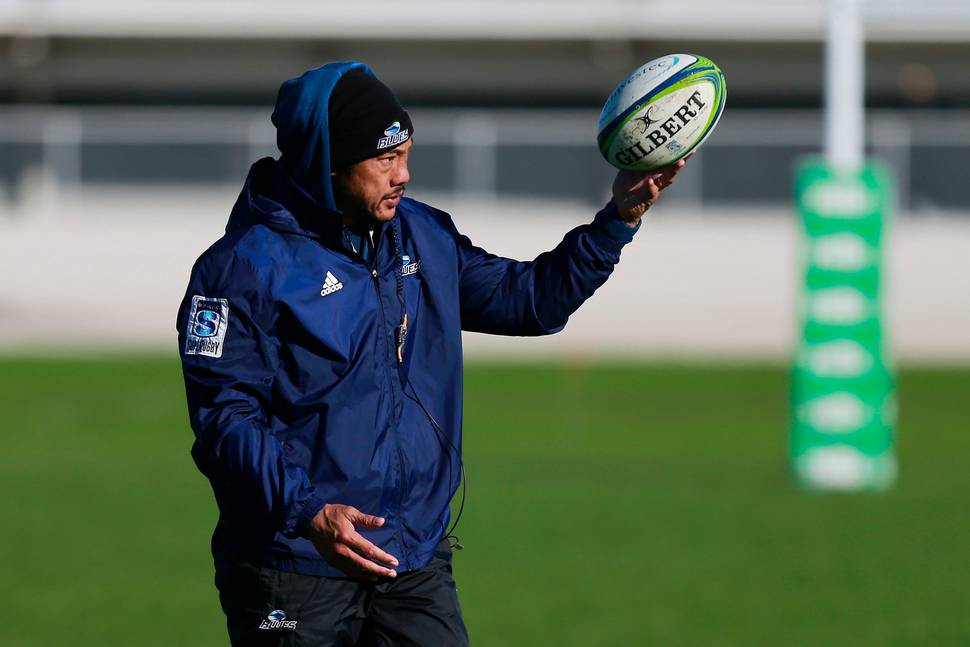 Better, more consistent selection, is the third key to helping achieve the first two goals.
No more using Rieko Ioane at second-five. It didn't work and won't because he's the best attacking weapon in world rugby when he plays on the wing.
Other things to consider would be: changing the captain. Augustine Pulu is a wonderfully resilient and committed player.
But his passing off his left hand is dire and some of his decision-making isn't great either so relieve him from the burden of leadership and tell him to do nothing more than clear the ball quickly.
Patrick Tuipulotu, so quiet and unassuming, is a man mountain with the respect of everyone. Being captain of Auckland last year brought the best out him and maybe, given he's young and committed to the region, he's the best long term bet to captain the Blues.
Other quick fixes include: improve the understanding of kicking strategy. Young first-five Stephen Perofeta strikes the ball well, but doesn't seem to know where to kick it half the time.
Demand Akira Ioane come on to the ball at pace and tackle with his shoulders not arms.
Find and develop a destructive replacement at blindside for Jerome Kaino and find a fullback with a raking punt.
The longer term things that need to be changed are:
•Build a relationship with a tertiary institution whereby scholarships and funding can be offered to promising youngsters.
•Have a transparent recruitment and retention strategy that works with and not against the three provincial unions of Auckland, North Harbour and Northland.
•Invest in property that can be used as a long term asset to house players from outside the region. So many don't come because they can't afford to buy a house.
•Be the drivers in building a women's Super Rugby competition. Make the Blues the powerhouse in the female game and develop a wider culture of excellence that flows back to the men.
The situation isn't going to miraculously change quickly, but if the Blues get the short-term right, while they build for the long term, better players will want to stay in the region and come from outside.